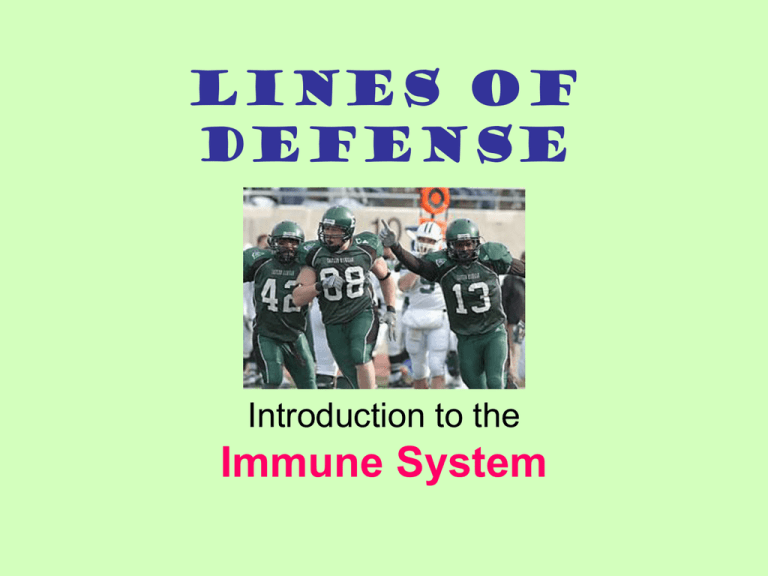 Lines of
Defense
Introduction to the
Immune System
What is "DISEASE"?
Disease = A pathological condition of a body part, an organ, or a
system resulting from various causes, such as infection, genetic
defect, or environmental stress, and characterized by an identifiable
group of signs or symptoms
OR
Failure to maintain homeostasis
Causes of
Disease
• Genetic
• Environmental stress
• Pathogen = living organisms that cause
disease
We think we can avoid "germs"
…but we really can't
They are EVERYWHERE!
…just about
Lines of
Defense
Our bodies have developed strategies for
blocking and responding to pathogens
often referred to as the…
THREE LINES OF DEFENSE
First Line of
Defense
Block the pathogens from entering the body using:
•
•
•
•
•
•
Skin
Mucus
Nose hairs
Sweat
Stomach acids
Tears
Second Line of
Defense
The inflammatory
response =
a generalized reaction to infection
• Swelling from increased blood flow and
histamines
• Increase in temperature at infection and/or
as fever
• Destruction of infected cells (and some
healthy, surrounding cells)
Third Line of
Defense
A specific attack on pathogens and infected
cells
• Specific B and T cells
• Release of antibodies  proteins that
attach to the surface proteins (receptor
molecules called antigens) of pathogens,
deactivating them.