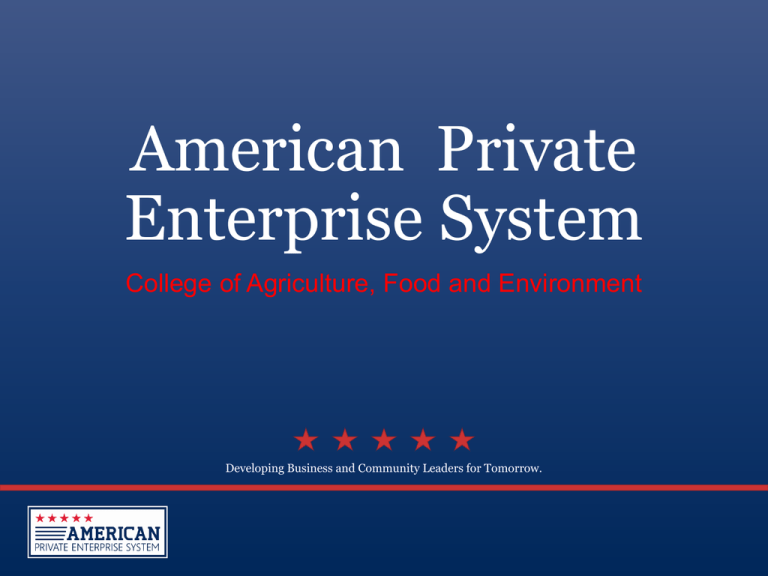 American Private
Enterprise System
College of Agriculture, Food and Environment
Developing Business and Community Leaders for Tomorrow.
Sole Proprietorships and
Partnerships
Section V
Developing Business and Community Leaders for Tomorrow.
Doing Business
Four Ways of Doing Business:

Individually owned business
 Partnership
 Corporation
 Cooperative
Individual Ownership
"Oldest Form of Business"
 Farms, local stores, repair shops, barbershops,
restaurants, dental practices, and others
 More dominant in farming than any other segment
of our economy

Individual Owners

Serve the public. Owner buys and sells goods or provides
services to whoever wants them

Little legal help is needed to start this kind of business.

Owners provides or borrows capital to start the business

Management is the responsibility of the owner

Individual owner can make all decisions and determine business
policies

Owner receives the net margin, money left after the bills are paid

When the owner retires or dies, heirs may keep the business,
sell, or close it
Advantages or Disadvantages of
Individually Owned Businesses??

The business can be started quickly.

Decisions may be made quickly, policies changed.

The owner is responsible for management.

Business credit is only as good as the credit of the
owner.

Large amounts of capital are difficult to obtain for
business expansion.
Sole Proprietorship
"Most common type of company"
 72% of all firms
 Bearing full success or failure of the venture

Business Partnership

Partnership- a voluntary association of 2 or more
persons, as co-owners, to carry on a business for
profit
Examples of Types of Partnerships









Creating a Partnership
Legal Considerations
Family Partnerships
General Partnerships
Limited Partnerships
Taxes in Partnerships
Partnership Advantages
Partnership Disadvantages
Terminating a Partnership
Thank you
This Concludes This Session
Thank
you!
Want to thank you for
participating in the
American Private
Enterprise Program and
being a Future Leader in
your Community!!
We look forward to
seeing you at the
Kentucky Youth Seminar
this summer…..