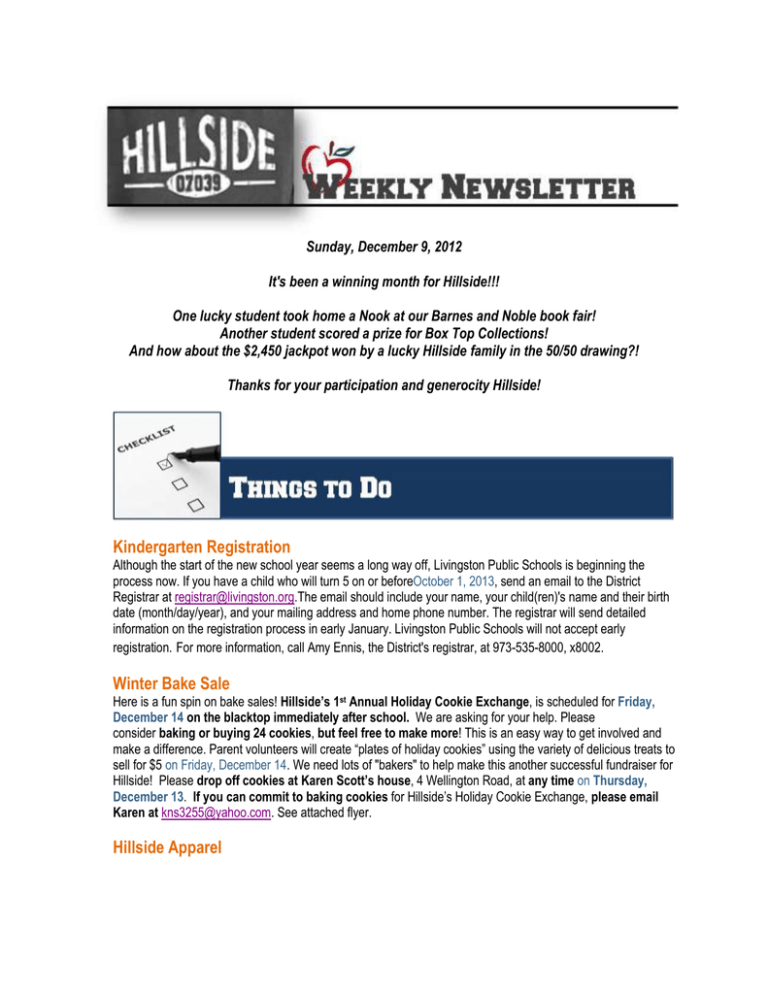 Sunday, December 9, 2012
It's been a winning month for Hillside!!!
One lucky student took home a Nook at our Barnes and Noble book fair!
Another student scored a prize for Box Top Collections!
And how about the $2,450 jackpot won by a lucky Hillside family in the 50/50 drawing?!
Thanks for your participation and generocity Hillside!
Kindergarten Registration
Although the start of the new school year seems a long way off, Livingston Public Schools is beginning the
process now. If you have a child who will turn 5 on or beforeOctober 1, 2013, send an email to the District
Registrar at registrar@livingston.org.The email should include your name, your child(ren)'s name and their birth
date (month/day/year), and your mailing address and home phone number. The registrar will send detailed
information on the registration process in early January. Livingston Public Schools will not accept early
registration. For more information, call Amy Ennis, the District's registrar, at 973-535-8000, x8002.
Winter Bake Sale
Here is a fun spin on bake sales! Hillside's 1st Annual Holiday Cookie Exchange, is scheduled for Friday,
December 14 on the blacktop immediately after school. We are asking for your help. Please
consider baking or buying 24 cookies, but feel free to make more! This is an easy way to get involved and
make a difference. Parent volunteers will create "plates of holiday cookies" using the variety of delicious treats to
sell for $5 on Friday, December 14. We need lots of "bakers" to help make this another successful fundraiser for
Hillside! Please drop off cookies at Karen Scott's house, 4 Wellington Road, at any time on Thursday,
December 13. If you can commit to baking cookies for Hillside's Holiday Cookie Exchange, please email
Karen at kns3255@yahoo.com. See attached flyer.
Hillside Apparel
If you missed out on the first apparel sale, here is your second chance. See attached flyer and read how to place
an order for Hillside apparel. Orders are due by December 10th. If you have not received items already ordered
please contact Alison Joachim. alisonjoachim@verizon.net
Tea and Coffee Sale
Let us help you spread cheer for the holidays!! Order any combination of two items and receive a wrapped gift
complete with gift tag and infuser (if ordering tea). Customize your gift for the coffee or tea lover in your life.
Regular Heartwarmer Blend ground coffee
Decaf Heartwarmer Blend ground coffee
Holiday Spice Tea
Green Tea
Earl Gray (regular)
Earl Gray (decaf)
All gifts are $10 and are ready to share with teachers, co-workers, and family.
Ordering begins Dec. 3rd and ends on December 12th. ONE WEEK ONLY!
Items will be filled on a rolling basis: order early and receive it early!
Gourmet coffee and teas provided by T.M. Ward Co. located in Chatham, NJ.
Please contact DeeDee Pulver (dee.bar@verizon.net) or Marnie McNany (marnie.mcnany@gmail.com) with
questions.
See attached flyer for ordering details!
Holiday Gift Shoppe
The Hillside PTA and Chairs of the Holiday Shoppe Committee would like to thank all of the parents
who volunteered and participated in making the Holiday Shoppe a success this year! We could not have done it
without you and we appreciate your hard work. If you have any feedback, please contact Kim Mazzella
atkmazzella23@verizon.net.
Family Puzzle Night
Puzzled by what to do with your family this holiday season? Problem solved. The PTA will be hosting its next
family night on Friday, December 14th from 6-7:30pm. Families will bring a 200-piece puzzle and work to
complete it within one hour. There will be puzzle crafts for the younger children and of course baked goods will
be sold! You can also preorder pizza. $10.00 per pizza. See attached flyer for details.
Picture Retakes - NEW Date
Wednesday, December 12th. Students who are in clubs such as band and chorus will also be taken that day.
District's Winter Policy
Please remember that students will be lining up outside unless it below 25 degrees. This is a district policy.
.
Ordering for January is NOW open
You can now place your child(ren)'s lunch order for January. Go to www.myfooddays.com. Ordering must be
complete by December 15th. See attached menu for details.
Special Menu Items include:
- NEW Regular Entree every Friday: 2 large meatballs halved and served w/ a slice of Italian bread
- Cotton Candy Ice Cream Cup Special on Wed., 1/2
- Tacos and Quesadillas on Tues., 1/8
- Meatball and Chicken Parmesan Subs, Fri. 1/18
- Pancakes, Tues., 1/22
- Pepperoni Pizza, Mon. 1/28
Lunch Reminder
Review Lunch Order with Your Children: Please review the lunch order that you have placed with your child so
he/she knows what to expect when they get to school.
Questions?
Lunch questions: Please direct questions to Diane Egner at dwegners@verizon.net. Questions regarding
allergen information, contact Christina Weiner atcjweiner@comcast.net
When you have questions, you can contact the chairperson of the committee in question or an
executive board member. All contact information is found on the Hillside PTA website. To post a blurb for your
committee, please email it to Deb Van Dusen at deborahvandusen@yahoo.com.