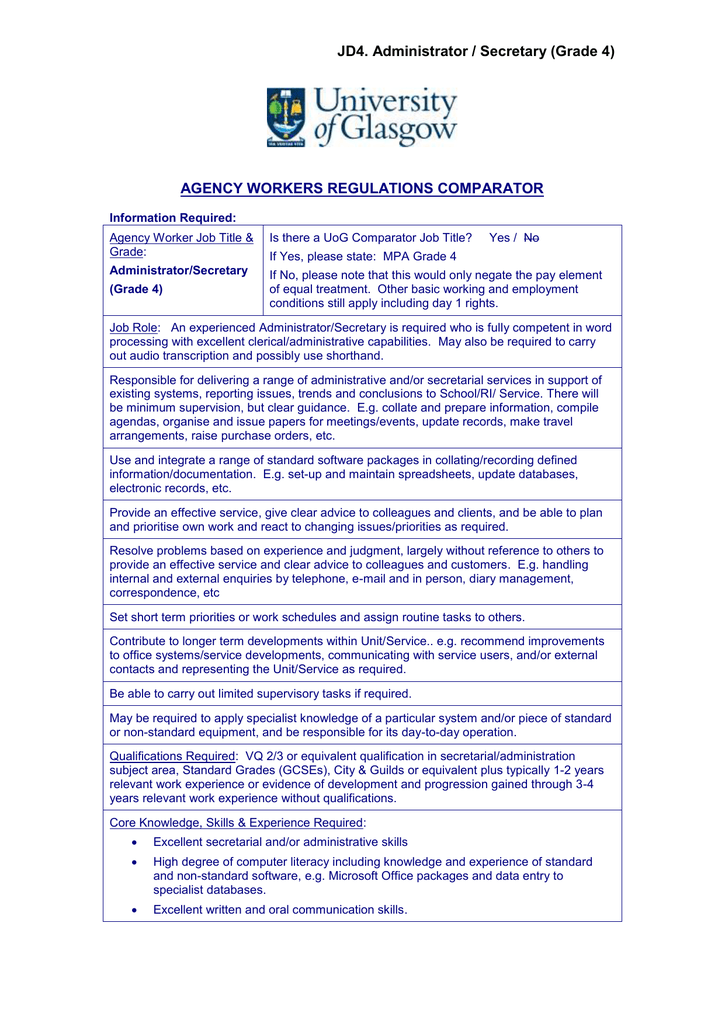 JD4. Administrator / Secretary (Grade 4)
AGENCY WORKERS REGULATIONS COMPARATOR
Information Required:
Agency Worker Job Title &
Grade:
Is there a UoG Comparator Job Title?
Administrator/Secretary
If No, please note that this would only negate the pay element
of equal treatment. Other basic working and employment
conditions still apply including day 1 rights.
(Grade 4)
Yes / No
If Yes, please state: MPA Grade 4
Job Role: An experienced Administrator/Secretary is required who is fully competent in word
processing with excellent clerical/administrative capabilities. May also be required to carry
out audio transcription and possibly use shorthand.
Responsible for delivering a range of administrative and/or secretarial services in support of
existing systems, reporting issues, trends and conclusions to School/RI/ Service. There will
be minimum supervision, but clear guidance. E.g. collate and prepare information, compile
agendas, organise and issue papers for meetings/events, update records, make travel
arrangements, raise purchase orders, etc.
Use and integrate a range of standard software packages in collating/recording defined
information/documentation. E.g. set-up and maintain spreadsheets, update databases,
electronic records, etc.
Provide an effective service, give clear advice to colleagues and clients, and be able to plan
and prioritise own work and react to changing issues/priorities as required.
Resolve problems based on experience and judgment, largely without reference to others to
provide an effective service and clear advice to colleagues and customers. E.g. handling
internal and external enquiries by telephone, e-mail and in person, diary management,
correspondence, etc
Set short term priorities or work schedules and assign routine tasks to others.
Contribute to longer term developments within Unit/Service.. e.g. recommend improvements
to office systems/service developments, communicating with service users, and/or external
contacts and representing the Unit/Service as required.
Be able to carry out limited supervisory tasks if required.
May be required to apply specialist knowledge of a particular system and/or piece of standard
or non-standard equipment, and be responsible for its day-to-day operation.
Qualifications Required: VQ 2/3 or equivalent qualification in secretarial/administration
subject area, Standard Grades (GCSEs), City & Guilds or equivalent plus typically 1-2 years
relevant work experience or evidence of development and progression gained through 3-4
years relevant work experience without qualifications.
Core Knowledge, Skills & Experience Required:

Excellent secretarial and/or administrative skills

High degree of computer literacy including knowledge and experience of standard
and non-standard software, e.g. Microsoft Office packages and data entry to
specialist databases.

Excellent written and oral communication skills.
JD4. Administrator / Secretary (Grade 4)

Excellent interpersonal skills with a professional approach used in all aspects of work.

Excellent customer care skills.

Ability to work under pressure and prioritise workload to meet deadlines.

Ability to work well using own initiative as well as working as part of a team.

Excellent organisational skills.

Excellent speed and accuracy in audio and copy typing skills (If required).

Good communication skills in handling telephone and face to face enquiries.

Tactful and discreet when required to deal with confidential and sensitive matters.