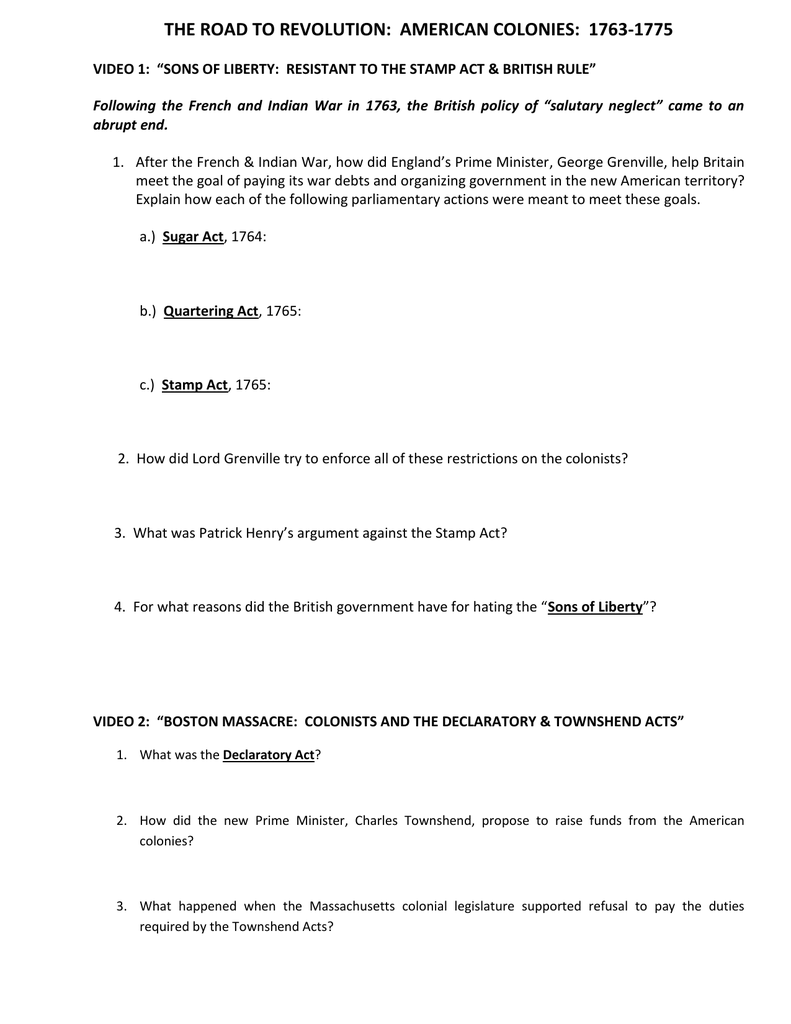 THE ROAD TO REVOLUTION: AMERICAN COLONIES: 1763-1775
VIDEO 1: "SONS OF LIBERTY: RESISTANT TO THE STAMP ACT & BRITISH RULE"
Following the French and Indian War in 1763, the British policy of "salutary neglect" came to an
abrupt end.
1. After the French & Indian War, how did England's Prime Minister, George Grenville, help Britain
meet the goal of paying its war debts and organizing government in the new American territory?
Explain how each of the following parliamentary actions were meant to meet these goals.
a.) Sugar Act, 1764:
b.) Quartering Act, 1765:
c.) Stamp Act, 1765:
2. How did Lord Grenville try to enforce all of these restrictions on the colonists?
3. What was Patrick Henry's argument against the Stamp Act?
4. For what reasons did the British government have for hating the "Sons of Liberty"?
VIDEO 2: "BOSTON MASSACRE: COLONISTS AND THE DECLARATORY & TOWNSHEND ACTS"
1. What was the Declaratory Act?
2. How did the new Prime Minister, Charles Townshend, propose to raise funds from the American
colonies?
3. What happened when the Massachusetts colonial legislature supported refusal to pay the duties
required by the Townshend Acts?
4. For what reasons were British troops ("Redcoats") increasingly sent to Massachusetts?
5. The Boston Massacre was a direct result of the Townshend Acts. How did American patriots view the
Boston Massacre?
VIDEO 3: "THE BOSTON TEA PARTY, INTOLERABLE ACTS, & FIRST CONTINENTAL CONGRESS"
1. After the Boston Massacre, the British government repealed [cancelled] all of the Townshend Acts with
the exception of a tax on tea. How did American colonists manage to avoid this tax on tea imported by
British merchants?
2. Why was a new Tea Act of 1773 unpopular for some American colonists?
3. How did the British government respond to the Sons of Liberty's encouragement of the Boston Tea
Party? What changed for American colonists?
4. How did the American colonies attempt to respond to the Intolerable Acts without rebelling against the
British government?
5.
What was decided at the First Continental Congress in 1774?
VIDEO 4: LEXINGTON, CONCORD, & BUNKER HILL: THE AMERICAN REVOLUTION BEGINS
1. How and where did the American Revolution begin? Provide a short summary.
2. What was the original purpose of the meeting of the Second Continental Congress in 1775?