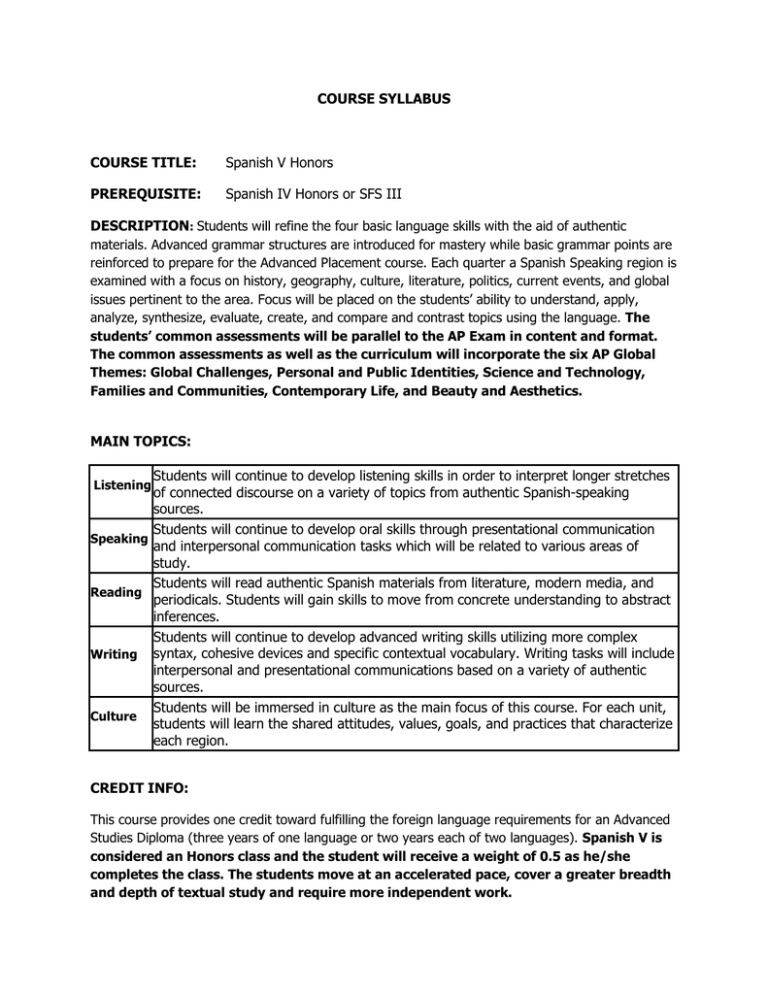 COURSE SYLLABUS
COURSE TITLE:
Spanish V Honors
PREREQUISITE:
Spanish IV Honors or SFS III
DESCRIPTION: Students will refine the four basic language skills with the aid of authentic
materials. Advanced grammar structures are introduced for mastery while basic grammar points are
reinforced to prepare for the Advanced Placement course. Each quarter a Spanish Speaking region is
examined with a focus on history, geography, culture, literature, politics, current events, and global
issues pertinent to the area. Focus will be placed on the students' ability to understand, apply,
analyze, synthesize, evaluate, create, and compare and contrast topics using the language. The
students' common assessments will be parallel to the AP Exam in content and format.
The common assessments as well as the curriculum will incorporate the six AP Global
Themes: Global Challenges, Personal and Public Identities, Science and Technology,
Families and Communities, Contemporary Life, and Beauty and Aesthetics.
MAIN TOPICS:
Students will continue to develop listening skills in order to interpret longer stretches
of connected discourse on a variety of topics from authentic Spanish-speaking
sources.
Students will continue to develop oral skills through presentational communication
Speaking
and interpersonal communication tasks which will be related to various areas of
study.
Students will read authentic Spanish materials from literature, modern media, and
Reading
periodicals. Students will gain skills to move from concrete understanding to abstract
inferences.
Students will continue to develop advanced writing skills utilizing more complex
Writing syntax, cohesive devices and specific contextual vocabulary. Writing tasks will include
interpersonal and presentational communications based on a variety of authentic
sources.
Students will be immersed in culture as the main focus of this course. For each unit,
Culture
students will learn the shared attitudes, values, goals, and practices that characterize
each region.
Listening
CREDIT INFO:
This course provides one credit toward fulfilling the foreign language requirements for an Advanced
Studies Diploma (three years of one language or two years each of two languages). Spanish V is
considered an Honors class and the student will receive a weight of 0.5 as he/she
completes the class. The students move at an accelerated pace, cover a greater breadth
and depth of textual study and require more independent work.