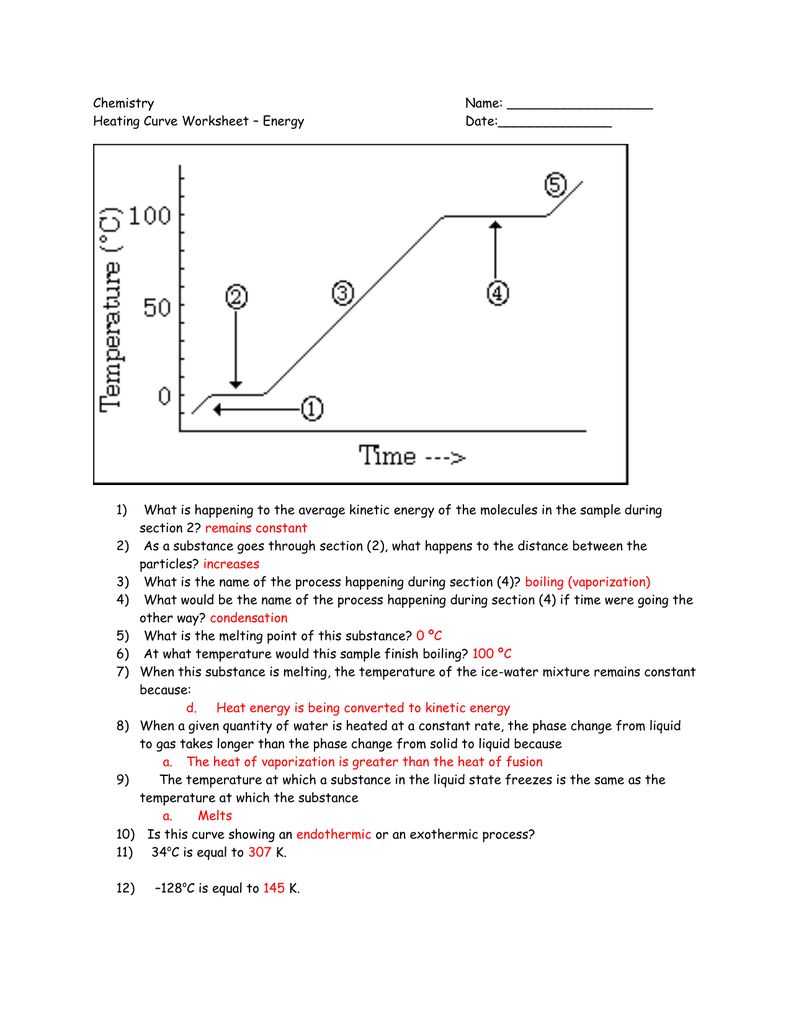 Chemistry
Heating Curve Worksheet – Energy
1)
2)
3)
4)
5)
6)
7)
8)
9)
10)
11)
12)
Name: __________________
Date:______________
What is happening to the average kinetic energy of the molecules in the sample during
section 2? remains constant
As a substance goes through section (2), what happens to the distance between the
particles? increases
What is the name of the process happening during section (4)? boiling (vaporization)
What would be the name of the process happening during section (4) if time were going the
other way? condensation
What is the melting point of this substance? 0 ºC
At what temperature would this sample finish boiling? 100 ºC
When this substance is melting, the temperature of the ice-water mixture remains constant
because:
d.
Heat energy is being converted to kinetic energy
When a given quantity of water is heated at a constant rate, the phase change from liquid
to gas takes longer than the phase change from solid to liquid because
a. The heat of vaporization is greater than the heat of fusion
The temperature at which a substance in the liquid state freezes is the same as the
temperature at which the substance
a.
Melts
Is this curve showing an endothermic or an exothermic process?
34oC is equal to 307 K.
–128oC is equal to 145 K.