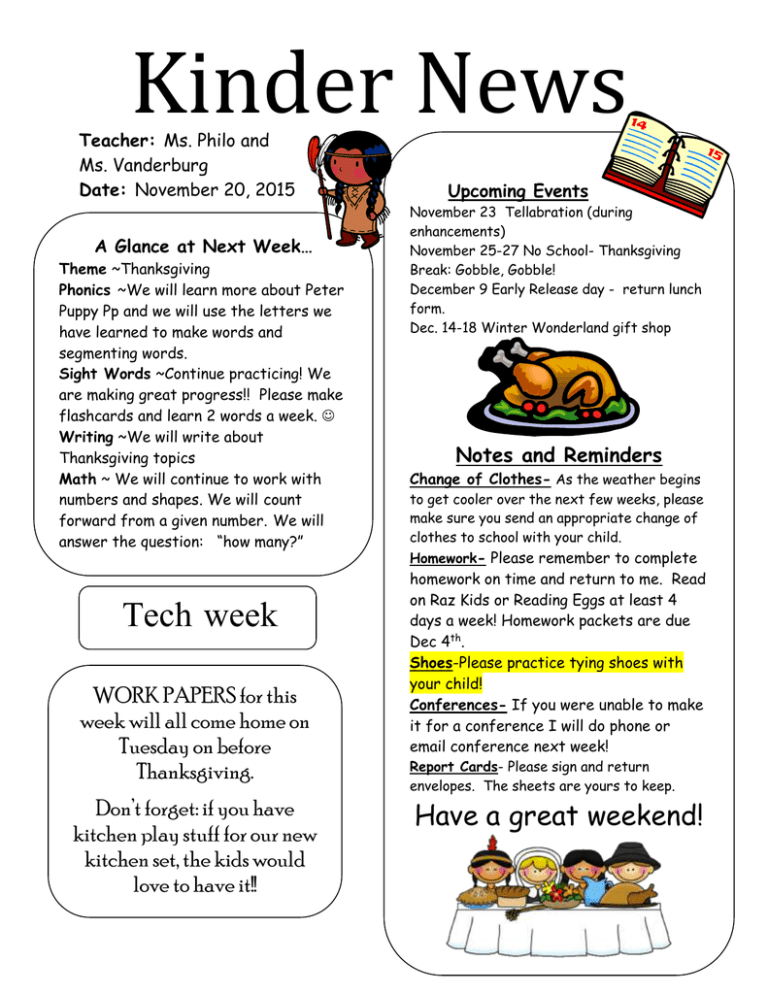 Kinder News
Teacher: Ms. Philo and
Ms. Vanderburg
Date: November 20, 2015
A Glance at Next Week…
Theme ~Thanksgiving
Phonics ~We will learn more about Peter
Puppy Pp and we will use the letters we
have learned to make words and
segmenting words.
Sight Words ~Continue practicing! We
are making great progress!! Please make
flashcards and learn 2 words a week. 
Writing ~We will write about
Thanksgiving topics
Math ~ We will continue to work with
numbers and shapes. We will count
forward from a given number. We will
answer the question: "how many?"
Tech week
WORK PAPERS for this
week will all come home on
Tuesday on before
Thanksgiving.
Don't forget: if you have
kitchen play stuff for our new
kitchen set, the kids would
love to have it!!
Upcoming Events
November 23 Tellabration (during
enhancements)
November 25-27 No School- Thanksgiving
Break: Gobble, Gobble!
December 9 Early Release day - return lunch
form.
Dec. 14-18 Winter Wonderland gift shop
Notes and Reminders
Change of Clothes- As the weather begins
to get cooler over the next few weeks, please
make sure you send an appropriate change of
clothes to school with your child.
Homework- Please remember to complete
homework on time and return to me. Read
on Raz Kids or Reading Eggs at least 4
days a week! Homework packets are due
Dec 4th.
Shoes-Please practice tying shoes with
your child!
Conferences- If you were unable to make
it for a conference I will do phone or
email conference next week!
Report Cards- Please sign and return
envelopes. The sheets are yours to keep.
Have a great weekend!