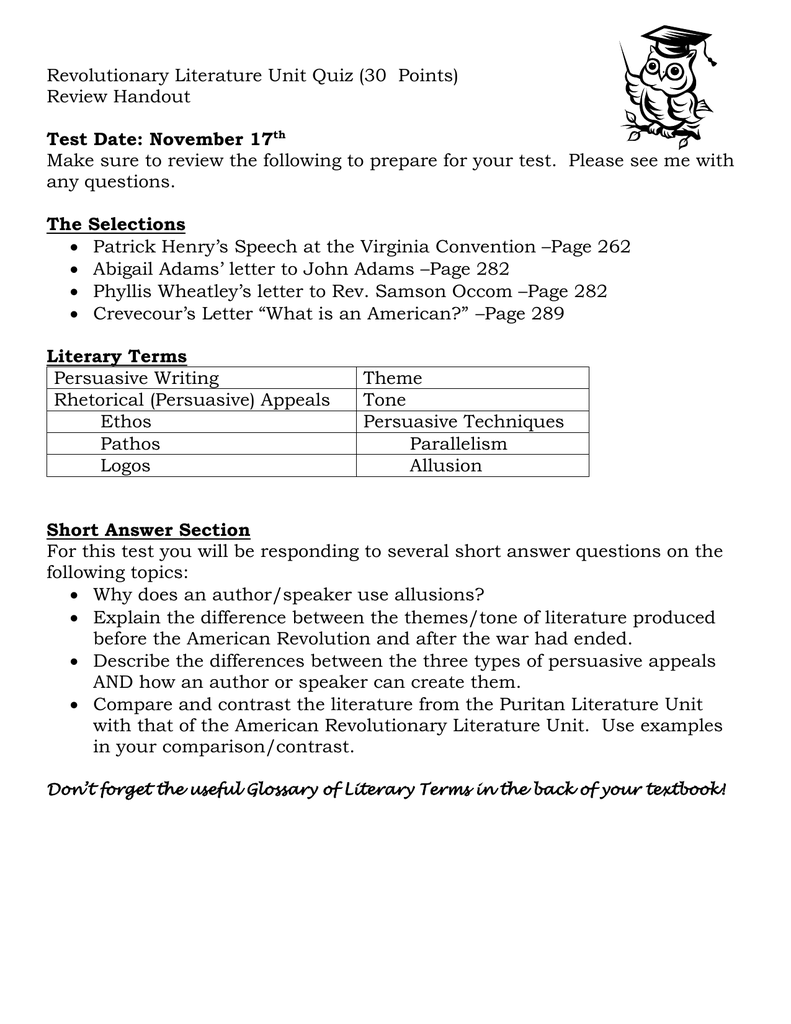 Revolutionary Literature Unit Quiz (30 Points)
Review Handout
Test Date: November 17th
Make sure to review the following to prepare for your test. Please see me with
any questions.
The




Selections
Patrick Henry's Speech at the Virginia Convention –Page 262
Abigail Adams' letter to John Adams –Page 282
Phyllis Wheatley's letter to Rev. Samson Occom –Page 282
Crevecour's Letter "What is an American?" –Page 289
Literary Terms
Persuasive Writing
Rhetorical (Persuasive) Appeals
Ethos
Pathos
Logos
Theme
Tone
Persuasive Techniques
Parallelism
Allusion
Short Answer Section
For this test you will be responding to several short answer questions on the
following topics:
 Why does an author/speaker use allusions?
 Explain the difference between the themes/tone of literature produced
before the American Revolution and after the war had ended.
 Describe the differences between the three types of persuasive appeals
AND how an author or speaker can create them.
 Compare and contrast the literature from the Puritan Literature Unit
with that of the American Revolutionary Literature Unit. Use examples
in your comparison/contrast.
Don't forget the useful Glossary of Literary Terms in the back of your textbook!