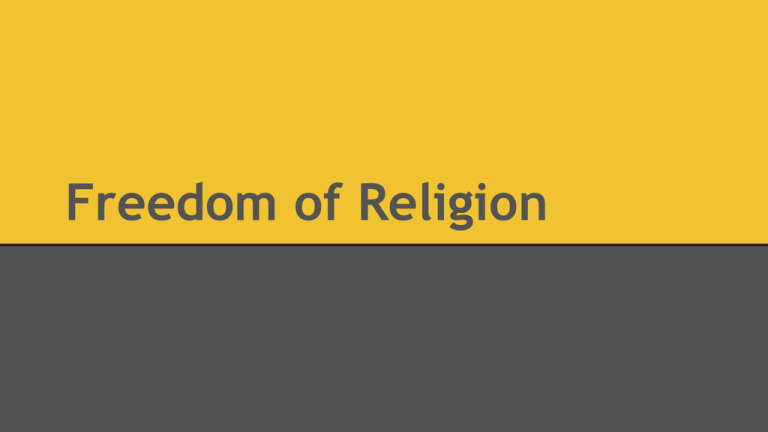 Freedom of Religion
To Start
The 1st Amendment says, "Congress shall make no law respecting an
establishment of religion or prohibit the free exercise thereof." the 14th
Amendment supports this by saying, "No State shall make or enforce any
the "under
part of theor
Pledge
of Allegiance
be changed?
law1.Should
which shall
abridgeGod"
the privileges
immunities
of citizens
of the
2.Should
schools
beisrequired
to teachbetween
creationism
addition to allowing
United
States."
There
a fine balance
the in
government
evolutions?
people
to freely exercise their right to practice religion and the
3.Should nativity
scenes
be allowed on
publicreligious
laws practices. Some of
government
supporting
or establishing
certain
the issues raised by this balance are listed below.
If you were on the Supreme Court, how would you respond to the following
questions?
The Big Idea
The Constitution's 1st Amendment guarantees
religious freedom through the Establishment
Clause and the Free Exercise Clause
The 1st Amendment
The Establishment Clause
Sets up a wall -- or separation -between church and state
The Free Exercise Clause
Protects the right of an individual
to believe -- but not to act -- as he
or she wishes
Free trade in ideas
• freedom of expression
• this has to do with more than just speech
• Religion is a huge part of the idea of expression.
• Religion has always been a part of American's
life
• many people came to America to escape religious
persecution
So what does it mean?
• Freedom of Religion prohibits:
1. an "establishment of religion"
this is the Establishment Clause
2. any arbitrary interference by government in the
"free exercise" of religion
this is the Free Exercise Clause
Establishment Clause
• Separation of Church and State
• "a wall of separation"
• not enemies or strangers
• Government encourages churches and religions
• most property owned by religious organizations operate tax
free
• chaplains in the armed forces
• the word God is used in many places within government
• So this wall is up for debate
• How high does it go?
• How high should it go?
Pierce vs. Society of Sisters
• 1925
• Establishment Clause case (but uses the Due Process Amendment
for the ruling)
• Oregon law stated that all parents were required to send their
children to public school
• this was found unconstitutional
• It was believed that this law tried to get rid of private or
church schools.
• How does this violate the Establishment Clause?
Everson vs. Board of Education
• 1947
• Direct establishment clause case
• Law stated that tax payer school buses will be
used to bus all students to schools (private
and public)
• Court upheld this as constitutional
• It is a safety measure and it trumps the issue of
religion
Free Exercise Clause
• guarantees to each person the right to believe
whatever he or she chooses to believe in matters of
religion.
• does not give the right to
• violate criminal laws
• offend public morals
• threaten the safety of the community
• Who does this protect?
• California's Vaccination law?
• does not vaccinating your kid fall under the free exercise
clause protection?
SO…. answer this
Can a society exist without free expression?
if yes what would that society look like?