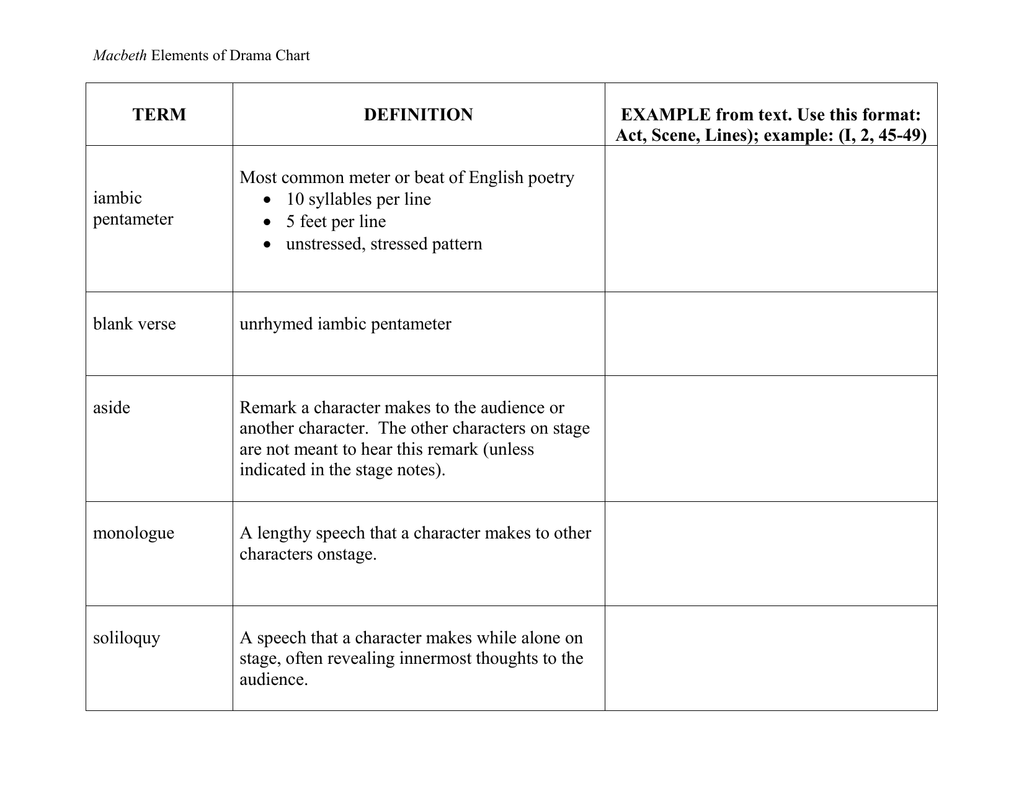 Macbeth Elements of Drama Chart
TERM
DEFINITION
iambic
pentameter
Most common meter or beat of English poetry
 10 syllables per line
 5 feet per line
 unstressed, stressed pattern
blank verse
unrhymed iambic pentameter
aside
Remark a character makes to the audience or
another character. The other characters on stage
are not meant to hear this remark (unless
indicated in the stage notes).
monologue
A lengthy speech that a character makes to other
characters onstage.
soliloquy
A speech that a character makes while alone on
stage, often revealing innermost thoughts to the
audience.
EXAMPLE from text. Use this format:
Act, Scene, Lines); example: (I, 2, 45-49)
Macbeth Elements of Drama Chart
dramatic irony
When the reader/audience knows something that
a character (or characters) do not know.
tragedy
A dramatic work that presents the downfall of a
dignified character.
tragic hero
a literary character who makes an error of judgment
or has a fatal flaw in character that, combined with
fate and external forces, brings on a tragedy
foil
A character who serves as a contrast to another
character; usually characters who have some
similarity but are ultimately opposites.