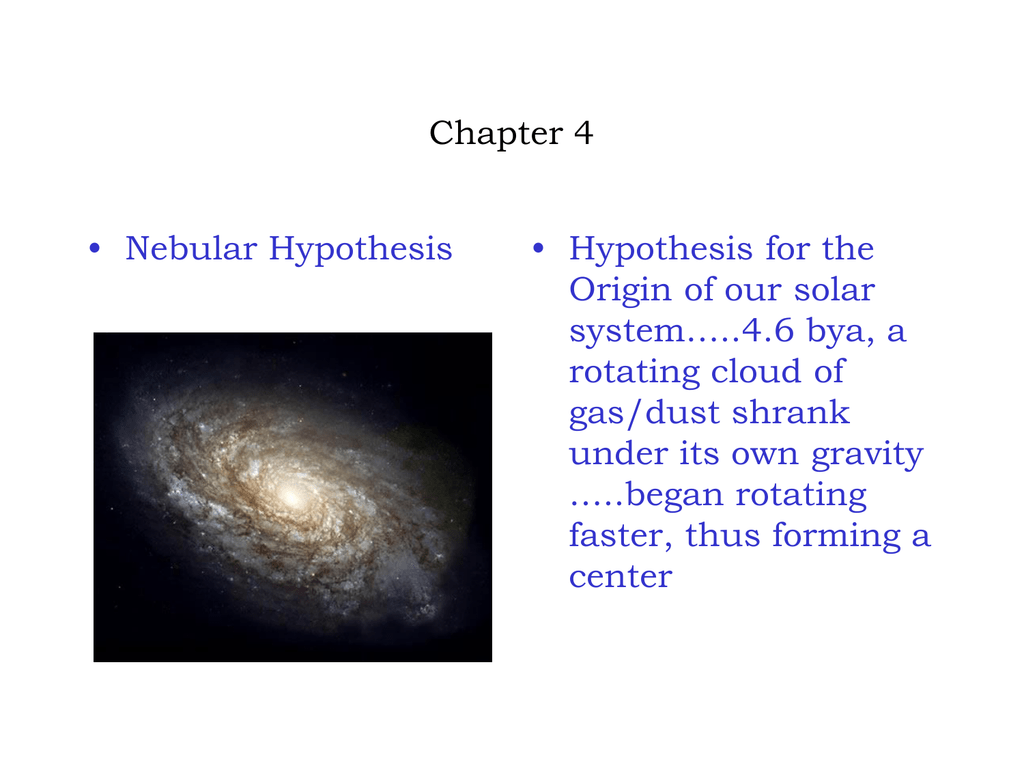 Chapter 4
• Nebular Hypothesis
• Hypothesis for the
Origin of our solar
system…..4.6 bya, a
rotating cloud of
gas/dust shrank
under its own gravity
…..began rotating
faster, thus forming a
center
• Con't.
• That center
compressed and
became so hot that
hydrogen fusion
occurred. Thus our
sun was born
• Earth formed out of
condensing solid
particle of ice and
rock
Earth's Shape
• Oblate spheroid
• Flattened at the poles
and bulging at the
equator
• Why? Due to earth's
spinning motion
Earth's Structure
• Earth's layers
•
•
•
•
Inner core (solid)
Outer core (liquid)
Mantle (solid)
Crust (outermost
layer)
Earth's Heat
• Earth is heated from
within
• Earth is slowly losing
heat
• Compressed inner
layers are very hot
(6000oK!)
• Radioactive decay of
isotopes
• Earth's crust in
thinner in certain
areas
• Certain types of rock
retain heat better
than others
• Earth's magnetic field
• Why compass's point
north!!!!!
• The North pole
attracts while the
south pole repels
• Theory is that the
field is created by
moving liquid iron in
the outer core
Because of Earth's magnetic field…
• Auroras!!!
• Solar Wind (flow of
electrically charged
particles) comes into
contact with Earth's
magnetic field and a
bright, colorful light
is created
• Aurora Borealis!!!!!