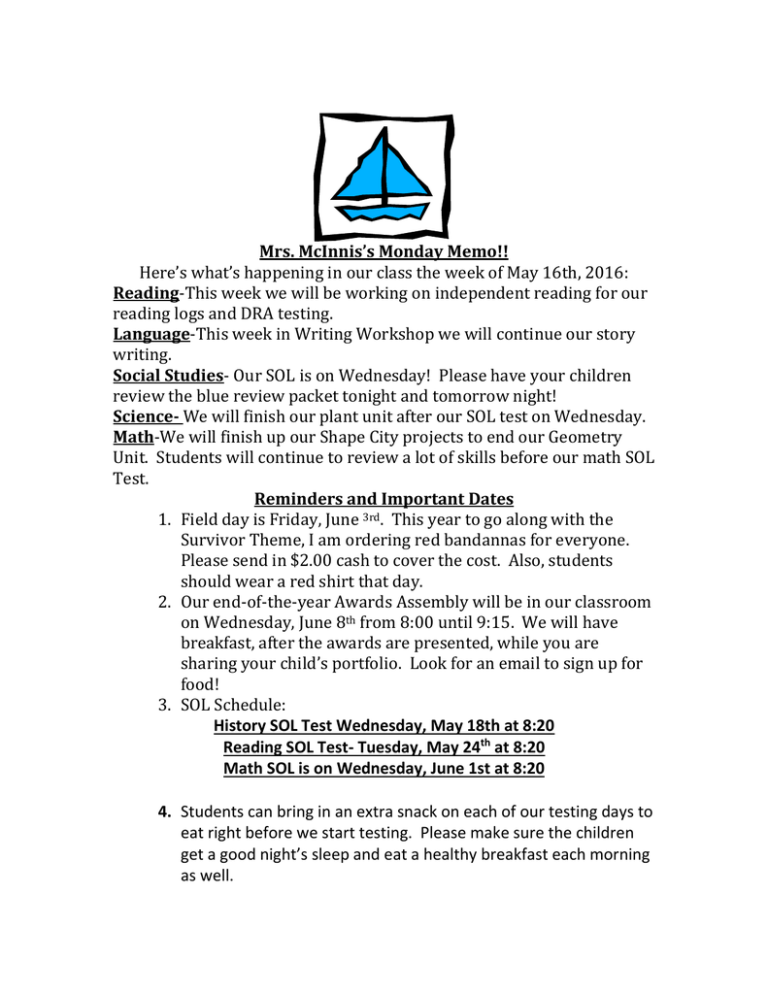 Mrs. McInnis's Monday Memo!!
Here's what's happening in our class the week of May 16th, 2016:
Reading-This week we will be working on independent reading for our
reading logs and DRA testing.
Language-This week in Writing Workshop we will continue our story
writing.
Social Studies- Our SOL is on Wednesday! Please have your children
review the blue review packet tonight and tomorrow night!
Science- We will finish our plant unit after our SOL test on Wednesday.
Math-We will finish up our Shape City projects to end our Geometry
Unit. Students will continue to review a lot of skills before our math SOL
Test.
Reminders and Important Dates
1. Field day is Friday, June 3rd. This year to go along with the
Survivor Theme, I am ordering red bandannas for everyone.
Please send in $2.00 cash to cover the cost. Also, students
should wear a red shirt that day.
2. Our end-of-the-year Awards Assembly will be in our classroom
on Wednesday, June 8th from 8:00 until 9:15. We will have
breakfast, after the awards are presented, while you are
sharing your child's portfolio. Look for an email to sign up for
food!
3. SOL Schedule:
History SOL Test Wednesday, May 18th at 8:20
Reading SOL Test- Tuesday, May 24th at 8:20
Math SOL is on Wednesday, June 1st at 8:20
4. Students can bring in an extra snack on each of our testing days to
eat right before we start testing. Please make sure the children
get a good night's sleep and eat a healthy breakfast each morning
as well.