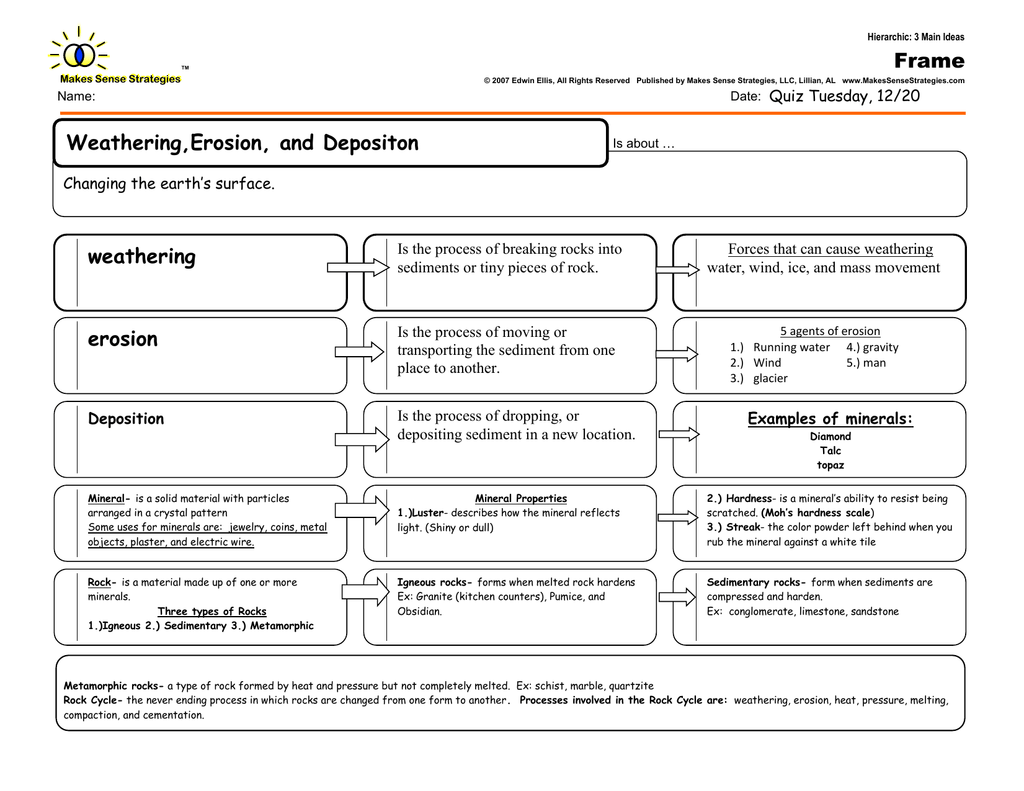 Hierarchic: 3 Main Ideas
TM
Makes Sense
Sense Strategies
Strategies
Makes
Frame
s
© 2007 Edwin Ellis, All Rights Reserved Published by Makes Sense Strategies, LLC, Lillian, AL www.MakesSenseStrategies.com
Name:
Date:
Weathering,Erosion, and Depositon
Quiz Tuesday, 12/20
Is about …
Changing the earth's surface.
weathering
Is the process of breaking rocks into
sediments or tiny pieces of rock.
erosion
Is the process of moving or
transporting the sediment from one
place to another.
Deposition
Is the process of dropping, or
depositing sediment in a new location.
Mineral- is a solid material with particles
arranged in a crystal pattern
Some uses for minerals are: jewelry, coins, metal
objects, plaster, and electric wire.
Mineral Properties
1.)Luster- describes how the mineral reflects
light. (Shiny or dull)
2.) Hardness- is a mineral's ability to resist being
scratched. (Moh's hardness scale)
3.) Streak- the color powder left behind when you
rub the mineral against a white tile
Rock- is a material made up of one or more
minerals.
Three types of Rocks
1.)Igneous 2.) Sedimentary 3.) Metamorphic
Igneous rocks- forms when melted rock hardens
Ex: Granite (kitchen counters), Pumice, and
Obsidian.
Sedimentary rocks- form when sediments are
compressed and harden.
Ex: conglomerate, limestone, sandstone
Forces that can cause weathering
water, wind, ice, and mass movement
5 agents of erosion
1.) Running water 4.) gravity
2.) Wind
5.) man
3.) glacier
Examples of minerals:
Diamond
Talc
topaz
Metamorphic rocks- a type of rock formed by heat and pressure but not completely melted. Ex: schist, marble, quartzite
Rock Cycle- the never ending process in which rocks are changed from one form to another. Processes involved in the Rock Cycle are: weathering, erosion, heat, pressure, melting,
compaction, and cementation.