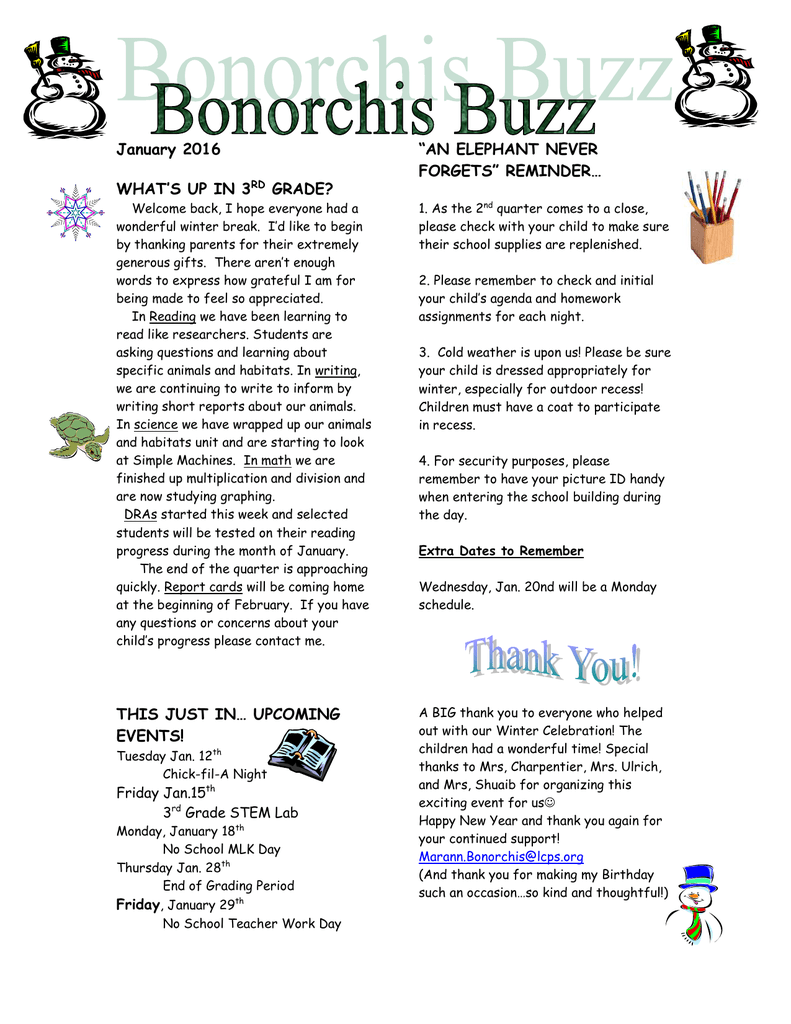 January 2016
WHAT'S UP IN 3RD GRADE?
"AN ELEPHANT NEVER
FORGETS" REMINDER…
Welcome back, I hope everyone had a
wonderful winter break. I'd like to begin
by thanking parents for their extremely
generous gifts. There aren't enough
words to express how grateful I am for
being made to feel so appreciated.
In Reading we have been learning to
read like researchers. Students are
asking questions and learning about
specific animals and habitats. In writing,
we are continuing to write to inform by
writing short reports about our animals.
In science we have wrapped up our animals
and habitats unit and are starting to look
at Simple Machines. In math we are
finished up multiplication and division and
are now studying graphing.
DRAs started this week and selected
students will be tested on their reading
progress during the month of January.
The end of the quarter is approaching
quickly. Report cards will be coming home
at the beginning of February. If you have
any questions or concerns about your
child's progress please contact me.
1. As the 2nd quarter comes to a close,
please check with your child to make sure
their school supplies are replenished.
THIS JUST IN… UPCOMING
EVENTS!
A BIG thank you to everyone who helped
out with our Winter Celebration! The
children had a wonderful time! Special
thanks to Mrs, Charpentier, Mrs. Ulrich,
and Mrs, Shuaib for organizing this
exciting event for us
Happy New Year and thank you again for
your continued support!
[email protected]
(And thank you for making my Birthday
such an occasion…so kind and thoughtful!)
Tuesday Jan. 12th
Chick-fil-A Night
Friday Jan.15th
3rd Grade STEM Lab
Monday, January 18th
No School MLK Day
Thursday Jan. 28th
End of Grading Period
Friday, January 29th
No School Teacher Work Day
2. Please remember to check and initial
your child's agenda and homework
assignments for each night.
3. Cold weather is upon us! Please be sure
your child is dressed appropriately for
winter, especially for outdoor recess!
Children must have a coat to participate
in recess.
4. For security purposes, please
remember to have your picture ID handy
when entering the school building during
the day.
Extra Dates to Remember
Wednesday, Jan. 20nd will be a Monday
schedule.