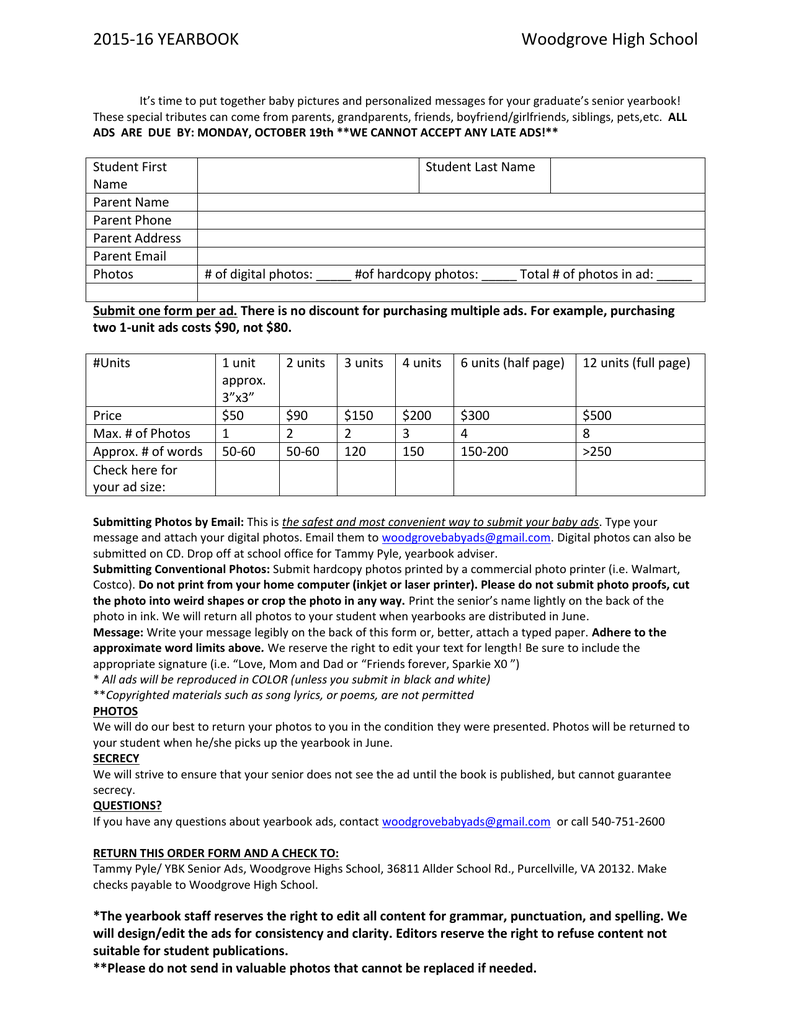 2015-16 YEARBOOK
Woodgrove High School
It's time to put together baby pictures and personalized messages for your graduate's senior yearbook!
These special tributes can come from parents, grandparents, friends, boyfriend/girlfriends, siblings, pets,etc. ALL
ADS ARE DUE BY: MONDAY, OCTOBER 19th **WE CANNOT ACCEPT ANY LATE ADS!**
Student First
Name
Parent Name
Parent Phone
Parent Address
Parent Email
Photos
Student Last Name
# of digital photos: _____ #of hardcopy photos: _____ Total # of photos in ad: _____
Submit one form per ad. There is no discount for purchasing multiple ads. For example, purchasing
two 1-unit ads costs $90, not $80.
#Units
Price
Max. # of Photos
Approx. # of words
Check here for
your ad size:
1 unit
approx.
3"x3"
$50
1
50-60
2 units
3 units
4 units
6 units (half page)
12 units (full page)
$90
2
50-60
$150
2
120
$200
3
150
$300
4
150-200
$500
8
>250
Submitting Photos by Email: This is the safest and most convenient way to submit your baby ads. Type your
message and attach your digital photos. Email them to [email protected] Digital photos can also be
submitted on CD. Drop off at school office for Tammy Pyle, yearbook adviser.
Submitting Conventional Photos: Submit hardcopy photos printed by a commercial photo printer (i.e. Walmart,
Costco). Do not print from your home computer (inkjet or laser printer). Please do not submit photo proofs, cut
the photo into weird shapes or crop the photo in any way. Print the senior's name lightly on the back of the
photo in ink. We will return all photos to your student when yearbooks are distributed in June.
Message: Write your message legibly on the back of this form or, better, attach a typed paper. Adhere to the
approximate word limits above. We reserve the right to edit your text for length! Be sure to include the
appropriate signature (i.e. "Love, Mom and Dad or "Friends forever, Sparkie X0 ")
* All ads will be reproduced in COLOR (unless you submit in black and white)
**Copyrighted materials such as song lyrics, or poems, are not permitted
PHOTOS
We will do our best to return your photos to you in the condition they were presented. Photos will be returned to
your student when he/she picks up the yearbook in June.
SECRECY
We will strive to ensure that your senior does not see the ad until the book is published, but cannot guarantee
secrecy.
QUESTIONS?
If you have any questions about yearbook ads, contact [email protected] or call 540-751-2600
RETURN THIS ORDER FORM AND A CHECK TO:
Tammy Pyle/ YBK Senior Ads, Woodgrove Highs School, 36811 Allder School Rd., Purcellville, VA 20132. Make
checks payable to Woodgrove High School.
*The yearbook staff reserves the right to edit all content for grammar, punctuation, and spelling. We
will design/edit the ads for consistency and clarity. Editors reserve the right to refuse content not
suitable for student publications.
**Please do not send in valuable photos that cannot be replaced if needed.