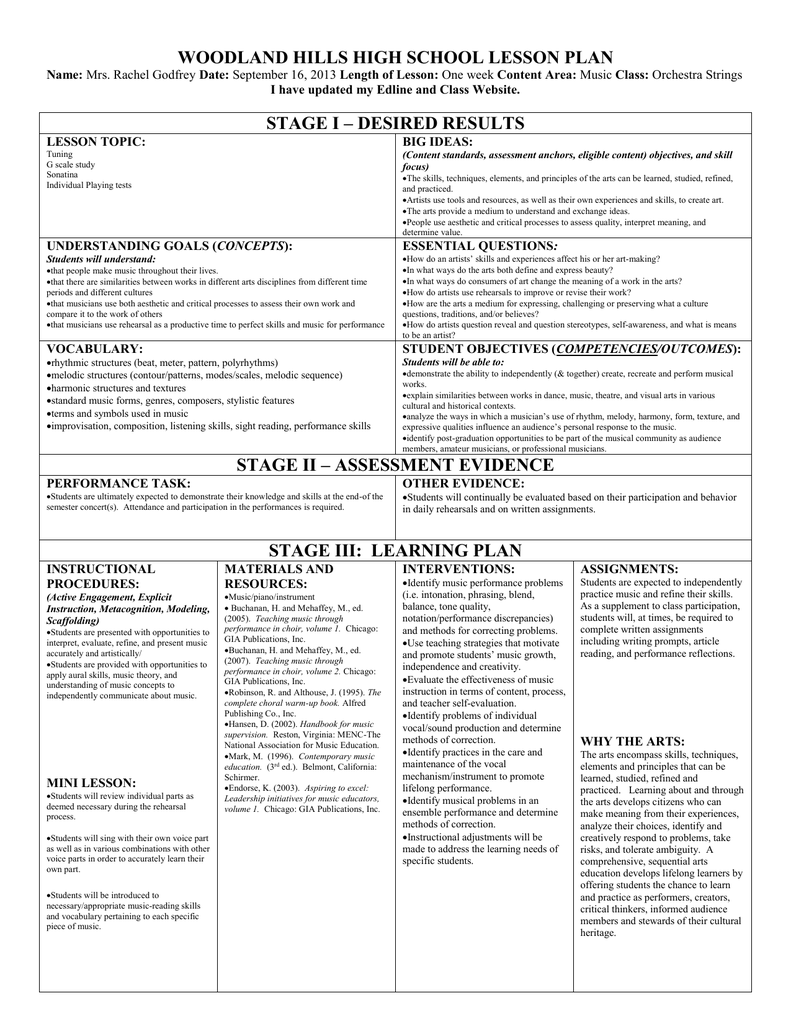 WOODLAND HILLS HIGH SCHOOL LESSON PLAN
Name: Mrs. Rachel Godfrey Date: September 16, 2013 Length of Lesson: One week Content Area: Music Class: Orchestra Strings
I have updated my Edline and Class Website.
STAGE I – DESIRED RESULTS
LESSON TOPIC:
BIG IDEAS:
Tuning
G scale study
Sonatina
Individual Playing tests
(Content standards, assessment anchors, eligible content) objectives, and skill
focus)
UNDERSTANDING GOALS (CONCEPTS):
ESSENTIAL QUESTIONS:
The skills, techniques, elements, and principles of the arts can be learned, studied, refined,
and practiced.
Artists use tools and resources, as well as their own experiences and skills, to create art.
The arts provide a medium to understand and exchange ideas.
People use aesthetic and critical processes to assess quality, interpret meaning, and
determine value.
Students will understand:
that people make music throughout their lives.
that there are similarities between works in different arts disciplines from different time
periods and different cultures
that musicians use both aesthetic and critical processes to assess their own work and
compare it to the work of others
that musicians use rehearsal as a productive time to perfect skills and music for performance
How do an artists' skills and experiences affect his or her art-making?
In what ways do the arts both define and express beauty?
In what ways do consumers of art change the meaning of a work in the arts?
How do artists use rehearsals to improve or revise their work?
How are the arts a medium for expressing, challenging or preserving what a culture
questions, traditions, and/or believes?
How do artists question reveal and question stereotypes, self-awareness, and what is means
to be an artist?
VOCABULARY:
STUDENT OBJECTIVES (COMPETENCIES/OUTCOMES):
rhythmic structures (beat, meter, pattern, polyrhythms)
melodic structures (contour/patterns, modes/scales, melodic sequence)
harmonic structures and textures
standard music forms, genres, composers, stylistic features
terms and symbols used in music
improvisation, composition, listening skills, sight reading, performance skills
Students will be able to:
demonstrate the ability to independently (& together) create, recreate and perform musical
works.
explain similarities between works in dance, music, theatre, and visual arts in various
cultural and historical contexts.
analyze the ways in which a musician's use of rhythm, melody, harmony, form, texture, and
expressive qualities influence an audience's personal response to the music.
identify post-graduation opportunities to be part of the musical community as audience
members, amateur musicians, or professional musicians.
STAGE II – ASSESSMENT EVIDENCE
PERFORMANCE TASK:
Students are ultimately expected to demonstrate their knowledge and skills at the end-of the
semester concert(s). Attendance and participation in the performances is required.
OTHER EVIDENCE:
Students will continually be evaluated based on their participation and behavior
in daily rehearsals and on written assignments.
STAGE III: LEARNING PLAN
INSTRUCTIONAL
PROCEDURES:
(Active Engagement, Explicit
Instruction, Metacognition, Modeling,
Scaffolding)
Students are presented with opportunities to
interpret, evaluate, refine, and present music
accurately and artistically/
Students are provided with opportunities to
apply aural skills, music theory, and
understanding of music concepts to
independently communicate about music.
MINI LESSON:
Students will review individual parts as
deemed necessary during the rehearsal
process.
Students will sing with their own voice part
as well as in various combinations with other
voice parts in order to accurately learn their
own part.
Students will be introduced to
necessary/appropriate music-reading skills
and vocabulary pertaining to each specific
piece of music.
MATERIALS AND
RESOURCES:
Music/piano/instrument
 Buchanan, H. and Mehaffey, M., ed.
(2005). Teaching music through
performance in choir, volume 1. Chicago:
GIA Publications, Inc.
Buchanan, H. and Mehaffey, M., ed.
(2007). Teaching music through
performance in choir, volume 2. Chicago:
GIA Publications, Inc.
Robinson, R. and Althouse, J. (1995). The
complete choral warm-up book. Alfred
Publishing Co., Inc.
Hansen, D. (2002). Handbook for music
supervision. Reston, Virginia: MENC-The
National Association for Music Education.
Mark, M. (1996). Contemporary music
education. (3rd ed.). Belmont, California:
Schirmer.
Endorse, K. (2003). Aspiring to excel:
Leadership initiatives for music educators,
volume 1. Chicago: GIA Publications, Inc.
INTERVENTIONS:
Identify music performance problems
(i.e. intonation, phrasing, blend,
balance, tone quality,
notation/performance discrepancies)
and methods for correcting problems.
Use teaching strategies that motivate
and promote students' music growth,
independence and creativity.
Evaluate the effectiveness of music
instruction in terms of content, process,
and teacher self-evaluation.
Identify problems of individual
vocal/sound production and determine
methods of correction.
Identify practices in the care and
maintenance of the vocal
mechanism/instrument to promote
lifelong performance.
Identify musical problems in an
ensemble performance and determine
methods of correction.
Instructional adjustments will be
made to address the learning needs of
specific students.
ASSIGNMENTS:
Students are expected to independently
practice music and refine their skills.
As a supplement to class participation,
students will, at times, be required to
complete written assignments
including writing prompts, article
reading, and performance reflections.
WHY THE ARTS:
The arts encompass skills, techniques,
elements and principles that can be
learned, studied, refined and
practiced. Learning about and through
the arts develops citizens who can
make meaning from their experiences,
analyze their choices, identify and
creatively respond to problems, take
risks, and tolerate ambiguity. A
comprehensive, sequential arts
education develops lifelong learners by
offering students the chance to learn
and practice as performers, creators,
critical thinkers, informed audience
members and stewards of their cultural
heritage.