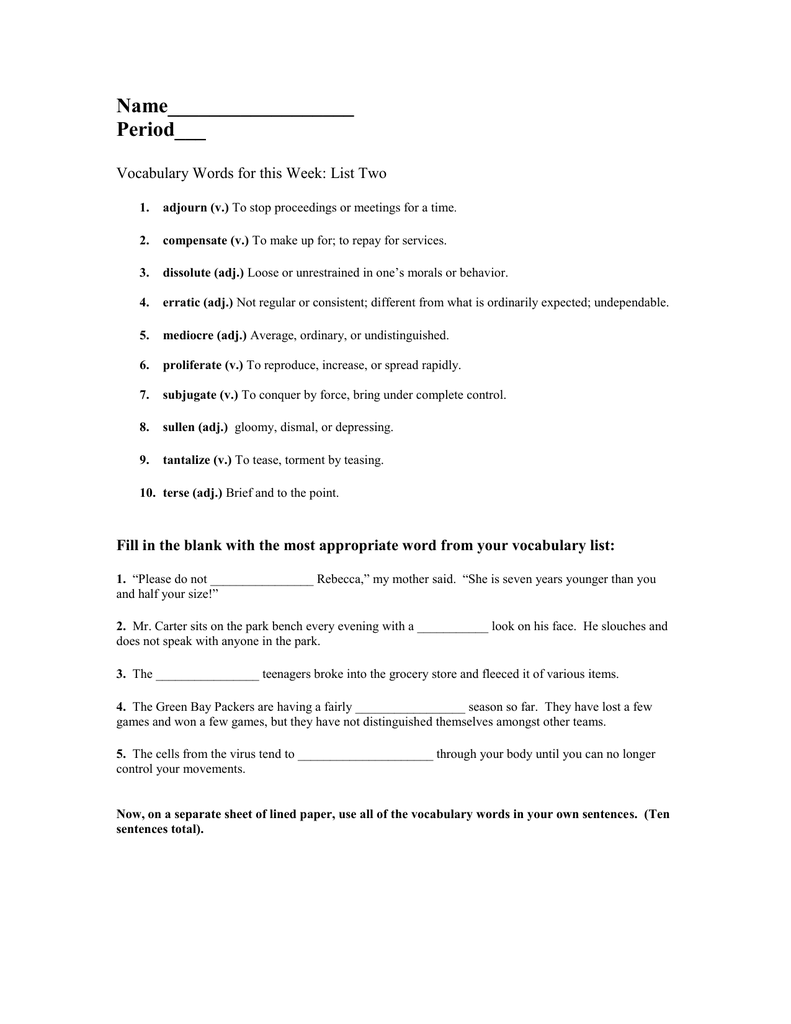 Name__________________
Period___
Vocabulary Words for this Week: List Two
1.
adjourn (v.) To stop proceedings or meetings for a time.
2.
compensate (v.) To make up for; to repay for services.
3.
dissolute (adj.) Loose or unrestrained in one's morals or behavior.
4.
erratic (adj.) Not regular or consistent; different from what is ordinarily expected; undependable.
5.
mediocre (adj.) Average, ordinary, or undistinguished.
6.
proliferate (v.) To reproduce, increase, or spread rapidly.
7.
subjugate (v.) To conquer by force, bring under complete control.
8.
sullen (adj.) gloomy, dismal, or depressing.
9.
tantalize (v.) To tease, torment by teasing.
10. terse (adj.) Brief and to the point.
Fill in the blank with the most appropriate word from your vocabulary list:
1. "Please do not ________________ Rebecca," my mother said. "She is seven years younger than you
and half your size!"
2. Mr. Carter sits on the park bench every evening with a ___________ look on his face. He slouches and
does not speak with anyone in the park.
3. The ________________ teenagers broke into the grocery store and fleeced it of various items.
4. The Green Bay Packers are having a fairly _________________ season so far. They have lost a few
games and won a few games, but they have not distinguished themselves amongst other teams.
5. The cells from the virus tend to _____________________ through your body until you can no longer
control your movements.
Now, on a separate sheet of lined paper, use all of the vocabulary words in your own sentences. (Ten
sentences total).