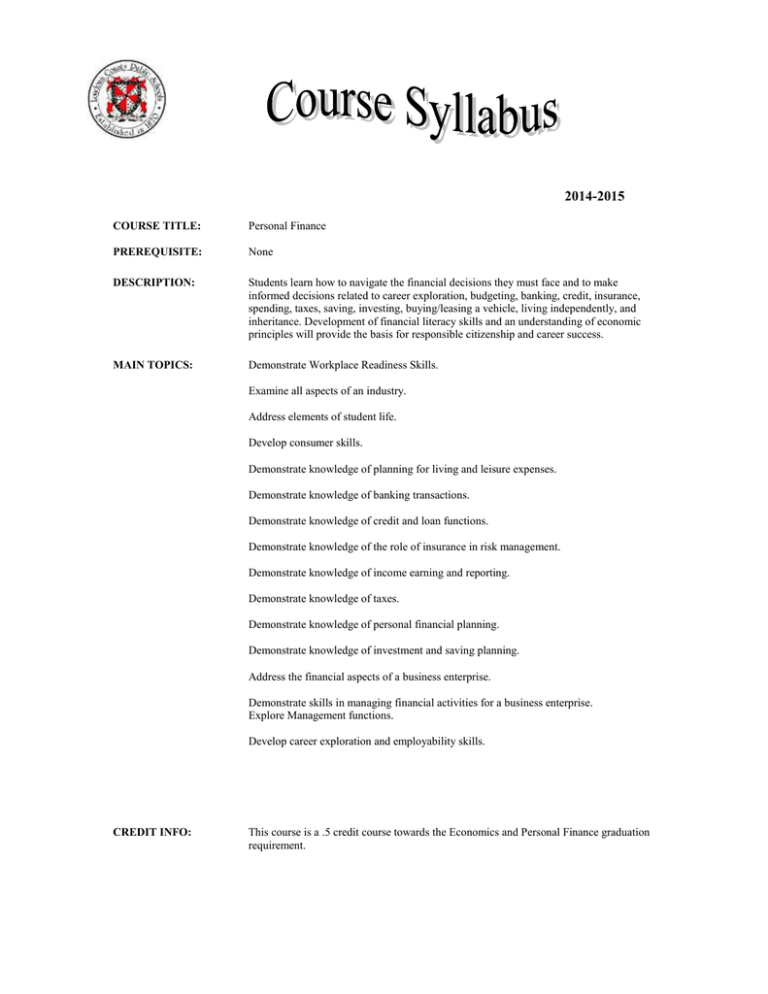 2014-2015
COURSE TITLE:
Personal Finance
PREREQUISITE:
None
DESCRIPTION:
Students learn how to navigate the financial decisions they must face and to make
informed decisions related to career exploration, budgeting, banking, credit, insurance,
spending, taxes, saving, investing, buying/leasing a vehicle, living independently, and
inheritance. Development of financial literacy skills and an understanding of economic
principles will provide the basis for responsible citizenship and career success.
MAIN TOPICS:
Demonstrate Workplace Readiness Skills.
Examine all aspects of an industry.
Address elements of student life.
Develop consumer skills.
Demonstrate knowledge of planning for living and leisure expenses.
Demonstrate knowledge of banking transactions.
Demonstrate knowledge of credit and loan functions.
Demonstrate knowledge of the role of insurance in risk management.
Demonstrate knowledge of income earning and reporting.
Demonstrate knowledge of taxes.
Demonstrate knowledge of personal financial planning.
Demonstrate knowledge of investment and saving planning.
Address the financial aspects of a business enterprise.
Demonstrate skills in managing financial activities for a business enterprise.
Explore Management functions.
Develop career exploration and employability skills.
CREDIT INFO:
This course is a .5 credit course towards the Economics and Personal Finance graduation
requirement.