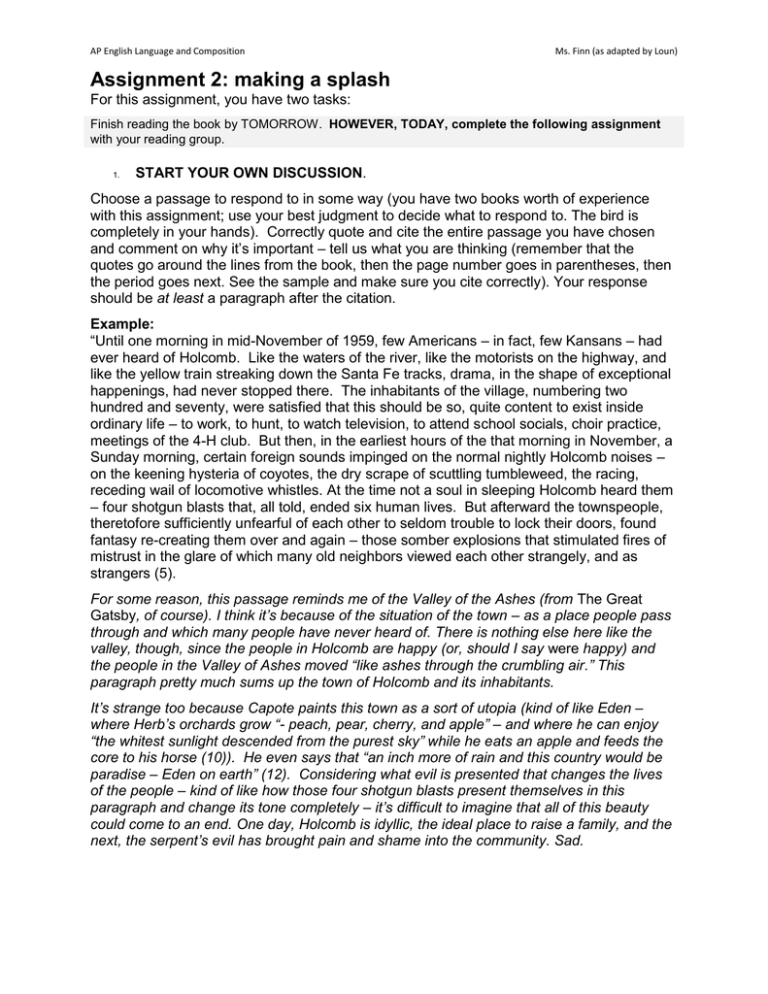 AP English Language and Composition
Ms. Finn (as adapted by Loun)
Assignment 2: making a splash
For this assignment, you have two tasks:
Finish reading the book by TOMORROW. HOWEVER, TODAY, complete the following assignment
with your reading group.
1.
START YOUR OWN DISCUSSION.
Choose a passage to respond to in some way (you have two books worth of experience
with this assignment; use your best judgment to decide what to respond to. The bird is
completely in your hands). Correctly quote and cite the entire passage you have chosen
and comment on why it's important – tell us what you are thinking (remember that the
quotes go around the lines from the book, then the page number goes in parentheses, then
the period goes next. See the sample and make sure you cite correctly). Your response
should be at least a paragraph after the citation.
Example:
"Until one morning in mid-November of 1959, few Americans – in fact, few Kansans – had
ever heard of Holcomb. Like the waters of the river, like the motorists on the highway, and
like the yellow train streaking down the Santa Fe tracks, drama, in the shape of exceptional
happenings, had never stopped there. The inhabitants of the village, numbering two
hundred and seventy, were satisfied that this should be so, quite content to exist inside
ordinary life – to work, to hunt, to watch television, to attend school socials, choir practice,
meetings of the 4-H club. But then, in the earliest hours of the that morning in November, a
Sunday morning, certain foreign sounds impinged on the normal nightly Holcomb noises –
on the keening hysteria of coyotes, the dry scrape of scuttling tumbleweed, the racing,
receding wail of locomotive whistles. At the time not a soul in sleeping Holcomb heard them
– four shotgun blasts that, all told, ended six human lives. But afterward the townspeople,
theretofore sufficiently unfearful of each other to seldom trouble to lock their doors, found
fantasy re-creating them over and again – those somber explosions that stimulated fires of
mistrust in the glare of which many old neighbors viewed each other strangely, and as
strangers (5).
For some reason, this passage reminds me of the Valley of the Ashes (from The Great
Gatsby, of course). I think it's because of the situation of the town – as a place people pass
through and which many people have never heard of. There is nothing else here like the
valley, though, since the people in Holcomb are happy (or, should I say were happy) and
the people in the Valley of Ashes moved "like ashes through the crumbling air." This
paragraph pretty much sums up the town of Holcomb and its inhabitants.
It's strange too because Capote paints this town as a sort of utopia (kind of like Eden –
where Herb's orchards grow "- peach, pear, cherry, and apple" – and where he can enjoy
"the whitest sunlight descended from the purest sky" while he eats an apple and feeds the
core to his horse (10)). He even says that "an inch more of rain and this country would be
paradise – Eden on earth" (12). Considering what evil is presented that changes the lives
of the people – kind of like how those four shotgun blasts present themselves in this
paragraph and change its tone completely – it's difficult to imagine that all of this beauty
could come to an end. One day, Holcomb is idyllic, the ideal place to raise a family, and the
next, the serpent's evil has brought pain and shame into the community. Sad.
AP English Language and Composition
Ms. Finn (as adapted by Loun)
2. In class today, READ another group's PASSAGE/OBSERVATIONS AND
RESPOND. In your response you can agree with another group and add your own
thoughts, you can disagree and show why, or you can ask questions and try to
provide your own answers. This part of the assignment requires that you think about
what each other say, and that you respond respectfully and appropriately.
FOR THESE ASSIGNMENTS, YOU WANT TO BE COMPLETE IN YOUR THOUGHT
PROCESS. ENGAGE IN THE DISCUSSION. IF AT ALL POSSIBLE, DON'T REPEAT
PASSAGES - IF SOMEONE USED ONE YOU WANTED TO USE ALREADY, RESPOND
TO IT WITH YOUR OWN THOUGHTS THAT DO NOT REPEAT THE ORIGINAL
OBSERVATION, BUT INSTEAD ADD TO THEM. ONCE YOUR GROUP HAS SELECTED
A PASSAGE, PRINT OUT YOUR SELECTED PASSAGE/OBSERVATION AND LEAVE
PLENTY OF SPACE FOR OTHER GROUP COMMENTS.