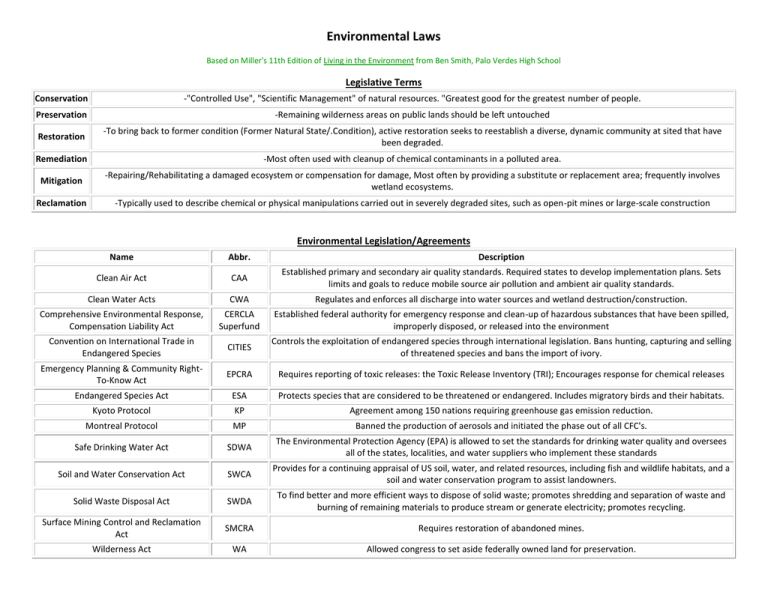 Environmental Laws
Based on Miller's 11th Edition of Living in the Environment from Ben Smith, Palo Verdes High School
Legislative Terms
Conservation
-"Controlled Use", "Scientific Management" of natural resources. "Greatest good for the greatest number of people.
Preservation
-Remaining wilderness areas on public lands should be left untouched
Restoration
-To bring back to former condition (Former Natural State/.Condition), active restoration seeks to reestablish a diverse, dynamic community at sited that have
been degraded.
Remediation
-Most often used with cleanup of chemical contaminants in a polluted area.
Mitigation
-Repairing/Rehabilitating a damaged ecosystem or compensation for damage, Most often by providing a substitute or replacement area; frequently involves
wetland ecosystems.
Reclamation
-Typically used to describe chemical or physical manipulations carried out in severely degraded sites, such as open-pit mines or large-scale construction
Environmental Legislation/Agreements
Name
Abbr.
Description
Clean Air Act
CAA
Established primary and secondary air quality standards. Required states to develop implementation plans. Sets
limits and goals to reduce mobile source air pollution and ambient air quality standards.
Clean Water Acts
CWA
Regulates and enforces all discharge into water sources and wetland destruction/construction.
Comprehensive Environmental Response,
Compensation Liability Act
CERCLA
Superfund
Established federal authority for emergency response and clean-up of hazardous substances that have been spilled,
improperly disposed, or released into the environment
Convention on International Trade in
Endangered Species
CITIES
Controls the exploitation of endangered species through international legislation. Bans hunting, capturing and selling
of threatened species and bans the import of ivory.
Emergency Planning & Community RightTo-Know Act
EPCRA
Requires reporting of toxic releases: the Toxic Release Inventory (TRI); Encourages response for chemical releases
Endangered Species Act
ESA
Protects species that are considered to be threatened or endangered. Includes migratory birds and their habitats.
Kyoto Protocol
KP
Agreement among 150 nations requiring greenhouse gas emission reduction.
Montreal Protocol
MP
Banned the production of aerosols and initiated the phase out of all CFC's.
Safe Drinking Water Act
SDWA
The Environmental Protection Agency (EPA) is allowed to set the standards for drinking water quality and oversees
all of the states, localities, and water suppliers who implement these standards
Soil and Water Conservation Act
SWCA
Provides for a continuing appraisal of US soil, water, and related resources, including fish and wildlife habitats, and a
soil and water conservation program to assist landowners.
Solid Waste Disposal Act
SWDA
To find better and more efficient ways to dispose of solid waste; promotes shredding and separation of waste and
burning of remaining materials to produce stream or generate electricity; promotes recycling.
Surface Mining Control and Reclamation
Act
SMCRA
Requires restoration of abandoned mines.
Wilderness Act
WA
Allowed congress to set aside federally owned land for preservation.