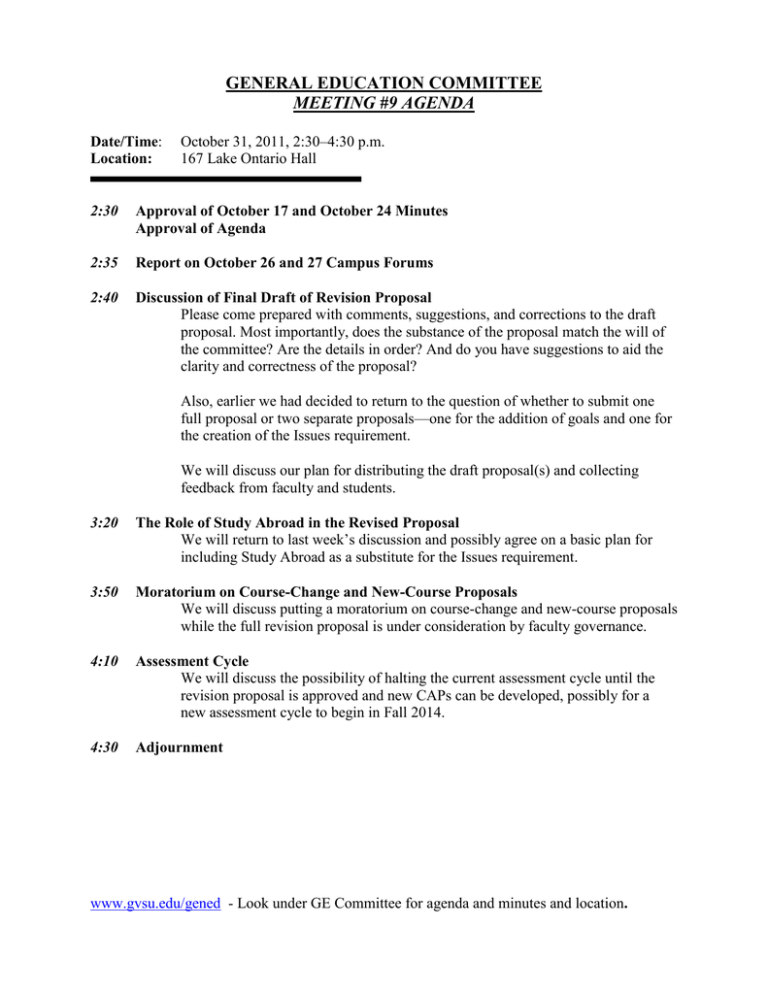 GENERAL EDUCATION COMMITTEE
MEETING #9 AGENDA
Date/Time:
Location:
October 31, 2011, 2:30–4:30 p.m.
167 Lake Ontario Hall
2:30
Approval of October 17 and October 24 Minutes
Approval of Agenda
2:35
Report on October 26 and 27 Campus Forums
2:40
Discussion of Final Draft of Revision Proposal
Please come prepared with comments, suggestions, and corrections to the draft
proposal. Most importantly, does the substance of the proposal match the will of
the committee? Are the details in order? And do you have suggestions to aid the
clarity and correctness of the proposal?
Also, earlier we had decided to return to the question of whether to submit one
full proposal or two separate proposals—one for the addition of goals and one for
the creation of the Issues requirement.
We will discuss our plan for distributing the draft proposal(s) and collecting
feedback from faculty and students.
3:20
The Role of Study Abroad in the Revised Proposal
We will return to last week's discussion and possibly agree on a basic plan for
including Study Abroad as a substitute for the Issues requirement.
3:50
Moratorium on Course-Change and New-Course Proposals
We will discuss putting a moratorium on course-change and new-course proposals
while the full revision proposal is under consideration by faculty governance.
4:10
Assessment Cycle
We will discuss the possibility of halting the current assessment cycle until the
revision proposal is approved and new CAPs can be developed, possibly for a
new assessment cycle to begin in Fall 2014.
4:30
Adjournment
www.gvsu.edu/gened - Look under GE Committee for agenda and minutes and location.