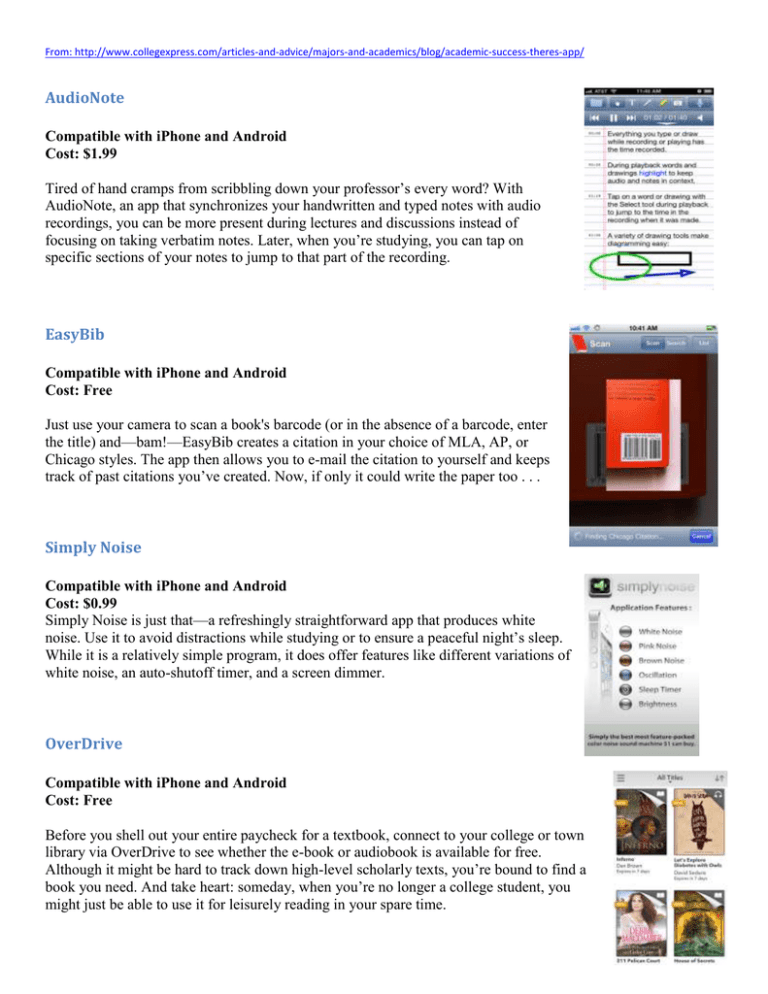 From: http://www.collegexpress.com/articles-and-advice/majors-and-academics/blog/academic-success-theres-app/
AudioNote
Compatible with iPhone and Android
Cost: $1.99
Tired of hand cramps from scribbling down your professor's every word? With
AudioNote, an app that synchronizes your handwritten and typed notes with audio
recordings, you can be more present during lectures and discussions instead of
focusing on taking verbatim notes. Later, when you're studying, you can tap on
specific sections of your notes to jump to that part of the recording.
EasyBib
Compatible with iPhone and Android
Cost: Free
Just use your camera to scan a book's barcode (or in the absence of a barcode, enter
the title) and—bam!—EasyBib creates a citation in your choice of MLA, AP, or
Chicago styles. The app then allows you to e-mail the citation to yourself and keeps
track of past citations you've created. Now, if only it could write the paper too . . .
Simply Noise
Compatible with iPhone and Android
Cost: $0.99
Simply Noise is just that—a refreshingly straightforward app that produces white
noise. Use it to avoid distractions while studying or to ensure a peaceful night's sleep.
While it is a relatively simple program, it does offer features like different variations of
white noise, an auto-shutoff timer, and a screen dimmer.
OverDrive
Compatible with iPhone and Android
Cost: Free
Before you shell out your entire paycheck for a textbook, connect to your college or town
library via OverDrive to see whether the e-book or audiobook is available for free.
Although it might be hard to track down high-level scholarly texts, you're bound to find a
book you need. And take heart: someday, when you're no longer a college student, you
might just be able to use it for leisurely reading in your spare time.
iStudiez Lite
Compatible with iPhone
Cost: Free with a $2.99 upgrade available
It's time to toss that dingy assignment book. A productivity app created specifically for
students, this program allows you to input your course schedule and assignments to make
sure you stay on top of your studies this semester. With a pleasant, easy-to-use interface,
this is perhaps one of the best academic planners available.
Google Drive
Compatible with iPhone
Cost: Free
Like the official Microsoft Office Pages, Keynote, and Numbers apps above, Google Drive
is the mobile companion to the Web-based app. With word processing, spreadsheet, and
presentation capabilities, it's a super helpful app if you're a Drive convert already. You can
even edit your docs on the go! (Not that we recommend working on your term paper via
smartphone, but it's nice to know you have the option.)
Freaky Alarm
Compatible with iPhone and Android
Cost: $1.99
No matter how much studying you do, you won't ace your final exam if you sleep through it.
With Freaky Alarm, you'll never miss a class, test, or appointment again. The alarm requires
you to answer a customizable number of arithmetic questions and hand-eye coordination
games before it will turn off. In addition, you can set it up to force you out of bed by making
you take a picture of any item located elsewhere in your dormitory, like the coffeemaker on
the other side of the room. Fair warning: the default alarm is not kidding around, with sounds
like gunshots, ambulance sirens, and barking dogs—but if that gives your roomie a heart
attack, you also can set it to your favorite song.
From: http://www.lifehack.org/articles/technology/25-apps-college-students-shouldnt-live-without.html
Any.do
Millions of people use Any.Do to organize their tasks. This application is perfect for
students who need to create a to-do list. It also synchronize all tasks with other devices
so that the list can be accessed from anywhere. Add new entries to the list with the
help of touch-based interface, or use your voice to create tasks.
You can change the priority of your entry, mark a task as completed, or even shake
your device to remove all completed tasks from it. The Any.Do widget can be added to your home screen for
quick and easy access.
Mailbox
Do you often have troubles with your email? Is it frustrating to control your inbox
because it lacks features? Then it's high time to download Mailbox to your mobile
device and forget about all these problems at once.
Different swipe commands will help you keep your inbox clean, archive the emails
you've already read, set various reminders, work with several emails at the same time,
and always stay on the top of your inbox despite the constant stream of incoming
messages college students often face.
Dropbox
No college student will be afraid of losing his notes or coursework anymore! Thanks to Dropbox, you have a
chance to upload different files (documents, photos, videos) in the cloud and get them online whenever you
need, even if you forget your phone at home. The only thing needed to access your files is an Internet
connection.Store your files in Dropbox, and share them with friends without any fear of losing important and
useful data.
Feed.ly
College students always want to know everything and keep their eyes on the ball, but it may be quite difficult to
do because of constant deadlines, part-time jobs, overdue essays, exams, etc. Feed.ly is here to help you deal
with this problem. This is one of the best RSS aggregators. It lets you consolidate all news into one feed. Just
check the news you would like to receive, and get notifications every time something interesting appears.
Nothing could be easier, huh?
Scribd
Welcome to the world's biggest library online! Scribd helps students find millions of different documents and
books that are important for your studies. All those data are shared by people from all over the world, and you
can easily curate and organize them according to their topic.
Create your own library with different notes, texts, and books that you need. Share them with your friends, and
find all the information with Scribd.
Mathway
Oh yes, your math homework or tests may be quite challenging. It is so easy to stuck trying to find the right
answer. Try Mathway—the mobile application that will guide you step-by-step while you search for algebra,
geometry, or any other math solution. Enter your task into the application, and check if your solution is the
same with one offered.
iTunes U
If you're a student who uses Apple devices, you will be happy to know that you have access to iTunes U, which
gives you access to different educational courses from all leading universities for free! Did you dream of
studying at MIT, Oxford, Yale, or Cambridge? This is your chance to do it from your own place: download this
amazing app, and learn various subjects from the best colleges and universities in the world.
Studious
How often do you forget about the date and time of your test? Do you always know the deadline of your
homework, the time of your next lecture, and the subject of your next class? Thanks to Studious, this problem
will be solved once and forever. All you need to do is to enter all information about your class, time, professor,
location, etc., and this cool application will remind you about it just in time!
Dictionary.com
This is the perfect application for words enthusiasts and everyone who has to read many books on different
topics, where you might come across some tricky words. Dictionary.com makes it easy to find the definition of
every word you are not sure about. One small bonus for those students who like spying on their classmates: this
application allows them see what words people around are them looking for.
The Oxford Dictionary
This is one more application for your mobile device that will help you understand English words better. It's
easy and quick to use: just enter the needed word into the app, and get its detailed definition at once. Rare
words, both with British and American variants, audio pronunciations, all new words—all this will help you
understand the English language better, even if it is your native one.
TED
All the famous and most fascinating people are in your phone now! High-quality videos of different conferences
from all over the world are waiting for you in TED—an application that has all business experts, educators,
computer geniuses, music legends, and many other interesting people in it. Open your mind to something new!
RealCalc Scientific Calculator
The name of this application itself perfectly describes its features and functions. If you are a math student, and
you always need a calculator to solve equations quickly, you are welcome to download RealCalc Scientific
Calculator. Now you will never be afraid of forgetting your calculator at home (well, you can still forget your
phone, but anyway).
JumpCut
How often do you use copy and paste buttons while writing your essay
for example? Some students simply add a couple of their own thoughts
to that copied material, and here it is—a new essay! Sound familiar?
Then JumpCut is your savior here: this application saves you a lot of
time, giving you access to all texts that you have copied and pasted
before, even if a new text has been copied by you again since then.
Chegg
When a new semester comes, and you have to buy many new textbooks to
continue your study, do not be in a hurry to sell your soul and spend all your
money. Download Chegg, a free application which lets you find rentals of textbooks you need! Just search for a
book, and if they have it, put in an order. And when you no longer need a textbook, you can easily rent it again
via Chegg. Easy to use and useful to try.
Viber
If you study far away from home, Viber will be your best helper to connect
with your family and friends. Free talks and calls let you stay in touch with
close people, share all news, photos and videos with them, and feel their
presence even when they are not in the same city with you.
Duolingo
If you are one of those lucky students who study foreign languages, then you
definitely need Duolingo, the application that will help you learn new words,
get ready for tests and exams, and complete various tasks to improve your
knowledge. It is free to download, and it is available for all users of Apple and
Android devices.
Venmo
Venmo is a free application that links your device with your bank account to
make it easier for you to pay back money without having to deal with cash.
With its help, you can share your payments with friends, collect money from
people who owe it to you, pay your bills, and much more.
Lemon Wallet
How many times did you lose your wallet in campus? While you are thinking,
we are ready to represent you Lemon Wallet, an application that will help you
avoid this unpleasant situation, or find your lost wallet quickly at least. Lemon Wallet
brings you an access to identity theft protection, and it will become your most
convenient mobile wallet ever.