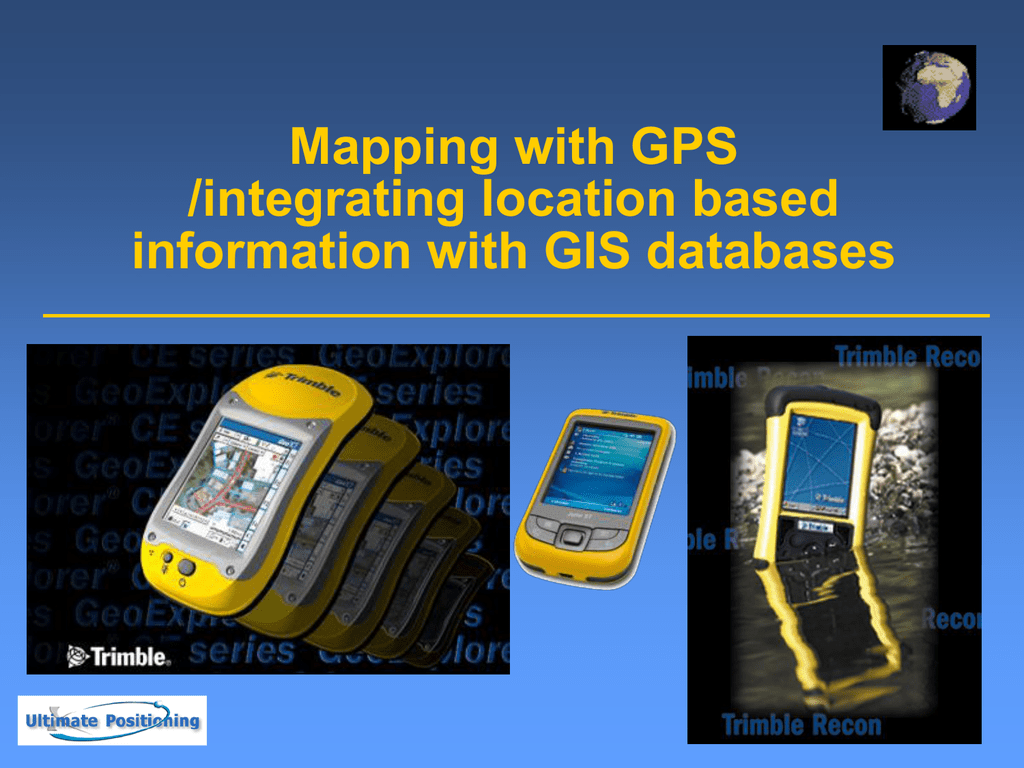 Mapping with GPS
/integrating location based
information with GIS databases
Agenda
GPS Data Collection
 Census Mapping with Trimble
 GPS Data Maintenance
 Summary

GPS Segments
Space Segment
Control
Control
Segment
Segment
User Segment
Monitor
Stations
Standard Positioning Service Autonomous GPS
<20 m
Precise Positioning ServicePPS P(Y) Code GPS
<12 m
Mapping Grade Receiver-DGPS
Base Station
<2m
High Quality Mapping Receiver
SPS-DGPS
Base Station
<1m
Real-Time Kinematic Surveying
RTK Base Station
<1cm
Survey Grade GPS
Base Station
<1/2 cm
Where Do You Need to Be?
12m
1m
1cm
1/2cm
2m
20 m
Real-Time or Postprocessed?
12m
1m
1cm
1/2cm
2m
50 m
Examples of Different Accuracy
Requirements
Code Phase GPS
 40 m
Navigation at sea
 10 m
Navigation to section
corners
2 m
Rural GIS data capture
1 m
GIS data collection in
urban area
 Carrier Phase GPS
 1 cm
Stake out
 ½ cm - Control Surveys

Differential Correction
Base Station generates corrections for all
satellites in view
 Roving GPS receiver uses corrections to
reduce errors
 Differential correction can be performed in
either real-time or postprocessed mode

Differential Correction
(Simplified)
If you collect data at one
location, there will be
errors
 Each of these errors are
tagged with GPS time

BASE
Absolute
Reference
Position
GPS
Positions
t+1
Time, t
Differential Correction (Cont.)
ROVER
?
t+1
Time, t

At the same time, the
errors occurring at one
location are occurring
everywhere within the
same vicinity
Differential Correction (Cont.)
ROVER
BASE
?
t+1
Time, t
Satellites Used
1234
1356
Any Combination of Base satellites
t+1
Time, t
Satellites Seen
12345678
Example of Uncorrected File
Example of Corrected File
Possible Problem...

setting the elevation masks
Poor Situation – Satellite
visible to Rover only. Base
Station is not tracking it.
Base Station: 15°
Rover: 15°
Solution...

Set base elevation mask less than rover
Ideal Situation – Satellite is
being tracked by both Rover
and Base Station.
Base Station: 10°
Rover: 15°
1° per 100 km distance between base and rover
Why GPS ?
Satellite-based.
 Digital Coordinates
 Fast & Acceptable Accuracy
 Easy integration with Most GIS Software
 More suitable for extended application of GIS
e.g.
 Census Data Analysis
 Emergency Services
 Location Based Services
 Disaster Management
 Asset Management

GPS Data Collection


Collection of Geographic Data (GI)
 Points, Lines, Areas
 Offset locations
 1 to 5 meter precision
Customized attribute
information
 Menu lists, Text, Numeric, Dates and times
 Multiple data dictionary support
 Infield data dictionary creation
2. Census Mapping with Trimble



Trimble Mapping is High-end Mapping
Grade Receiver to be used for
 Recording something, somewhere
(What do I have?)
Navigation
 Finding something, somewhere
(Where is it?)
Updating
 Verifying something, somewhere.
(Is the information I have correct?)
Juno ST GPS Handheld
Stylus holder
GPS
antenna
connector
Power
button
Headset connector
Reset
button
SD card
slot
Lock
switch
Calendar
Today
screen
Power/USB socket
Contacts
Messaging
Directional
button
Performance Postprocessing
Juno ST Autonomous
HRMS 2.11m
Bias 0.63m
Worst 5.6m

Juno ST Postprocessed
HRMS 1.12m
Bias 0.55m
Worst 4.6m
Improve the overall quality and consistency
of your data by postprocessing …
Recon XC GPS Receiver


The GPS Pathfinder® XC receiver is totally enclosed beneath the
extended CF-Cap™

No receiver or antenna cables to snag or break

Plug and play with CompactFlash
Achieve 2 to 5 meter postprocessed accuracy

Requires field software capable of logging data
for postprocessing
 TerraSync™ software
 ArcPad with the Trimble GPScorrect ™ extension
 Applications created with the GPS Pathfinder
Tools Software Development Kit SDK

Also requires office processing software
 GPS Pathfinder Office software
 Trimble GPS Analyst ™ extension for ESRI
ArcGIS software
Rugged and weatherproof
IP 67
 Sand and dust: MIL-STD-810F, Method 510.4,
Procedures I and II
 Water: MIL-STD-810F, Method 512.4, Procedure I
(submersion in 1 meter of water for 30 minutes)
 Wide operating temperature range
 –10 °C to 50 °C (14 °F to 122 °F)
 Drop specification
 4 ft (1.22 m)
 MIL-STD-810F, Method 516.5, Procedure IV
 Vibration resistant
 MIL-STD-810F, Method 514.5

Trimble Recon GPS XB edition
Affordable
 Equip your entire mobile
workforce
 Reliable 2 to 5 meter accuracy
 Using SBAS or
postprocessing
 Rugged field computer
 Cable-free
®
 Bluetooth wireless
technology connection to GPS
Pathfinder® XB receiver
 Choice of field software

Compared with
Trimble Recon GPS XC edition
Trimble Recon GPS XB
edition
Trimble Recon GPS XC
edition
Built-in Bluetooth wireless
technology
No built-in wireless
External GPS receiver
Internal GPS receiver
SBAS for real-time 2 to 5 meter
DGPS accuracy
Can also post-process
No SBAS
Use post-processing to achieve 2
to 5 meter accuracy
Trimble Recon handheld

Key Features
 Ultra-rugged and lightweight
 IP 67
 Integrated wireless options
®
 Optional built-in Bluetooth wireless
technology and wireless LAN
 Range of systems to best meet your
needs
 Select from 3 different Trimble Recon
handheld systems
 GPS functionality easily added
 TrimPix™ technology wireless camera
support
GeoExplorer 2005 series






Three models: three levels of accuracy
 GeoXH™ handheld—Subfoot (with H-Star™ technology)
 GeoXT™ handheld—Submeter
 GeoXM™ handheld—1–3 m
Microsoft® Windows Mobile® version 5.0 software
 Maximum flexibility in software choice
512 MB onboard storage plus removable
SD card storage
Bluetooth® and 802.11b Wireless LAN connectivity options
Rugged handheld with all day battery
TrimPix™ technology for wireless
camera support
Voice Message
Pocket PC Voice Recording System
 Ideal for Diverse Data Collection with various
groups of people using the unit
 Save time
 Accurate and Detailed Database

TrimPix technology support

Support for digital image
transfer using wireless LAN
 Using built-in wireless LAN or
wireless LAN CF card
 Receive high resolution digital
images from selected Nikon
digital cameras
 The easy way to integrate digital
images into your GIS
Adding Photo to your GIS data
Photographs are rich in detail
 Photographs can be used
as evidence

Hence :
 No cost in describing the site
 Add minimal extra cost but add
more details to GIS data
u
Free to download from
www.trimble.com/trimpix
Need to know...
How many people...
 Where they are …
 What are the people
nationality in the area...
 What condition they are…
 Who are they ?
 Why?


Answers  Tools for better Decision Making
3. GPS Data Maintenance

Building a GIS database is a bit like
building a bridge...
 It has a design and construction stage…
Data Maintenance

But if its not maintained, it becomes useless
and can create problems.
Data Maintenance

Maintenance for a GIS means keeping its data
up-to-date, accurate, and reliable.

Features may need to be:
 added
 modified
 deleted
 restructured
Data Maintenance

Data becomes out-of-date for many reasons,
such as:
 new infrastructure
 storm damage
 changing user
requirements
 New analysis criteria
Data Maintenance

The Data Collection/Maintenance Cycle
3. Field to GIS
1. GIS to Field
2. Field Update
The way we are heading…
Data
Collection
Data
Maintenance
Data Use
Where we have been
Where we are headed
The Future
Further Improvements on GPS
 Cheaper price with more capabilities
 More accessible to all users
 More Flexible application
 More Accurate Coordinates
 Better Data Communication
 Better GIS data

Summary
GPS is a reliable source of GIS data
 Trimble continues to provide the most reliable
GPS Receivers
 More functionalities are added into GPS
Receivers
 When the Data Collection is done, Data
Maintenance must already been planed and
committed

 Better Decision Making & Analysis

Thank You.