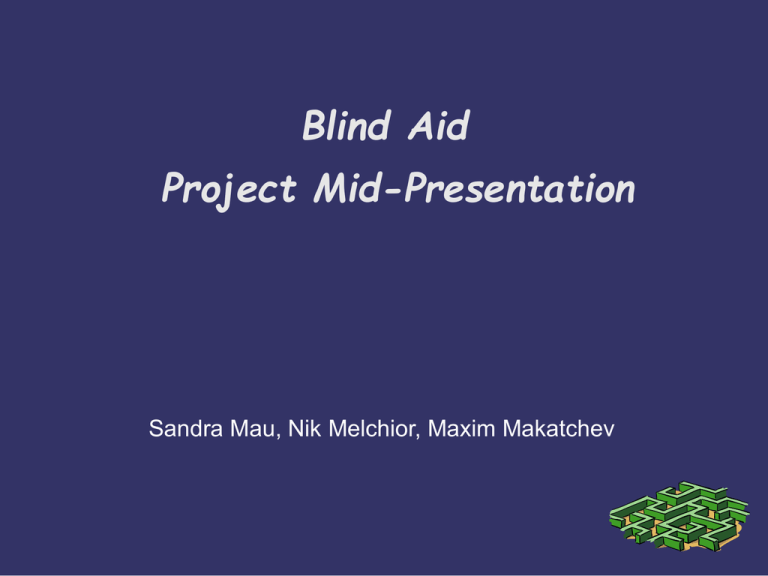 Blind Aid
Project Mid-Presentation
Sandra Mau, Nik Melchior, Maxim Makatchev
Contents
➲
Project overview
➲
What we've learned
➲
Related projects
➲
Website tour
Project Overview
➲
Develop an Electronic Travel Aid for the
blind


➲
indoor navigation and obstacle avoidance
outdoor navigation and path planning
Range sensors and/or GPS
Blind and Vision Rehabilitative
Services of Pittsburgh
➲
➲
Interviews with the President and
Coordinator of Access Technologies
Further interviews with Orientation and
Mobility Instructors tomorrow
Blind and Vision Rehabilitative
Services of Pittsburgh
➲
➲
➲
➲
Optometrist services
Training facilities including a kitchen
Dormitories
We merited a mention in their monthly
newsletter
What We Have Learned
➲
➲
90% of the the blind cannot travel
independently
7% use canes

Trailing: following a fine discrimination such as
curb/grass border
3% use guide dogs
➲




Batteries don't die
Take initiative (intelligent disobedience)
Recognize limited classes of objects
Follow Asimov's Laws
Interfaces
➲
➲
➲
➲
Most blind people don't read braille
(especially elderly)
Vibration can be useful
Audible is preferred
In general:




Should not chatter too much
User should take initiative
Do not need an inventory of a room
Need a hand free
Interesting Problems
➲
➲
Need to know what's nearby without actually
passing by everything
Indoor navigation is more important


College campuses and hospitals
Instrumented environments

Hard to sell
Interesting Problems
(1)Buses at a bus stop
(2)GPS interface: current location and what's
nearby
(3)Where to go and what to do at airports,
hotels, convention centers, etc.
Related Research
➲
Stated Preferences for Components of a
Personal Guidance System for Nonvisual
Navigation [Golledge, Marston, Loomis, Klatzky]

Preferred input type for PGS



Voice input was strongest
Braille was surprisingly not very popular
Preferred output type for PGS



Most accepted was a collar-or shoulder-mounted
speech sound device
Least accepted was output via headphones over ears
For devices with extra directional cues, speech or
tonal sound output was preferred
Related Projects
➲
University of Michigan Mobile Robotics Lab
GuideCane
NavBelt
NavChair
Related Products
➲
Sound Foresight Ltd

The UltraCane
Uses sonar to detect
obstacles and conveys
this information through
vibrating buttons on
handle
http://www.soundforesight.co.uk/ultracane_demonstrator.htm
Related Products
➲
Adaptive Technology Consulting

Many products for the visually impaired:

Braille translation, PDA, mobile phone organizer,
screen magnifiers, Internet access with speech, etc.

For navigation: GPS system
Related Products
➲
Telesensory

➲
Marco Audible Sensory System
Tech-Link kids (First Lego Robotics)

Pocket-bot
To the web...