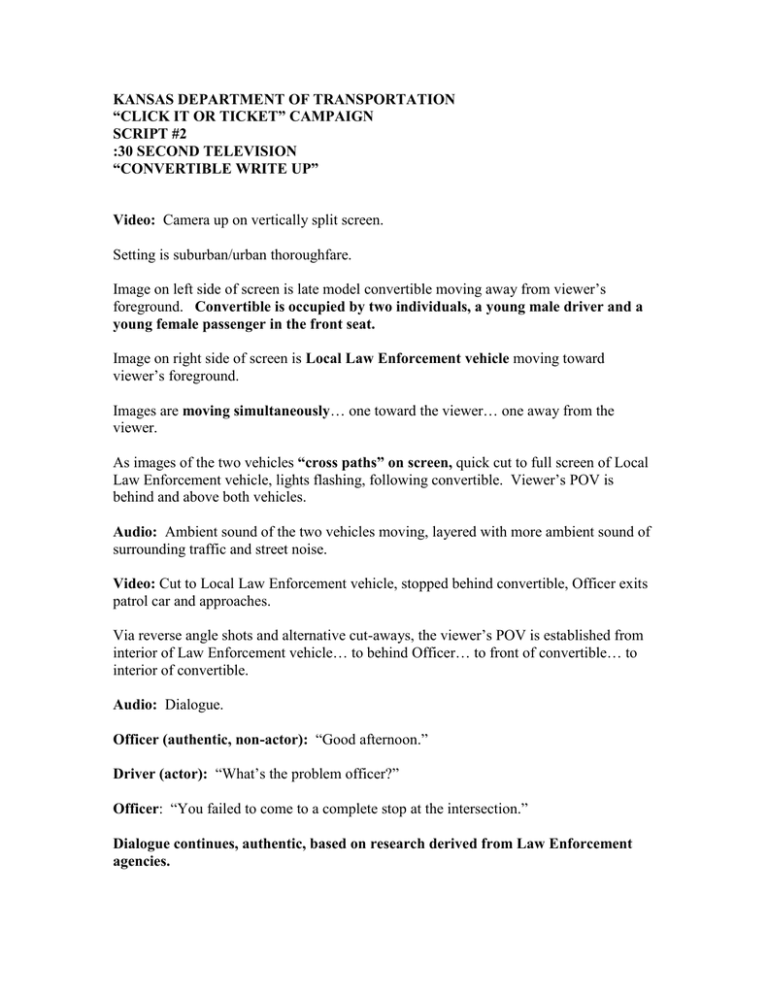 KANSAS DEPARTMENT OF TRANSPORTATION
"CLICK IT OR TICKET" CAMPAIGN
SCRIPT #2
:30 SECOND TELEVISION
"CONVERTIBLE WRITE UP"
Video: Camera up on vertically split screen.
Setting is suburban/urban thoroughfare.
Image on left side of screen is late model convertible moving away from viewer's
foreground. Convertible is occupied by two individuals, a young male driver and a
young female passenger in the front seat.
Image on right side of screen is Local Law Enforcement vehicle moving toward
viewer's foreground.
Images are moving simultaneously… one toward the viewer… one away from the
viewer.
As images of the two vehicles "cross paths" on screen, quick cut to full screen of Local
Law Enforcement vehicle, lights flashing, following convertible. Viewer's POV is
behind and above both vehicles.
Audio: Ambient sound of the two vehicles moving, layered with more ambient sound of
surrounding traffic and street noise.
Video: Cut to Local Law Enforcement vehicle, stopped behind convertible, Officer exits
patrol car and approaches.
Via reverse angle shots and alternative cut-aways, the viewer's POV is established from
interior of Law Enforcement vehicle… to behind Officer… to front of convertible… to
interior of convertible.
Audio: Dialogue.
Officer (authentic, non-actor): "Good afternoon."
Driver (actor): "What's the problem officer?"
Officer: "You failed to come to a complete stop at the intersection."
Dialogue continues, authentic, based on research derived from Law Enforcement
agencies.
Page Two
Video: POV allows viewer to see and hear exchange between Officer and Driver. Intercut b-roll of event from exterior angles.
Audio: Dialogue.
Officer: "Also, you are not wearing your seat belt, which is against the law in Kansas, so
I'm going to issue you citations for both failure to fully stop at an intersection… And,
another citation for failure to use your seat belt.
Driver: "You can't be serious! I had no idea I had to be wearing a seat belt. I thought it
was an option, you know, my choice."
Officer: "I'm afraid you're wrong, sir. And, since your front seat passenger isn't
wearing her belt, I'm issuing her a citation, as well. It's the law in Kansas."
Front Seat Passenger(actor): "What?! I'm not even driving the car."
Officer: "Ma'am, in Kansas, if I pull you over for a violation and you're not wearing a
seat belt, then you're going to get a ticket for the violation AND for not being buckled
up. That goes for anyone riding in the front seat, driver or passenger."
Driver (or Passenger): "That's just not right."
Officer: "In Kansas, that's the law."
Cut to: Officer in Close-Up, convertible and passengers visible in background.
Officer: "We're getting tough on Kansans who don't wear seat belts, and it's about time.
I've seen far too many fatalities that could have been prevented if people had only taken
time to buckle up."
Officer (continuing, and gesturing to convertible in background): "It's unfortunate
that some people get upset with laws intended to keep them safe. But you know what? I'd
rather see them angry than dead."
Video: Dissolve to logo/signature card. (Kansas Department of Transportation and your
Kansas Law Enforcement Community)
Voice-Over Narration: Click it or ticket. It's Kansas law. No excuses, no exceptions.
Fade to black. END.