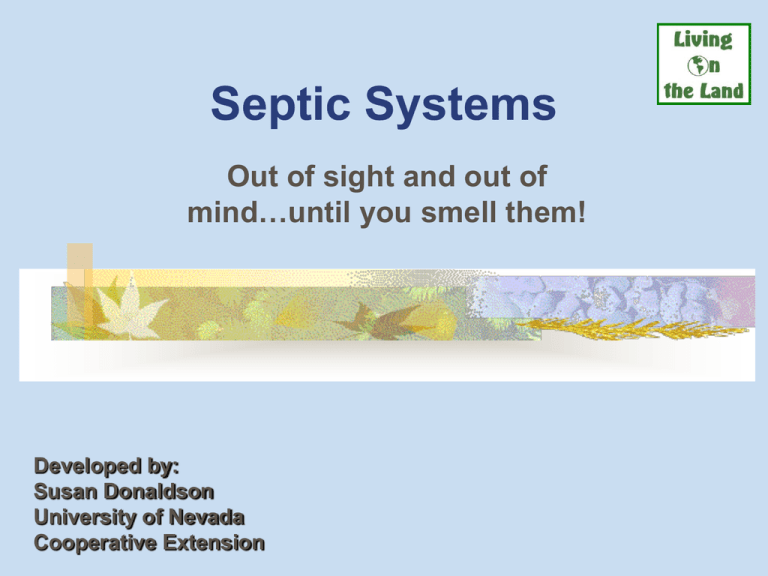 Septic Systems
Out of sight and out of
mind…until you smell them!
Developed by:
Susan Donaldson
University of Nevada
Cooperative Extension
What we'll cover:



Watersheds and water pollution
Septic systems
Keeping septic systems working
properly
We all live in watersheds, which are
the areas that drain to a common point
in a river or lake. Our actions in a
watershed determine the quality of
water downstream.
USDA NRCS
FISRWG
Water cycle:
one of the oldest "recycling"
schemes in nature.
Water vapor
condenses into
clouds, and
returns to earth
as precipitation
(snow or rain).
Some of this
precipitation runs
off the land
surface and some
soaks into the
ground.
Ground water accumulates when
surface water soaks into the soil and moves
downward.
The water table
is the upper
most depth of
the "zone of
saturation".
Wells tap into
the saturated
zone, where all
spaces between
particles are
filled with water.
UNCE, Reno, NV
Underground deposits of water in this
saturated zone are called aquifers.
Where
does
the
liquid
effluent
go?
A. Miller
Do you know???




Where your tank is?
How big it is?
When it was last
pumped?
The location of your
leachfield?
DNRC, Montana
Maintaining your septic system


PUMP
YOUR
TANK!
Keep your
bacteria
healthy
and
happy
UNCE, Reno, NV
Suggested pumping interval
(years)
Tank Size
(gallons)
1
2
3
4
5
6
Number of people in your household
1000
12
6
4
3
2
2
1250
16
8
5
3
3
2
1500
19
9
6
4
3
3
To pump... or not to pump

Pumping costs
about $200 for
the average
1250-gallon
tank, every
three years or
so

A new leachfield
costs from $5,000
for an inground
system to as
much as $20,000
for an engineered
field
Which would you choose?
What can I plant on or near my
leachfield?
OK to Plant



Grasses
Perennial and
annual flowers
Many perennial
groundcovers
Avoid Planting


All trees
Large shrubs
Other causes of septic failure




Overloading. Use water
sparingly. Do only full loads
of wash at off-peak times, if
possible, and try to limit the
number of loads daily.
Placement in poor drainage
area
Water leaks
Driving over the drainfield
Other causes of septic failure



Pouring kitchen grease into
drains
Failure to install according
to septic codes
Flushing cigarette butts,
sanitary napkins or other
inorganic materials down
the toilet
Other causes of septic failure



Extensive use of garbage disposals
Tree roots clogging pipes - contact
a septic contractor for repairs
Use of salts and chemicals from
water softeners and washing
machines
What about additives?



Enough bacteria are present in the
tank from normal bodily wastes
Additives cost $$$ and may actually
increase the solid material in the
tank by producing inert ingredients
There is no substitute for pumping!
Tips to keep your septic
system working well



Don't water the leachfield
Don't flood the system with
excessive water use
Keep excess solids out of the
system and avoid flushing toxins
down the drain
Tips to keep your septic
system working well



Avoid using your garbage disposal
to process large quantities of
wastes
Regularly pump out the septic tank
and inspect the physical
components of the system
Don't park or drive over the
leachfield
These tips will keep your system
working properly for generations.