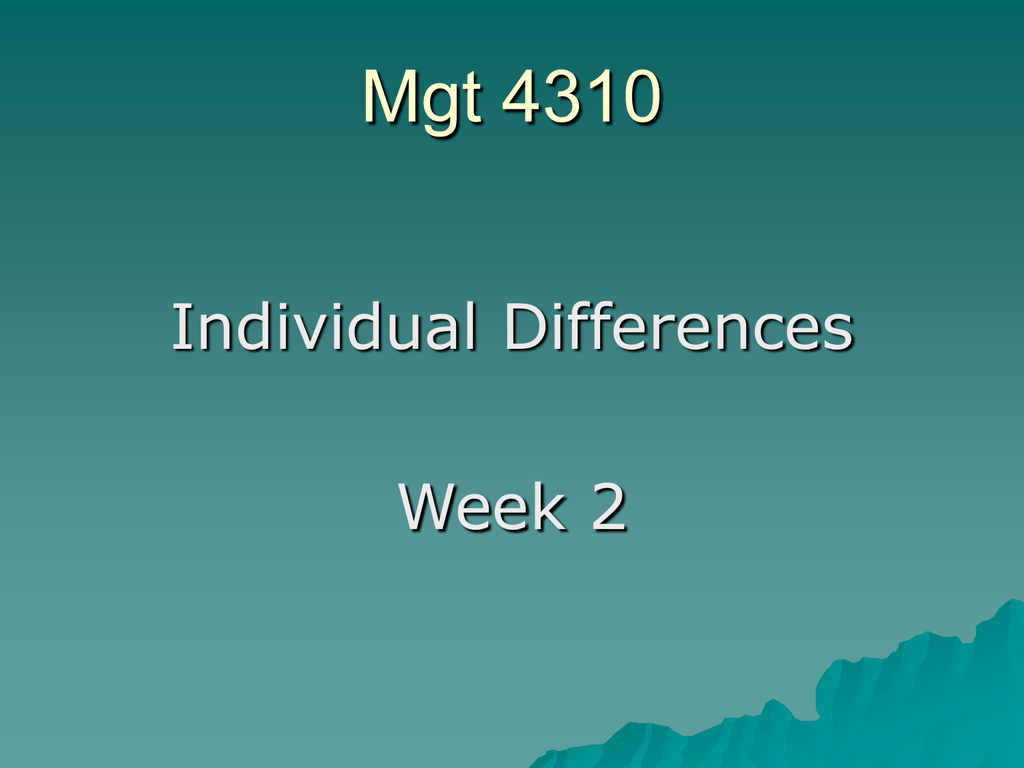 Mgt 4310
Individual Differences
Week 2
Objectives
 Examine
how individuals differ in the work
place
 Explain the competing values framework
 Examine why it is important to identify
your personal differences and to understand
how these differences may affect your
employees or you as a manger.
Our personal theories
determine what we see and
how we act
Competing Values Framework of
Leadership
Human Relations
Open Systems
__________________________________
Internal Process
Rational Goal
Human Relations Model
Focus on employees
-morale
-needs
-openness
Open Systems Model
Focus on change
-growing the organization
-innovation
-being responsive
Participative decision making
Training
Focus on control systems
-bureaucratic
-tight rules
-centralized control
-documentation
Internal Process Model
Focus on productivity and efficiency
- lots of planning
-setting goals
-competitiveness
Rational Goal Model
Competing Values Framework
Roles
Ope n-Sys te m s M ode l
Cooperative,
Team-Oriented Style
Quinn's
Roles.
The Positive and Negative
Zones
Competing Values Model
 Greatest
strength can be
transformed into the greatest
weakness
 Master managers analyze the
situation and balance the
competing values
Personality Differences
 The
Big 5:
– Extraversion: sociable, friendly
 Extraverts
versus introverts
– Neuroticism: experience negative affect,
view the world negatively
– Agreeableness – get along well with
others
Personality Differences
 The
Big 5:
– Conscientiousness: high self-discipline,
careful persevering
– Open to Experience: broad range of
interests, will take risks, open to
experience
Personality Differences

Locus of Control
– Belief in one's ability to control one's
situation/life
 Internals

versus Externals
Self-Monitoring
– The extent to which one is attuned to/or cares
about how one presents one's self to others
Personality Differences
 Self-Esteem
– Belief in ones abilities and self-worth
 Type
A and B
– Type A's highly competitive, have a
strong sense of urgency, impatient and
hostile
– Type B's are more relaxed
Personality Differences

McClelland's Needs
– N Ach – Enjoys challenging but not
unachievable tasks, likes to set goals and have
clear feedback, likes to have control over
outcomes
– N Aff – Enjoys maintaining good relations with
others, sensitive to others feelings
– N Pow – Desires to exert influence over others
Personality Differences
 Skills
and abilities
– Cognitive Intelligence
– Physical Ability
 Emotional
Intelligence
– Understanding and managing one's own
and other's emotions
Task
 Drawing
on ideas from your premeeting assignment, gather together
a group of about 5 people and
develop a representative list of your
perceptions of:
– the qualities and skills essential to a
manager's success in today's business
world.