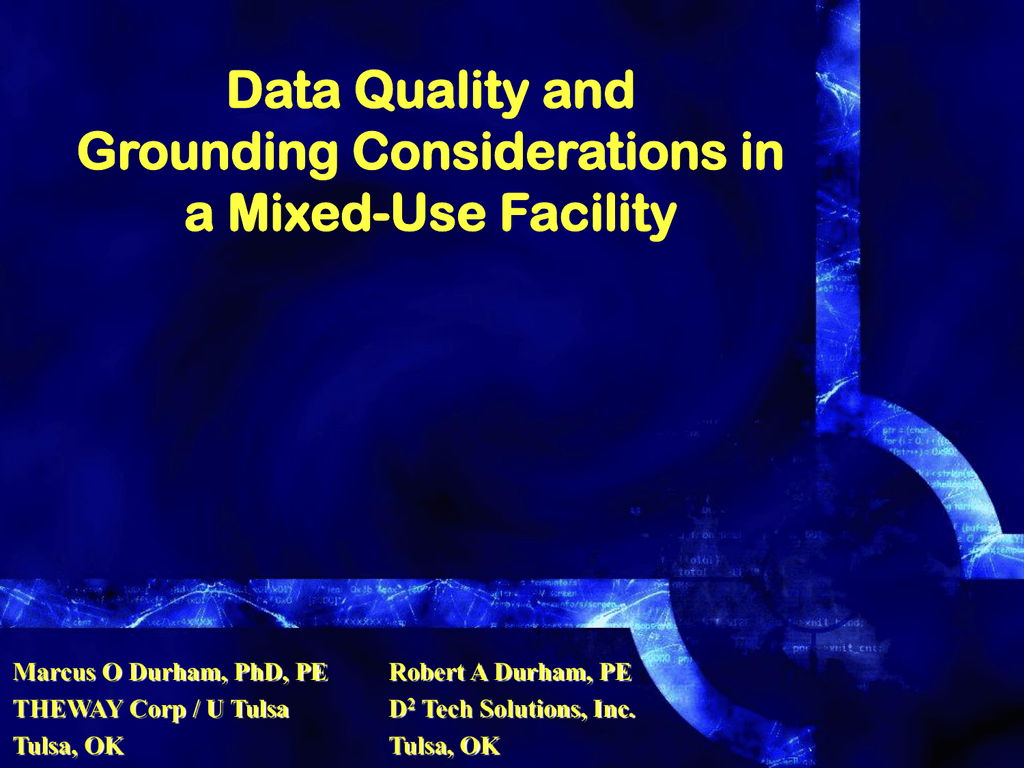 Data Quality and
Grounding Considerations in
a Mixed-Use Facility
Marcus O Durham, PhD, PE
THEWAY Corp / U Tulsa
Tulsa, OK
Robert A Durham, PE
D2 Tech Solutions, Inc.
Tulsa, OK
Abstract
Facilities:
Problems:
Issues:
Systems:
Attention:
depend heavily on networks
signal quality & noise
electrical safety & code
eleven different grounds
bonding, isolate earth & power
Gordian Knot
All for one
Power co, Telco, Computer group
Install for parochial interest
Interferes w/ sensitive network
Traditional power & personnel safety
Computer & Communication
Lower levels & higher freq
Grounding – Do Not connect all together
Types of Ground Terms
Grounding metal path, call ground metal & earth
Grounded current carrying
neutral, common
Shielding
metal around signal
intercept noise
Bonding
possible energized
between metal
Transient
equal potential grid
lightning, etc
Application
Requirements of systems quite different
Systems
power, comm, data, EMI &
RFI
Ground
convenient common pt
Bonding
eliminate potential
Arrangement limit circulating currents
Susceptible & Cause
Most susceptible systems are often cause
• Switched mode power supply (SMPS)
• On sensitive electronics
Non-linear load causes harmonics
Neutral noise & poor power quality
Fix
• 12 pulse
• Isolation transformer
National Electric Code
" The purpose of this Code is the practical
safeguarding of persons and property from
hazards arising from the use of electricity."
Article 90
National Electric Code
Article 250
>25 pages
Other pages
grounding
neutral, transients, specifics
National Electric Code
Concern
Allows 25 Ω power ground
On 120 volt circuit
I = 120 V / 25 Ω = 4.8 A
Will not trip 20A
Shock at 6 mA
Target 1 Ω
July
August
 Single point
 Accessible
 Insulated from other metal
 Bond back to here
 Reference point for all systems
Reference
Eleven Grounding Systems
1.
2.
3.
4.
5.
6.
7.
8.
9.
10.
11.
Building structural steel
Electrical enclosure grounding conductor
Transformer wye common
Neutral at main
Transient protection gnd
Telephone reference gnd
Data (dc) power common
Back-up battery common
Shielding
Isolated (ac) power gnd
Network equi-potential reference gnd
Ground Design
11 Unique points
Shows complexity of EE – bond & isolate
All insulated to prevent shorting
except enclosure
Conductor size
fault current
inductance w/ transient freq
Conduit bonds & isolation
Bond non-electrical metal w/in 6'
EE
Neutral
White, current carrying
Ground at main disconnect ONLY
Isolate at sub-panels
• if not, circulating current in ground
Harmonic analysis
• affects size of neutral
• may need filter or isolation xformer
Transformer
main
distribution
Hot
H
Neutral
N
Ground
G
wye bond
single point
Communications
Includes instrumentation & networks
More sensitive to noise, transients, shifts
Both analog & digital
Isolated from power ground
Special considerations
• cable tray & racks
• isolated earth
• isolated power
Ground Noise
Much of noise introduced from ground
System imbalance contributes
Harmonics travel through grounding
conductors
Isolated ground reduces noise
Uncontrolled Ground Paths
3 sources of electrical connection
• ac power
• cable tray
• building metal – not grounding conductor
Separate grounds
All wire insulated
Equipment Room Grounding
Star design radial
For small close
One-point
Bus bar, visible, insulated
Rat race ring
For larger area
Equi-potential
Ground 2+ locations
More Robust
Isolated insulated conductors around room
Connect to isolated triad @ 2 pts
One rack – single ground conductor
RACK 1
RACK 2
POWER
SUPPLY
24 VDC
+ 24
- COM
CHASSIS
CHASSIS
RADIO 1
TELE 1
RADIO 2
TELE 2
RADIO
TERMINATION
CONNECTION
GROUND ROD
SURGE PROTECTOR
TELEPHONE
TERMINATION
Racks and Raceways
1. Insulated conductor
2. Conductor along each tray
3. Connect each rack – 2 locations
Remove paint
Fix connector & bolt
4. Each chassis bond to rack
Jumper or strip
5. Crimp connectors & reinsulate
6. NEVER allow wire to touch metal
Isolated Earth Ground
Triad earth w/ 3 rods
Space 2.2 * length
6' separation from metal
Connect w/ uninsulated copper
Exothermic weld connections
ACME
CONCRETE
Ring Bus
Isolated Earth Ground
Run #1 corner to equipment room
Run another different route
Run #3 corner to reference ground
remove if interference per NEC
Green insulated wire
Continuous - no underground splice
Bends – minimize Z
> 8" radius
Minimize # to reduce L
Buffer dissimilar metals to reduce R
Isolated Power
Not always req'd
All electrical power & ground isolate from
external metal
1:1 transformer
Connect w/ pvc – provides isolation
No building ground here
New distribution panel on insulated sheet
Transient protection
Use isolated ground
Receptacles w/in racks
PVC
Main
Power H
Power N
Ground
PVC
Isolated
Distribution
Power H
Power N
Ground
Cathodic Protection
CP applied to some metal in earth
Provides low Z Path to earth
Cannot bond to other metal
– would short CP
– If necessary to bond, use resistor
• prevents use as fault path
• better than open circuit
Has inherent personnel protection
Conclusions
Effective data quality & grounding considers
neutral
power
bonding
shielding
transient
Ground path < 1Ω
Conclusions
Special consideration
grounding enclosure – rack
equi-potential earth ground
consider isolated electrical
Analog & digital separate
Conclusions
Reference ground for interconnection of
structure
enclosure
wye
neutral
transient
telephone
data
battery
shielding
isolated
equi-potential
QUESTIONS
?