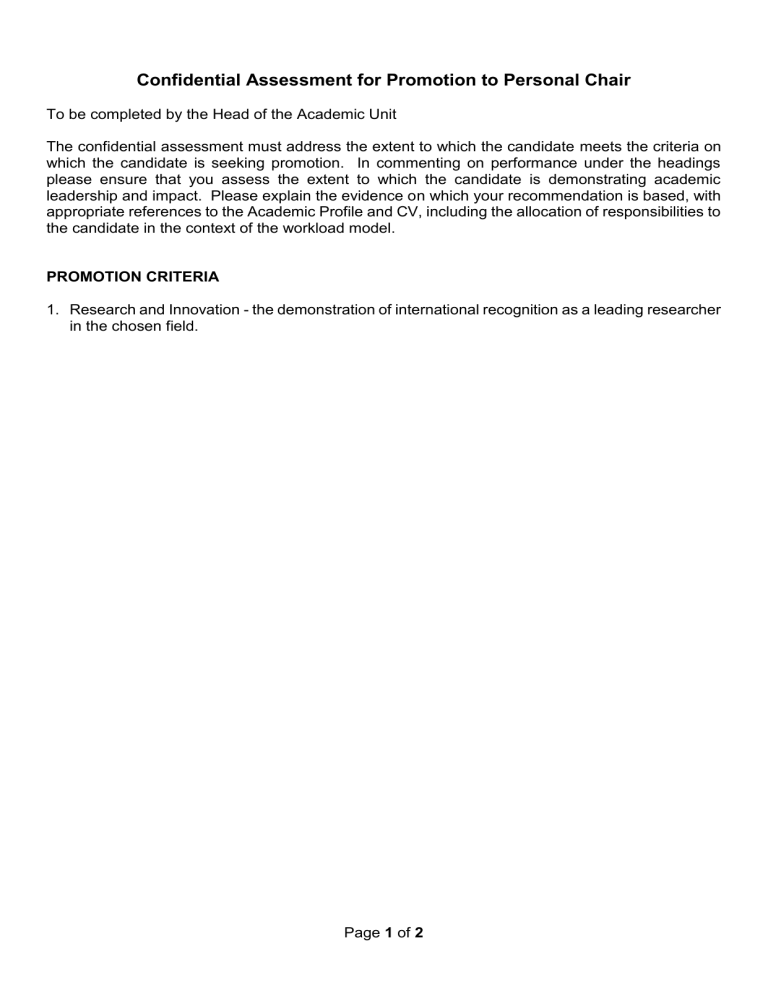 Confidential Assessment for Promotion to Personal Chair
To be completed by the Head of the Academic Unit
The confidential assessment must address the extent to which the candidate meets the criteria on which the candidate is seeking promotion. In commenting on performance under the headings please ensure that you assess the extent to which the candidate is demonstrating academic leadership and impact. Please explain the evidence on which your recommendation is based, with appropriate references to the Academic Profile and CV, including the allocation of responsibilities to the candidate in the context of the workload model.
PROMOTION CRITERIA
1. Research and Innovation - the demonstration of international recognition as a leading researcher in the chosen field.
Page
1
of
2
2. Education & Teaching - the demonstration of national and international eminence in this area, evidenced by national or international recognition by academic or professional bodies.
3. Engagement Activities - demonstration of national or international recognition for outstanding achievement in contribution to the development of public/professional policy and practice, or to other aspects of society at national and international level and/or to income generation.
I support / do not support* this application *delete as appropriate
I confirm that I have reviewed the application against the relevant criteria and believe it to be accurate and correct, subject to any comments made in this assessment.
Signed (H ead of Unit): ………………………………….……… Date: ……………
Name …………………………………………………….
Page
2
of
2