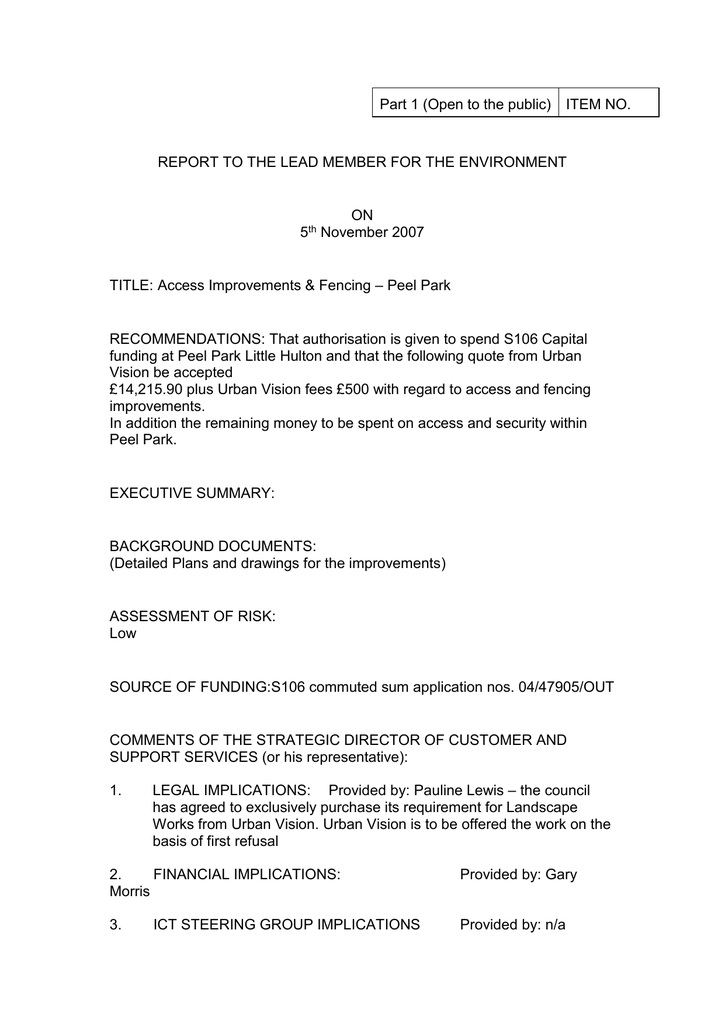 Part 1 (Open to the public)
ITEM NO.
REPORT TO THE LEAD MEMBER FOR THE ENVIRONMENT
ON
5th November 2007
TITLE: Access Improvements & Fencing – Peel Park
RECOMMENDATIONS: That authorisation is given to spend S106 Capital
funding at Peel Park Little Hulton and that the following quote from Urban
Vision be accepted
£14,215.90 plus Urban Vision fees £500 with regard to access and fencing
improvements.
In addition the remaining money to be spent on access and security within
Peel Park.
EXECUTIVE SUMMARY:
BACKGROUND DOCUMENTS:
(Detailed Plans and drawings for the improvements)
ASSESSMENT OF RISK:
Low
SOURCE OF FUNDING:S106 commuted sum application nos. 04/47905/OUT
COMMENTS OF THE STRATEGIC DIRECTOR OF CUSTOMER AND
SUPPORT SERVICES (or his representative):
1.
LEGAL IMPLICATIONS: Provided by: Pauline Lewis – the council
has agreed to exclusively purchase its requirement for Landscape
Works from Urban Vision. Urban Vision is to be offered the work on the
basis of first refusal
2.
FINANCIAL IMPLICATIONS:
Morris
Provided by: Gary
3.
Provided by: n/a
ICT STEERING GROUP IMPLICATIONS
PROPERTY (if applicable): n/a
HUMAN RESOURCES (if applicable): n/a
CONTACT OFFICER: Alan Rowley Tel 909 6500
WARD(S) TO WHICH REPORT RELATE(S): Little Hulton and Walkden
KEY COUNCIL POLICES: (delete those not appropriate)
Budget Monitoring
Community Safety
Cultural Strategy
Environmental Strategy
Equalities
Health
Planning Strategy
Procurement Strategy
Regeneration
DETAILS
Further to the receipt of a commuted sum of £36,799.00 via Section 106
agreement associated with planning reference 04/47905/OUT.
This project has been developed following a request from The Little Hulton
and Walkden Political Executive. To improve the access to Peel Park in
relation to DDA requirements, security and installation of security fencing.
The proposals are to include:
Adaptations to five of the existing entry points to the Park to include
wheelchair access via RADAR key (administered by Royal Association for
Disability and Rehabilitation and/or K Barrier to prevent motorbike access but
allow wheelchair/pushchair access.
To supply and install new fencing along Briarhill Close/ Peel Park Boundary
Profiled welded mesh Height 1.53m, 5mm wire Galvanised and Powder
Coated Green.
The improvements have been agreed with Little Hulton and Walken
Community Committee and the Neighbourhood Management Team.
In accordance with Paragraph 20.1(b) of section 7, Part 4 of Contractual
Standing Orders and Rethinking Construction, the council has received
quotations to a total of £14.715.90 from Urban Vision. The maintenance of the
improvement works to funded from the revenue section of the S106
agreement.