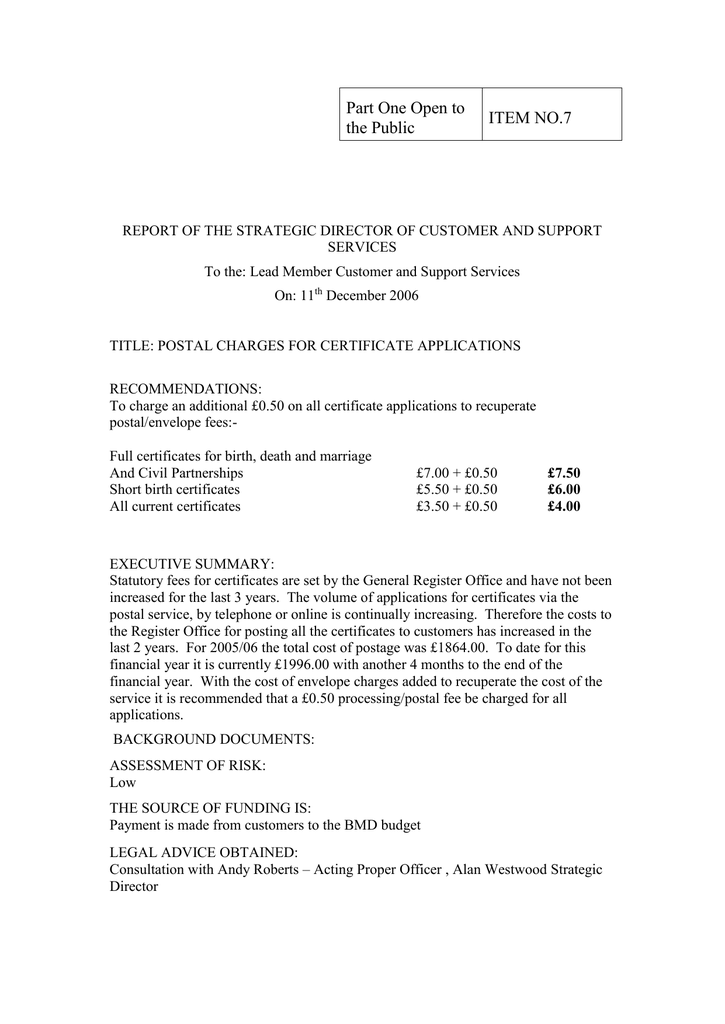 Part One Open to
the Public
ITEM NO.7
REPORT OF THE STRATEGIC DIRECTOR OF CUSTOMER AND SUPPORT
SERVICES
To the: Lead Member Customer and Support Services
On: 11th December 2006
TITLE: POSTAL CHARGES FOR CERTIFICATE APPLICATIONS
RECOMMENDATIONS:
To charge an additional £0.50 on all certificate applications to recuperate
postal/envelope fees:Full certificates for birth, death and marriage
And Civil Partnerships
Short birth certificates
All current certificates
£7.00 + £0.50
£5.50 + £0.50
£3.50 + £0.50
£7.50
£6.00
£4.00
EXECUTIVE SUMMARY:
Statutory fees for certificates are set by the General Register Office and have not been
increased for the last 3 years. The volume of applications for certificates via the
postal service, by telephone or online is continually increasing. Therefore the costs to
the Register Office for posting all the certificates to customers has increased in the
last 2 years. For 2005/06 the total cost of postage was £1864.00. To date for this
financial year it is currently £1996.00 with another 4 months to the end of the
financial year. With the cost of envelope charges added to recuperate the cost of the
service it is recommended that a £0.50 processing/postal fee be charged for all
applications.
BACKGROUND DOCUMENTS:
ASSESSMENT OF RISK:
Low
THE SOURCE OF FUNDING IS:
Payment is made from customers to the BMD budget
LEGAL ADVICE OBTAINED:
Consultation with Andy Roberts – Acting Proper Officer , Alan Westwood Strategic
Director
FINANCIAL ADVICE OBTAINED:
CONTACT OFFICER:
Rebecca Wardley
WARD(S) TO WHICH REPORT RELATES:
All
KEY COUNCIL POLICIES:
DETAILS:
During the last financial year – April 2005 to March 2006, and from April 2006 to
September 2006 the following applications were processed where additional postal
costs were incurred by the Registration Service.
April 2005 to March 2006
TYPE OF APPLICATION
NUMBER OF APPLICATIONS
Postal
3079
Online
725
Telephone Payments
2355
April 2006 to September 2006
TYPE OF APPLICATION
NUMBER OF APPLICATIONS
Postal
1691
Online
535
Telephone Payments
1355
The table above demonstrates the preferred method of our customers is increasing
towards telephone payments as this is seen as a speedier and easier system to use.
.
As the target for issuing certificates applied for by telephone or on line is one working
day from receipt of the application form by the Register Office, and within 2 working
days for postal applications (although these are usually processed within one day) an
extra fee could be charged for postal/administration processes to reflect these targets.
As Royal Mail have now increased their postal charges based on weight and size of
envelope, it makes sense that now we are incurring extra costs on postage that this too
should be added to the cost of the certificates. Many customers apply for more than
one certificate at any given time, and therefore the postal fees to return the
applications are increasing.
It is therefore recommended that an extra £0.50 be added to all applications. Should
these increases be introduced the extra revenue generated by the service would have
been £3079.50 in 05/06 and £1790.50 for the first 6 months of this year (see below):
TYPE OF APPLICATION
Postal
Online
Telephone Payments
Total Revenue Generated
April 2005 to March 2006
NO. OF APPLICATIONS
3079
725
2355
EXTRA REVENUE
£1539.50
£362.50
£1177.50
£3079.50
April 2006 to September 2006
TYPE OF APPLICATION NO. OF APPLICATIONS EXTRA REVENUE
Postal
1691
£845.50
Online
535
£267.50
Telephone Payments
1355
£677.50
Total Revenue Generated
£1790.50
The Register Office is a public service which generates income for the local authority.
As other Registration Districts and public services within the private sector charge
administration fees for various processes, it is an opportunity for Salford to increase
their revenue, whilst still offering a highly efficient turn around on certificate
applications. Experience has shown that customers are willing to pay a small
additional fee if they receive a high standard of service and Salford has an excellent
reputation for issuing certificates within its exacting targets compared to other
districts who have a much slower turn around.
The increased revenue will add to savings required by the Local Authority, and it is
therefore recommended that this be introduced at the beginning of the next financial
year for accounting purposes i.e. April 2007.