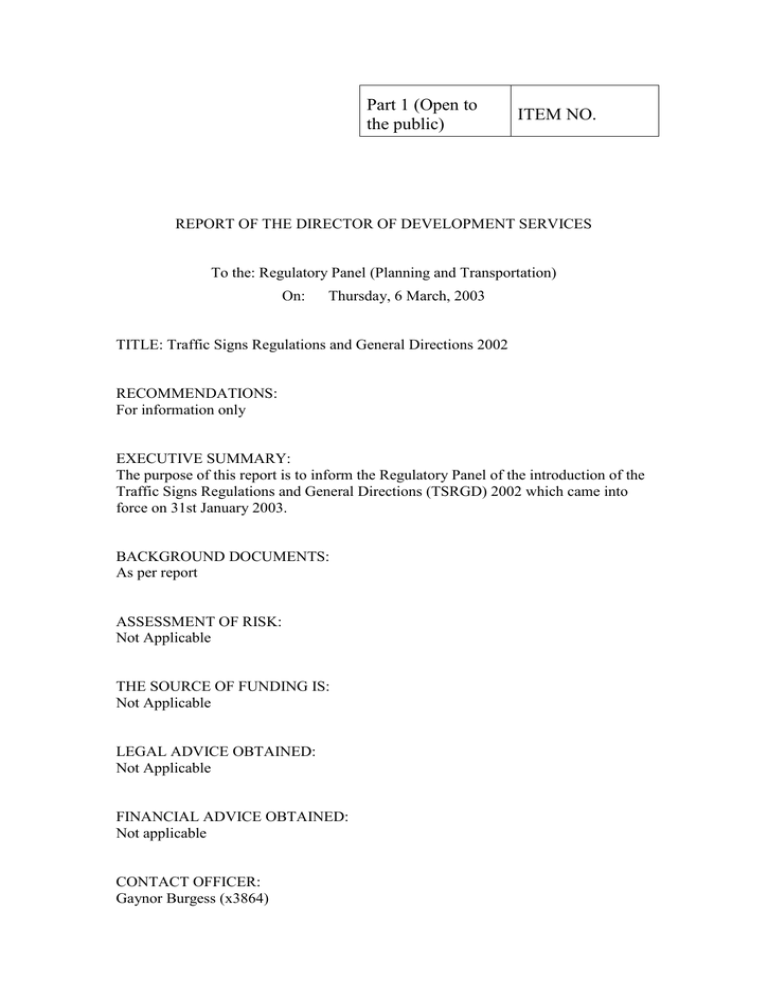 Part 1 (Open to
the public)
ITEM NO.
REPORT OF THE DIRECTOR OF DEVELOPMENT SERVICES
To the: Regulatory Panel (Planning and Transportation)
On:
Thursday, 6 March, 2003
TITLE: Traffic Signs Regulations and General Directions 2002
RECOMMENDATIONS:
For information only
EXECUTIVE SUMMARY:
The purpose of this report is to inform the Regulatory Panel of the introduction of the
Traffic Signs Regulations and General Directions (TSRGD) 2002 which came into
force on 31st January 2003.
BACKGROUND DOCUMENTS:
As per report
ASSESSMENT OF RISK:
Not Applicable
THE SOURCE OF FUNDING IS:
Not Applicable
LEGAL ADVICE OBTAINED:
Not Applicable
FINANCIAL ADVICE OBTAINED:
Not applicable
CONTACT OFFICER:
Gaynor Burgess (x3864)
WARD(S) TO WHICH REPORT RELATES:
ALL WARDS
KEY COUNCIL POLICIES:
Environmental Strategy;
DETAILS:
Details of the revisions included in the TSRGD 2002 are specified in a lengthy
document and can be obtained on request. The changes that may lead to enquiries
from members of the public are summarised in the report.