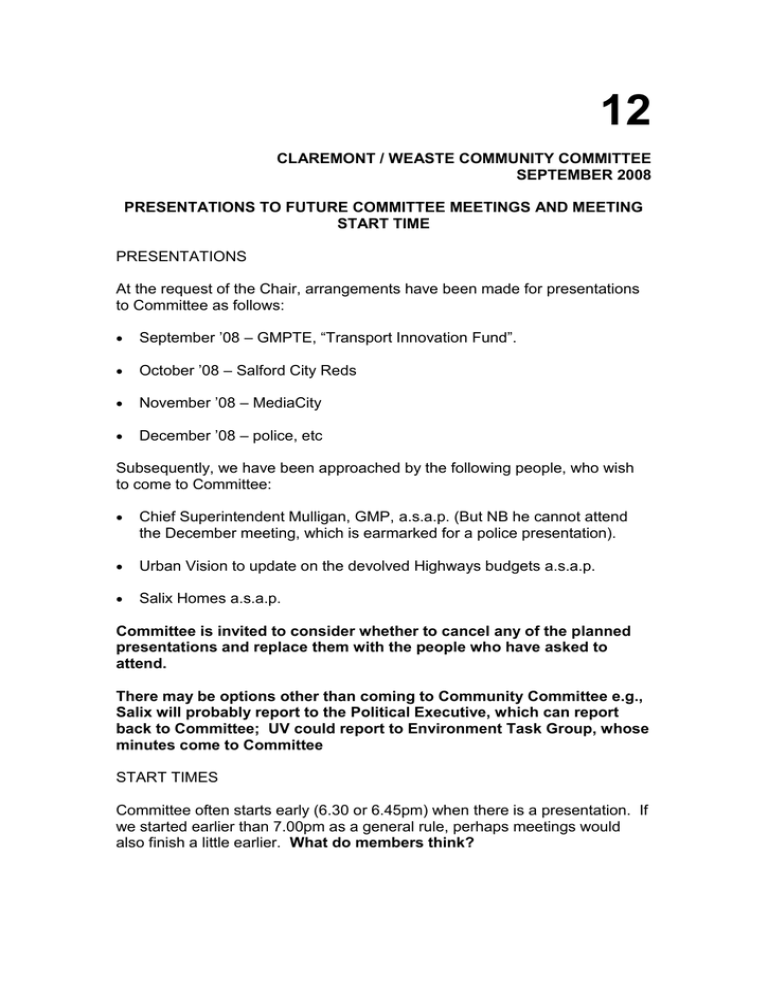 12
CLAREMONT / WEASTE COMMUNITY COMMITTEE
SEPTEMBER 2008
PRESENTATIONS TO FUTURE COMMITTEE MEETINGS AND MEETING
START TIME
PRESENTATIONS
At the request of the Chair, arrangements have been made for presentations
to Committee as follows:

September '08 – GMPTE, "Transport Innovation Fund".

October '08 – Salford City Reds

November '08 – MediaCity

December '08 – police, etc
Subsequently, we have been approached by the following people, who wish
to come to Committee:

Chief Superintendent Mulligan, GMP, a.s.a.p. (But NB he cannot attend
the December meeting, which is earmarked for a police presentation).

Urban Vision to update on the devolved Highways budgets a.s.a.p.

Salix Homes a.s.a.p.
Committee is invited to consider whether to cancel any of the planned
presentations and replace them with the people who have asked to
attend.
There may be options other than coming to Community Committee e.g.,
Salix will probably report to the Political Executive, which can report
back to Committee; UV could report to Environment Task Group, whose
minutes come to Committee
START TIMES
Committee often starts early (6.30 or 6.45pm) when there is a presentation. If
we started earlier than 7.00pm as a general rule, perhaps meetings would
also finish a little earlier. What do members think?