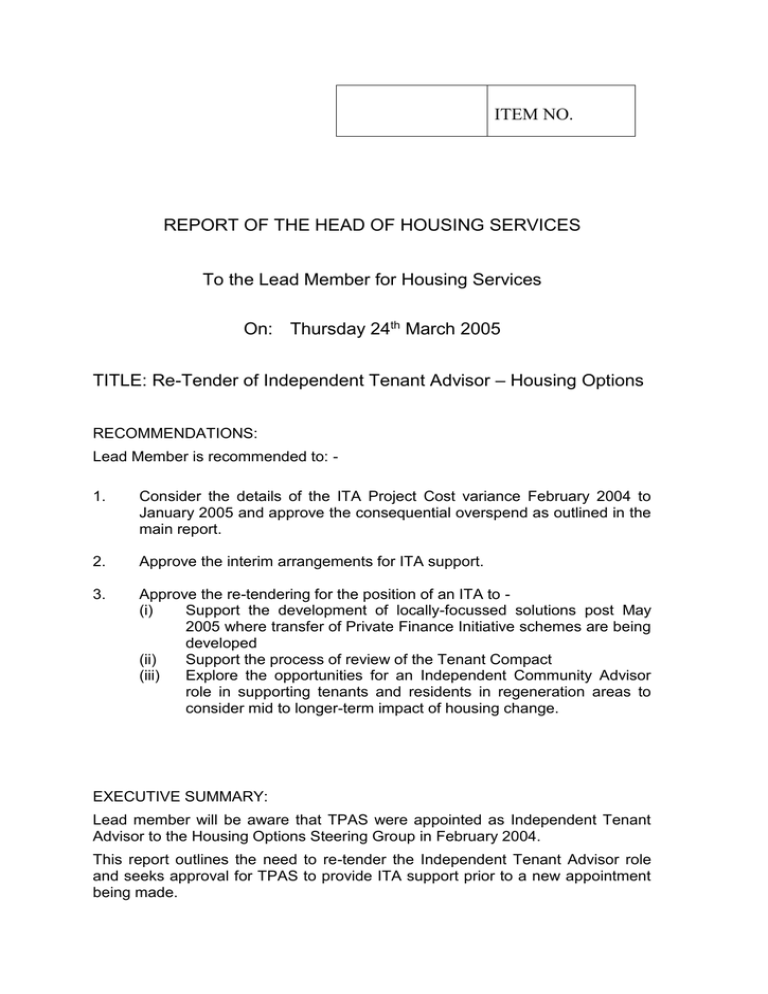 ITEM NO.
REPORT OF THE HEAD OF HOUSING SERVICES
To the Lead Member for Housing Services
On: Thursday 24th March 2005
TITLE: Re-Tender of Independent Tenant Advisor – Housing Options
RECOMMENDATIONS:
Lead Member is recommended to: 1.
Consider the details of the ITA Project Cost variance February 2004 to
January 2005 and approve the consequential overspend as outlined in the
main report.
2.
Approve the interim arrangements for ITA support.
3.
Approve the re-tendering for the position of an ITA to (i)
Support the development of locally-focussed solutions post May
2005 where transfer of Private Finance Initiative schemes are being
developed
(ii)
Support the process of review of the Tenant Compact
(iii)
Explore the opportunities for an Independent Community Advisor
role in supporting tenants and residents in regeneration areas to
consider mid to longer-term impact of housing change.
EXECUTIVE SUMMARY:
Lead member will be aware that TPAS were appointed as Independent Tenant
Advisor to the Housing Options Steering Group in February 2004.
This report outlines the need to re-tender the Independent Tenant Advisor role
and seeks approval for TPAS to provide ITA support prior to a new appointment
being made.
BACKGROUND DOCUMENTS:
TPAS Indicative Project Costs 11th August 2004
Salford ITA Project Cost Variance
Recommendations to HOSG – ITA Appointment
TPAS – ITA Projected Costs 3rd February 2005 – June 2005
ASSESSMENT OF RISK:
Low
THE SOURCE OF FUNDING IS:
Housing Options Budget – Housing Revenue Account Capital Programme
LEGAL ADVICE OBTAINED:
N/A
FINANCIAL ADVICE OBTAINED:
Report seen by Principal Group Accountant.
CONTACT OFFICER:
Pat Greenwood
Tel 0161-922-8779
e-mail – pat.greenwood@salford.gov.uk
WARD(S) TO WHICH REPORT RELATES:
ALL
KEY COUNCIL POLICIES:
Housing Strategy Statement 2004-2007
Stock Options Appraisal 2004 - 2005
LINKS TO PARTNERS IN SALFORD THEMES: Enhancing Life theme
LINKS TO CABINET PRIORITIES AND PLEDGES:
LINKS TO HOUSING STRATEGY PRIORITIES: Bringing all homes to Decent
Standard. Provide a greater choice of homes in all our communities.
LINKS TO PERFORMANCE: Securing Decent Homes will be a major
performance issue for the City Council
EQUALITY IMPACT ASSESSMENT: No. Immediate implications. An Equality
Impact Assessment is planned for the Stock Options consultation process. An
Equality Impact Assessment will be undertaken as part of the review of the
Tenant Compact.
DETAILS OF REPORT
1.0 Background
1.1 TPAS were appointed by the Housing Options Steering Group in
February 2004 as Independent Tenant Advisor. They have worked
with the HOSG since this time and their work has included –








Providing guidance, training and advice throughout the
Housing Options Review process
Supporting and advising the HOSG
Validating consultation material and methodology
Providing their own newsletter
Working with consultants on financial assessment
Holding their own public meetings
Communicating with Community Housing Task Force with
and on behalf of the HOSG and
Attending meetings and drop in sessions organised by the
Housing Options Team.
1.2 In the original expression of interest, projected costs were in the
region of £25,000 to £35,000. In August 2004 Lead Member for
Housing Services approved a revised programme of indicative
costs to the value of £79,405.00. The actual costs for the period
February 2004 to January 2005 will be £85,412.99.
2.0 Details of Overspend
2.1 The Indicative Programme outlined detailed costs of £79, 405
(August 2004). Some of the areas and amount of work detailed on
this document are at variance to the projected costs. The actual
cost up to the beginning of Phase 3 will be £85, 412.99. This is an
overspend of £6007.99.
2.2 Although some areas of work detailed on the Indicative Costs have
not been fully completed (such as the production of one Newsletter
instead of two) the amount of extra work has meant a net increase
in overall costs.
3.0 Interim Arrangements for ITA
3.1 It is likely that a new lead ITA could not be in place until July 2005.
In order to allow continuity, it is recommended that the existing ITA,
TPAS maintain their role at this crucial stage.
3.2 Details of costs From 3rd February 2005 to June 2005 are estimated
at £45, 977.50 - the contract will be closely monitored to ensure that
only work up to an agreed amount is undertaken. TPAS will need to
keep Housing Services informed as soon as possible if there will be
any changes to the estimate given for this period.
4.0 Outline Programme for re-tendering lead ITA role
4.1 In the future, depending on the outcome of the process, any
transfer, local housing company or Private Finance Initiative
solutions would require an Independent Tenant Advisor. This could
be one lead ITA or a consortium who would work closely with
tenants to provide independent advice, validate and oversee the
process. It is considered important that ITA support, including any
training and advice, is available to tenants as early as possible in
the process as possible.
4.2 From June 2005, The City Council is intending to review its Tenant
Participation Compact in partnership with customers, New Prospect
Housing Limited and other partners. It is considered beneficial to
build in specialist Independent Tenant Advisor support to ensure
transparency of process and ensure that customers can have a
clear involvement and say on what a future Tenant Participation
Compact will best serve the future needs.
4.3 An issue arising in the course of consultation in regeneration areas,
has been the need at times for independent validation of what the
Council and partners are saying to tenants and residents. It has
been suggested that an Independent Community Advisor role might
assist in supporting tenants where masterplanning or activity is
taking place. At this stage, the role of an ITA would be to scope out
how this Independent Community Advisor role might work in
practice.
4.4 In the meantime, it is proposed to commence a re-tendering
process for a lead ITA that would take on the above main roles
4.5 Set out below is an outline of the potential process and outline
programme for re-tendering of the ITA role.
4.6 Good practice and the need to work in compliance with the
Contractual Standing Orders of Salford City Council means that it is
essential that a robust audit trail is established in connection to
such appointments.
4.7 It is suggested that a minimum of three invitations to tender are
invited by first advertising in an appropriate journal for an
Independent Tenant Advisor. A selection panel would involve
members of the Housing Options Steering Group and the Lead
Member for Housing.
4.8 Prior to the appointment of an ITA, attached guidance notes will be
closely referred to as part of the process.
4.9 Set out below is the indicative projected timescale.
-
Approval by Housing Options Steering Group – 9th February 2005
Approval by Lead Member – 24th March 2005
Advertising and expressions of interest – April/May
Tender documents received – May
Shortlisting and interviews – June
5.0 Financial implications
5.1 The budget allocation for stock options in 2004/5 is £600,000. This
covers the costs of various consultants, agency staff and
consultation events. Based upon latest estimates, this budget is
over-committed for 2004/5, excluding the additional costs of TPAS
for the period February 2005 - March 2005. A potential overspend
against the budget provision has been flagged up in monthly HRA
budgetary control reports to lead member.
The additional
commitment for the work of TPAS in February 2005 – March 2005
will increase the risk of an overspend.
5.2 The budget allocation for stock options in 2005/6 is currently
£500,000. Currently, it is unclear what the level of commitment will
be against this budget. Initial views are that this budget will be
under severe pressure, however, a consultant from Price
Waterhouse Coopers (PWC) is to advise on the likely call on this
budget.
5.3 The financial implications of the extension of the TPAS contract and
the re-tendering of the lead ITA role must be fed into future
discussions with PWC. At the earliest opportunity, the overall
commitments against the budget must be clarified.