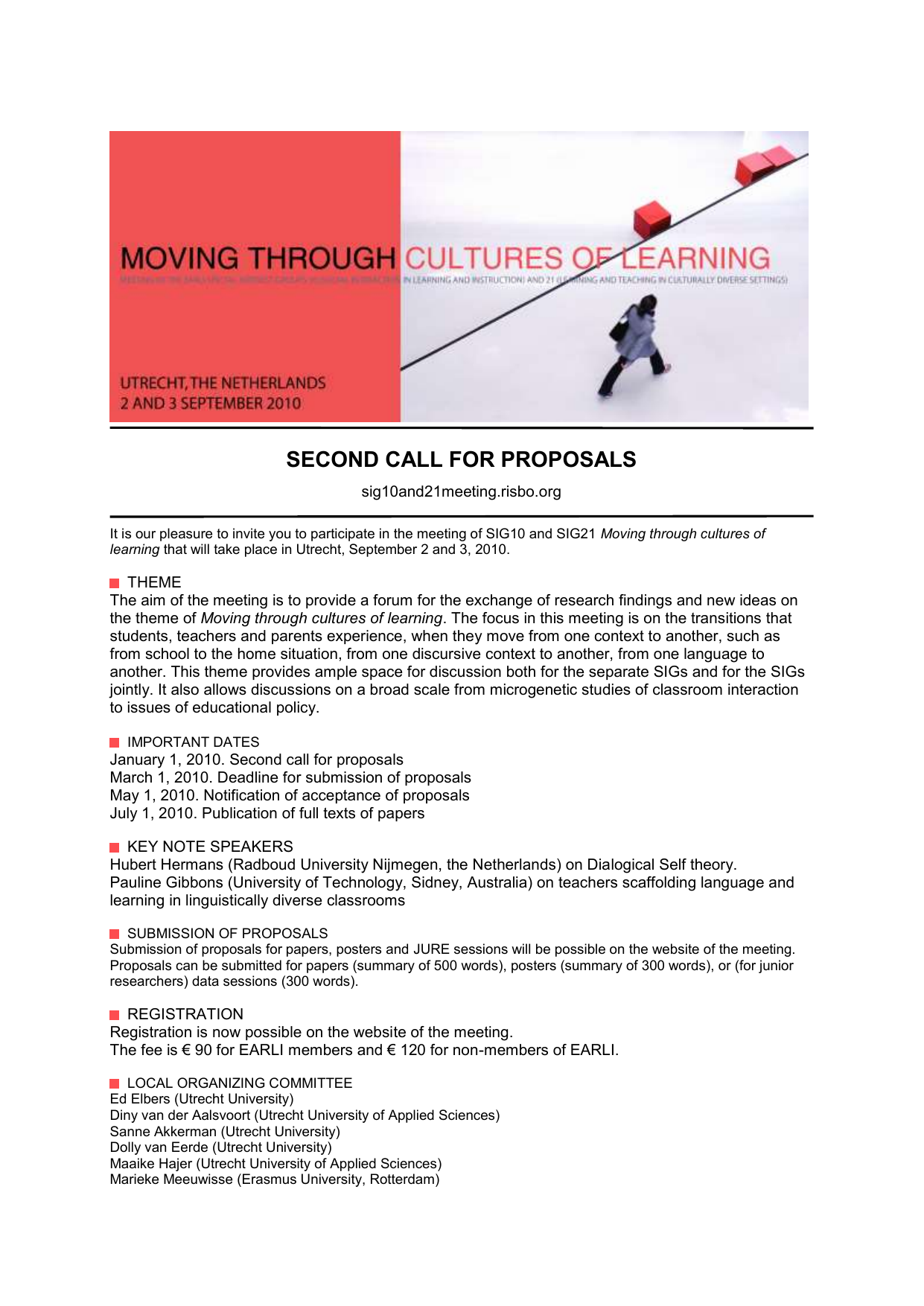 SECOND CALL FOR PROPOSALS
sig10and21meeting.risbo.org
It is our pleasure to invite you to participate in the meeting of SIG10 and SIG21 Moving through cultures of
learning that will take place in Utrecht, September 2 and 3, 2010.
THEME
The aim of the meeting is to provide a forum for the exchange of research findings and new ideas on
the theme of Moving through cultures of learning. The focus in this meeting is on the transitions that
students, teachers and parents experience, when they move from one context to another, such as
from school to the home situation, from one discursive context to another, from one language to
another. This theme provides ample space for discussion both for the separate SIGs and for the SIGs
jointly. It also allows discussions on a broad scale from microgenetic studies of classroom interaction
to issues of educational policy.
IMPORTANT DATES
January 1, 2010. Second call for proposals
March 1, 2010. Deadline for submission of proposals
May 1, 2010. Notification of acceptance of proposals
July 1, 2010. Publication of full texts of papers
KEY NOTE SPEAKERS
Hubert Hermans (Radboud University Nijmegen, the Netherlands) on Dialogical Self theory.
Pauline Gibbons (University of Technology, Sidney, Australia) on teachers scaffolding language and
learning in linguistically diverse classrooms
SUBMISSION OF PROPOSALS
Submission of proposals for papers, posters and JURE sessions will be possible on the website of the meeting.
Proposals can be submitted for papers (summary of 500 words), posters (summary of 300 words), or (for junior
researchers) data sessions (300 words).
REGISTRATION
Registration is now possible on the website of the meeting.
The fee is € 90 for EARLI members and € 120 for non-members of EARLI.
LOCAL ORGANIZING COMMITTEE
Ed Elbers (Utrecht University)
Diny van der Aalsvoort (Utrecht University of Applied Sciences)
Sanne Akkerman (Utrecht University)
Dolly van Eerde (Utrecht University)
Maaike Hajer (Utrecht University of Applied Sciences)
Marieke Meeuwisse (Erasmus University, Rotterdam)
Sabine Severiens (Erasmus University, Rotterdam)
FURTHER INFORMATION Further information on the submission of proposals, on the key note speakers, and
on registration and accommodation can be found on the website of the meeting. To visit the website, please click
here.
SPONSORS
The SIGs 10 & 21 meeting is supported by EARLI, by the research group on Teaching in multicultural schools of
Utrecht University of Applied Sciences, the Langeveld Institute for Educational Research of Utrecht University,
Freudenthal Institute of Science and Mathematics Education at Utrecht University, RISBO/ Erasmus University
Rotterdam.