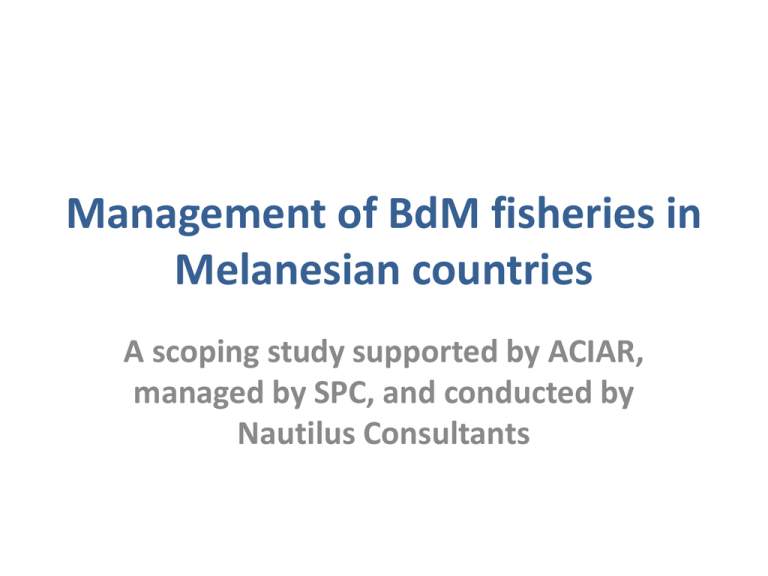 Management of BdM fisheries in
Melanesian countries
A scoping study supported by ACIAR,
managed by SPC, and conducted by
Nautilus Consultants
Team Leader and lead author
Crick Carleton
Co-authors
John Hambrey
Hugh Govan
Paul Medley
in-country correspondents
PNG, SOL, VAN, FIJ, TON
Scoping study requirements
• Headline figures
– Best estimate - sustainable production, export value and
income for rural communities – from well-managed fishery
• Supply chain management
– Suggested fiscal and economic measures to improve
management, improve benefits, and promote cost
recovery
• Improved management plans
– Outline opportunities for improved management
framework
• Regional initiatives
– Examine opportunities for regional cooperation to improve
sector performance
provincial or regional boundaries
TON
SOL
VAN
FIJ
PNG
Suggested precautionary TACs at national level
average over last as proportion of 15 yr precautionary overall
15 years
average
TAC
t/yr
%
t/yr
PNG
455
85%
387
Solomon Islands
165
85%
140
Vanuatu
18
85%
15
Fiji
275
75%
206
Tonga
55
150%
83
Recommendations 1
• Recommendation 1 – agree at regional level on common
data standards (Customs and Fisheries Depts) – covering
exports and purchases.
• Recommendation 2 – agree common standard for publication
of detailed annual performance reviews of sector – per
country – providing an evidence basis for policy and
management
• Recommendation 3 – set Province based quotas, by species
or per value group, to be monitored and controlled by direct
inspection at the point of export
• Recommendation 4 – to manage Province-based quotas, all
data should reference back to Province of origin
• Recommendation 5 – management at the local level should
combine minimum size limits with locally determined "moveon" rules triggered by falls in the size frequency distribution of
landings.
Recommendations 2
• Recommendation 6 – to give further force to the "move-on" rule in
free-diving fisheries, limit fishing activity to one or more short
fishing seasons – the shorter the better.
• Recommendation 7 – focus management on the 4 to 8 species in
each Province that contribute over three quarters of production
value – and at a minimum white teatfish and lolly fish.
• Recommendation 8 – develop and communicate simple guides to
improved processing, and to encourage communities to invest in
communal batch processing of product (possibly helped by limiting
fishing to short concentrated seasons).
• Recommendation 9 – tighten eligibility criteria for the issuing of
export and process licenses to ensure that licensees work for the
industry and not vice versa, share information between MSG
member countries on license holders, and any infringements of
license conditions, and substantially increase the scale of license
fees.
• Recommendation 10 – there may in time be opportunity to
auction export quotas between licensed exporters at a national
level as a means of increasing the level of recovery of the costs of
monitoring and surveillance in this industry.