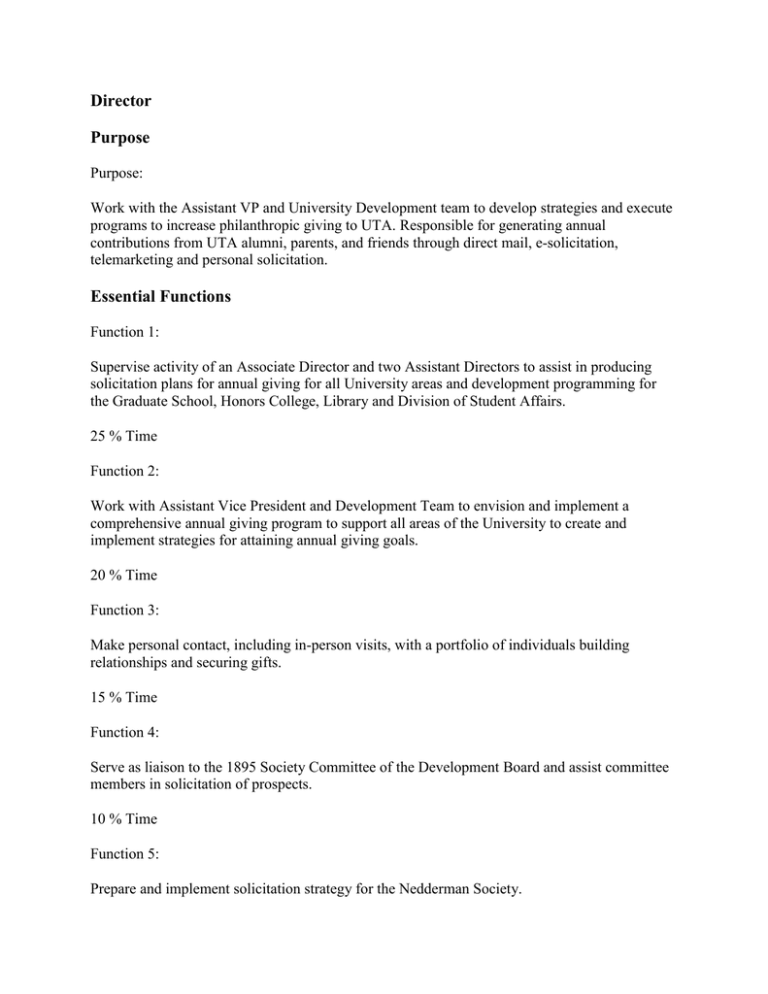 Director
Purpose
Purpose:
Work with the Assistant VP and University Development team to develop strategies and execute
programs to increase philanthropic giving to UTA. Responsible for generating annual
contributions from UTA alumni, parents, and friends through direct mail, e-solicitation,
telemarketing and personal solicitation.
Essential Functions
Function 1:
Supervise activity of an Associate Director and two Assistant Directors to assist in producing
solicitation plans for annual giving for all University areas and development programming for
the Graduate School, Honors College, Library and Division of Student Affairs.
25 % Time
Function 2:
Work with Assistant Vice President and Development Team to envision and implement a
comprehensive annual giving program to support all areas of the University to create and
implement strategies for attaining annual giving goals.
20 % Time
Function 3:
Make personal contact, including in-person visits, with a portfolio of individuals building
relationships and securing gifts.
15 % Time
Function 4:
Serve as liaison to the 1895 Society Committee of the Development Board and assist committee
members in solicitation of prospects.
10 % Time
Function 5:
Prepare and implement solicitation strategy for the Nedderman Society.
10 % Time
Function 6:
Devise and produce reports necessary to analyze progress of the University Development team
activity.
10 % Time
Function 7:
Prepare and implement direct mail and e-solicitation campaigns.
10 % Time
Function 8:
% Time
Marginal/Incidental Functions
Marginal/Incidental Functions:
Other functions as assigned.
Qualifications
Required Qualifications:
Bachelor's degree. 5 years experience in development/fundraising or related work experience.
Ability to create and execute viable solicitation strategies. Accomplished fundraising
professional with proven management skills acquired through development/external affairs or
related experience; excellent oral and written communication skills; strong work ethic; goaloriented; excellent judgment; planning and organization skills; and ability to motivate people.
Applicants must include in their online resume the following information: 1) Employment
history: name of company, period employed (from month/year to month/year), job title,
summary of job duties and 2) Education: if some college or college degree, list school name,
degree type, major, graduated or not, and hours completed if not graduated.
Preferred Qualifications:
3 to 5 years experience directing a university annual giving office. History of successful
implementation of creative and effective direct mail and electronic fundraising campaigns.
Experience managing, mentoring and motivating development staff. Ability to develop positive
working relationships with departmental colleagues, campus officials and external
constituencies. Experience working with budgeting and/or accounting. Supervisory experience.