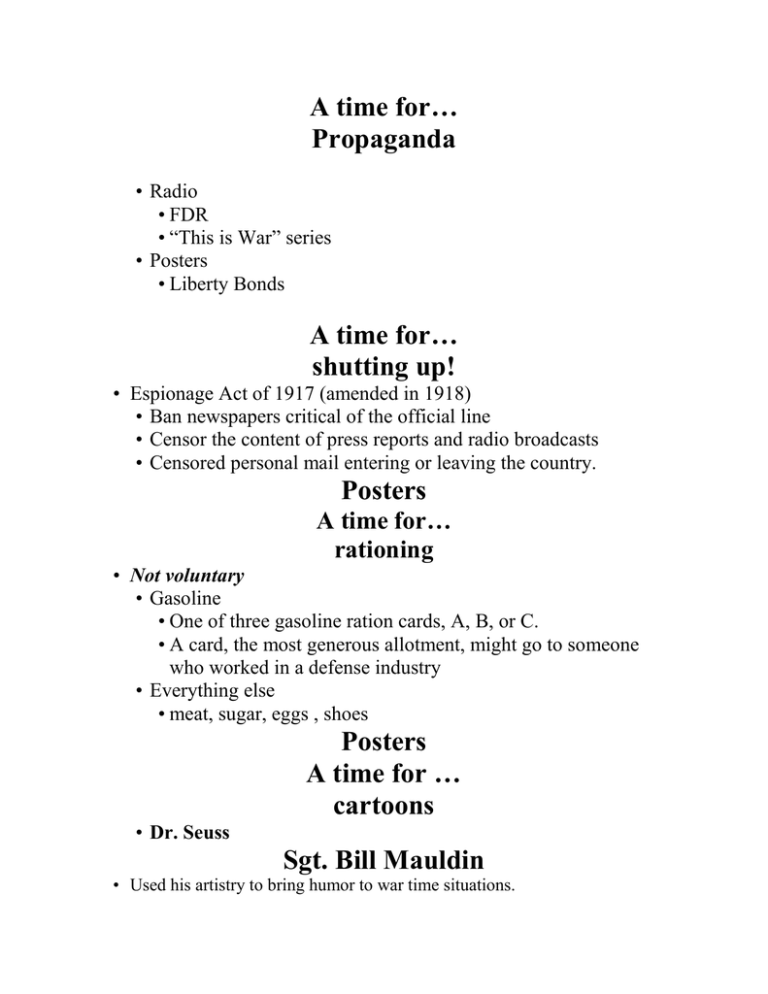 A time for…
Propaganda
• Radio
• FDR
• "This is War" series
• Posters
• Liberty Bonds
A time for…
shutting up!
• Espionage Act of 1917 (amended in 1918)
• Ban newspapers critical of the official line
• Censor the content of press reports and radio broadcasts
• Censored personal mail entering or leaving the country.
Posters
A time for…
rationing
• Not voluntary
• Gasoline
• One of three gasoline ration cards, A, B, or C.
• A card, the most generous allotment, might go to someone
who worked in a defense industry
• Everything else
• meat, sugar, eggs , shoes
Posters
A time for …
cartoons
• Dr. Seuss
Sgt. Bill Mauldin
• Used his artistry to bring humor to war time situations.
"Willie and Joe"
A time for…
• African American pilots
• TUSKEGEE AIRMEN
• fighter pilots for the famous 99th Fighter Squadron
• achievements
• men and women who supported them
• paved the way for full integration of the U.S. military
Beat the Axis first!
• Germany posed a greater threat
• Time to make a bomb
• Ties to England
Air raids
• Objectives
• Bring the war to the German people
• Against industrial plants and military installations
• Everyone in Europe
• Alarm systems
• Bomb shelters were installed
• DARK OUT was ordered
Africa?
• 1940-Italy advanced into Egypt
• HELP!
• Rommell to the rescue
USA IN AFRICA!
• Why?
• Suez Canal
• Middle Eastern OIL!
Casablanca Meeting
January 1943
• FDR and Churchill (Stalin declined the invite)
• Unconditional surrender
• Enter Italy by way of Sicily
• Two disassociated French leaders, Henri Giraud and Charles
de Gaulle, were brought together.
Kasserine Pass
• Feb, 1943
• First large scale meeting of American and German forces in
WWII
• Green and untested American troops suffered heavy casualties
and were pushed back over fifty miles from their original
positions west
But we pull it out!
• IKE in charge
• Failed at first
• bitter lessons about the inadequacy of its training, equipment,
and leadership in the North African campaign.