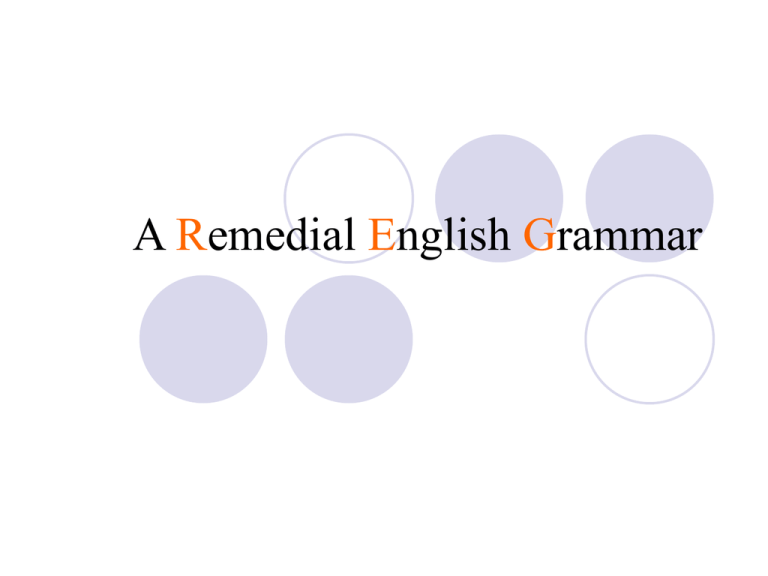 A Remedial English Grammar
CHAPTERS
ARTICLES
AGREEMENT OF VERB AND SUBJECT
CONCORD OF NOUNS, PRONOUNS AND POSSESSIVE
ADJECTIVES
CONFUSION OF ADJECTIVES AND ADVERBS
DIFFICULTIES WITH COMPARATIVE AND
SUPERLATIVES
CONFUSION OF PARTICIPLES: ACTIVE & PASSIVE
PREPOSITIONS
NEGATIVE VERBS
TENSES 1, 2 & 3
THE INFINITIVE
Comparatives & Superlatives
Rules of Usage
1. Some adjectives and adverbs are made comparative
and superlative by adding -er and –est to the positive.
Others use more and most before the positive.
E.g. big-bigger-biggest; fast-faster-fastest.
beautiful-more beautiful-most beautiful
Never should more and most be used along with the
suffixed positive forms.
Comparatives & Superlatives
2.
3.
When two different things are compared with a
third and one wishes to express that one the of the
two is superior to the third to an even greater
degree, then still is used.
E.g. William is taller than John, but James
is taller still.
The word than must be preceded by a comparative
adjective or adverb, never by a positive one, since
than implies that two things are being compared.
E.g. He receives a bigger salary than anyone else in
the office.
Comparatives & Superlatives
4. Very should be followed by a a positive adjective or
adverb, but much always takes the comparative.
E.g. I am not feeling very well today. (p)
I am feeling much better today. (c)
An exception to this is the word different, though it
is positive. The word different implies comparison.
Hence it is always positive.
In the construction 'very much' much modifies the
comparative and very modifies much.
E.g. My wife is very much better today.
Comparatives & Superlatives
5.
6.
The superlative (s) is used if the comparison goes
beyond two.
E.g. Geography is the most interesting subject. (s)
Anne is the tallest of the three daughters. (s)
Anne is the taller of the two girls. (c)
If the comparison is between one thing with all the
others of its kind that we know, then we are
comparing amongst many things and hence we need
a superlative.
E.g. This is the most interesting novel I have ever
read.