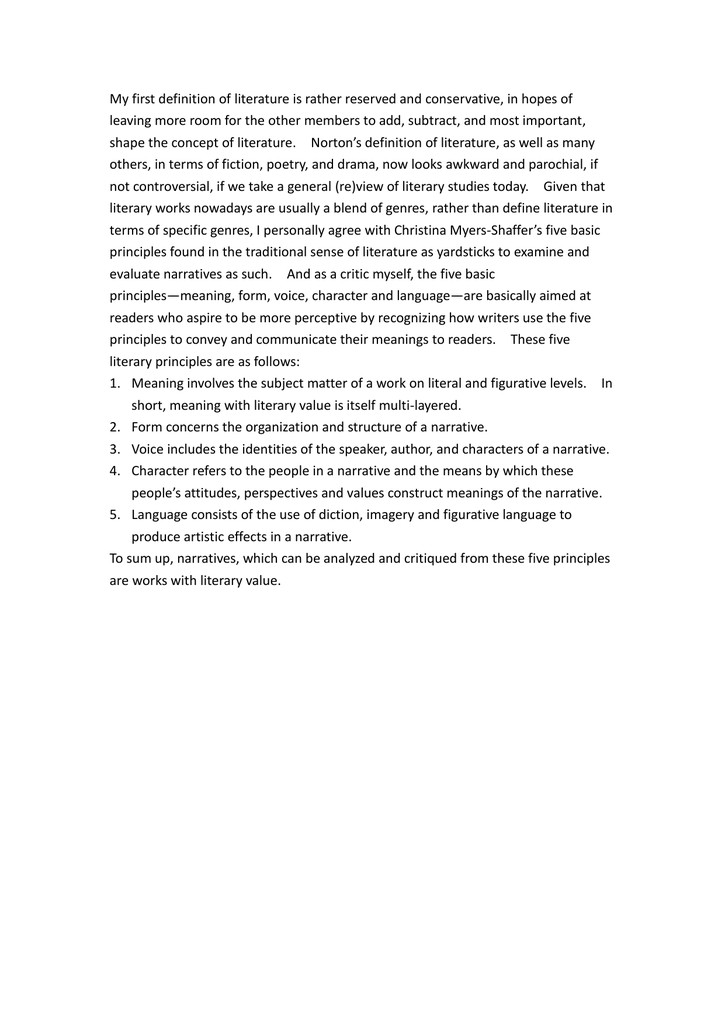 My first definition of literature is rather reserved and conservative, in hopes of
leaving more room for the other members to add, subtract, and most important,
shape the concept of literature. Norton's definition of literature, as well as many
others, in terms of fiction, poetry, and drama, now looks awkward and parochial, if
not controversial, if we take a general (re)view of literary studies today. Given that
literary works nowadays are usually a blend of genres, rather than define literature in
terms of specific genres, I personally agree with Christina Myers-Shaffer's five basic
principles found in the traditional sense of literature as yardsticks to examine and
evaluate narratives as such. And as a critic myself, the five basic
principles—meaning, form, voice, character and language—are basically aimed at
readers who aspire to be more perceptive by recognizing how writers use the five
principles to convey and communicate their meanings to readers. These five
literary principles are as follows:
1. Meaning involves the subject matter of a work on literal and figurative levels. In
2.
3.
4.
5.
short, meaning with literary value is itself multi-layered.
Form concerns the organization and structure of a narrative.
Voice includes the identities of the speaker, author, and characters of a narrative.
Character refers to the people in a narrative and the means by which these
people's attitudes, perspectives and values construct meanings of the narrative.
Language consists of the use of diction, imagery and figurative language to
produce artistic effects in a narrative.
To sum up, narratives, which can be analyzed and critiqued from these five principles
are works with literary value.