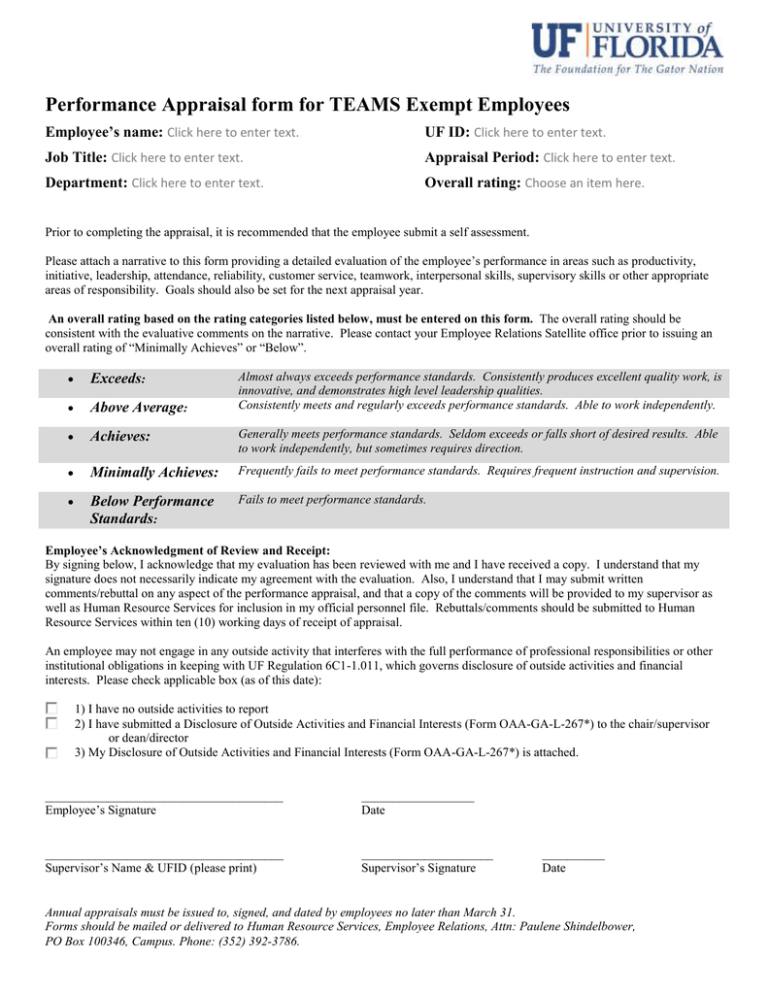 Performance Appraisal form for TEAMS Exempt Employees
Employee's name: Click here to enter text.
UF ID: Click here to enter text.
Job Title: Click here to enter text.
Appraisal Period: Click here to enter text.
Department: Click here to enter text.
Overall rating: Choose an item here.
Prior to completing the appraisal, it is recommended that the employee submit a self assessment.
Please attach a narrative to this form providing a detailed evaluation of the employee's performance in areas such as productivity,
initiative, leadership, attendance, reliability, customer service, teamwork, interpersonal skills, supervisory skills or other appropriate
areas of responsibility. Goals should also be set for the next appraisal year.
An overall rating based on the rating categories listed below, must be entered on this form. The overall rating should be
consistent with the evaluative comments on the narrative. Please contact your Employee Relations Satellite office prior to issuing an
overall rating of "Minimally Achieves" or "Below".

Exceeds:

Above Average:

Achieves:
Generally meets performance standards. Seldom exceeds or falls short of desired results. Able
to work independently, but sometimes requires direction.

Minimally Achieves:
Frequently fails to meet performance standards. Requires frequent instruction and supervision.

Below Performance
Standards:
Fails to meet performance standards.
Almost always exceeds performance standards. Consistently produces excellent quality work, is
innovative, and demonstrates high level leadership qualities.
Consistently meets and regularly exceeds performance standards. Able to work independently.
Employee's Acknowledgment of Review and Receipt:
By signing below, I acknowledge that my evaluation has been reviewed with me and I have received a copy. I understand that my
signature does not necessarily indicate my agreement with the evaluation. Also, I understand that I may submit written
comments/rebuttal on any aspect of the performance appraisal, and that a copy of the comments will be provided to my supervisor as
well as Human Resource Services for inclusion in my official personnel file. Rebuttals/comments should be submitted to Human
Resource Services within ten (10) working days of receipt of appraisal.
An employee may not engage in any outside activity that interferes with the full performance of professional responsibilities or other
institutional obligations in keeping with UF Regulation 6C1-1.011, which governs disclosure of outside activities and financial
interests. Please check applicable box (as of this date):
1) I have no outside activities to report
2) I have submitted a Disclosure of Outside Activities and Financial Interests (Form OAA-GA-L-267*) to the chair/supervisor
or dean/director
3) My Disclosure of Outside Activities and Financial Interests (Form OAA-GA-L-267*) is attached.
______________________________________
Employee's Signature
__________________
Date
______________________________________
Supervisor's Name & UFID (please print)
_____________________
Supervisor's Signature
__________
Date
Annual appraisals must be issued to, signed, and dated by employees no later than March 31.
Forms should be mailed or delivered to Human Resource Services, Employee Relations, Attn: Paulene Shindelbower,
PO Box 100346, Campus. Phone: (352) 392-3786.