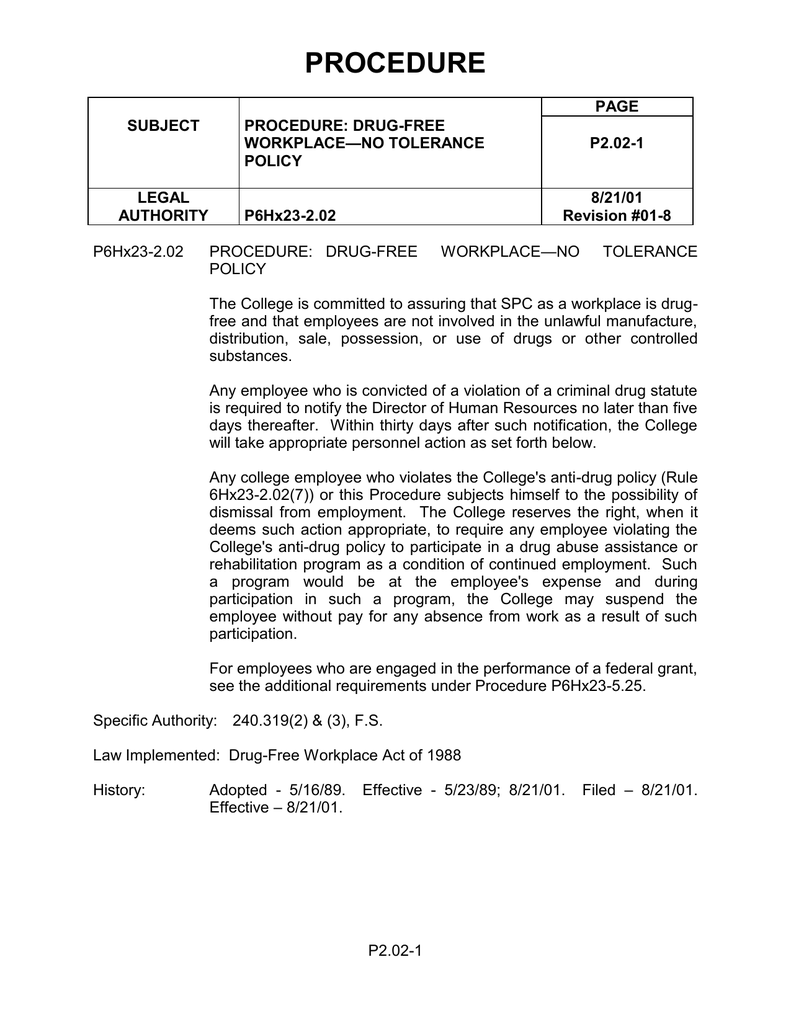 PROCEDURE
PAGE
SUBJECT
LEGAL
AUTHORITY
P6Hx23-2.02
PROCEDURE: DRUG-FREE
WORKPLACE—NO TOLERANCE
POLICY
P2.02-1
8/21/01
Revision #01-8
P6Hx23-2.02
PROCEDURE: DRUG-FREE
POLICY
WORKPLACE—NO
TOLERANCE
The College is committed to assuring that SPC as a workplace is drugfree and that employees are not involved in the unlawful manufacture,
distribution, sale, possession, or use of drugs or other controlled
substances.
Any employee who is convicted of a violation of a criminal drug statute
is required to notify the Director of Human Resources no later than five
days thereafter. Within thirty days after such notification, the College
will take appropriate personnel action as set forth below.
Any college employee who violates the College's anti-drug policy (Rule
6Hx23-2.02(7)) or this Procedure subjects himself to the possibility of
dismissal from employment. The College reserves the right, when it
deems such action appropriate, to require any employee violating the
College's anti-drug policy to participate in a drug abuse assistance or
rehabilitation program as a condition of continued employment. Such
a program would be at the employee's expense and during
participation in such a program, the College may suspend the
employee without pay for any absence from work as a result of such
participation.
For employees who are engaged in the performance of a federal grant,
see the additional requirements under Procedure P6Hx23-5.25.
Specific Authority: 240.319(2) & (3), F.S.
Law Implemented: Drug-Free Workplace Act of 1988
History:
Adopted - 5/16/89.
Effective – 8/21/01.
Effective - 5/23/89; 8/21/01.
P2.02-1
Filed – 8/21/01.