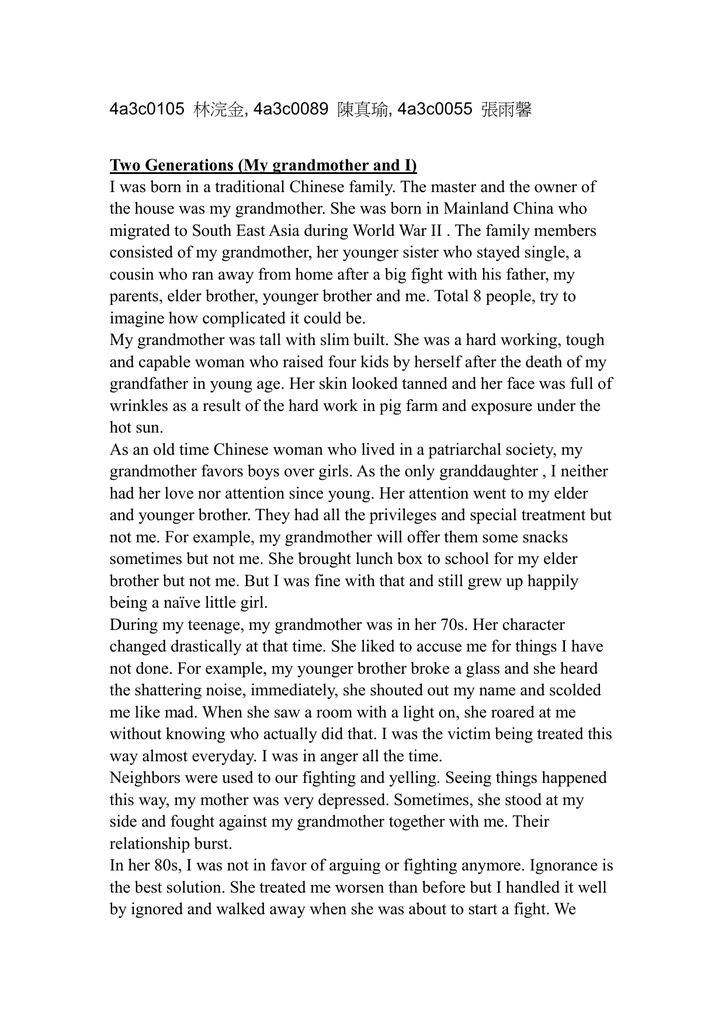 4a3c0105 林浣金, 4a3c0089 陳真瑜, 4a3c0055 張雨馨
Two Generations (My grandmother and I)
I was born in a traditional Chinese family. The master and the owner of
the house was my grandmother. She was born in Mainland China who
migrated to South East Asia during World War II . The family members
consisted of my grandmother, her younger sister who stayed single, a
cousin who ran away from home after a big fight with his father, my
parents, elder brother, younger brother and me. Total 8 people, try to
imagine how complicated it could be.
My grandmother was tall with slim built. She was a hard working, tough
and capable woman who raised four kids by herself after the death of my
grandfather in young age. Her skin looked tanned and her face was full of
wrinkles as a result of the hard work in pig farm and exposure under the
hot sun.
As an old time Chinese woman who lived in a patriarchal society, my
grandmother favors boys over girls. As the only granddaughter , I neither
had her love nor attention since young. Her attention went to my elder
and younger brother. They had all the privileges and special treatment but
not me. For example, my grandmother will offer them some snacks
sometimes but not me. She brought lunch box to school for my elder
brother but not me. But I was fine with that and still grew up happily
being a naïve little girl.
During my teenage, my grandmother was in her 70s. Her character
changed drastically at that time. She liked to accuse me for things I have
not done. For example, my younger brother broke a glass and she heard
the shattering noise, immediately, she shouted out my name and scolded
me like mad. When she saw a room with a light on, she roared at me
without knowing who actually did that. I was the victim being treated this
way almost everyday. I was in anger all the time.
Neighbors were used to our fighting and yelling. Seeing things happened
this way, my mother was very depressed. Sometimes, she stood at my
side and fought against my grandmother together with me. Their
relationship burst.
In her 80s, I was not in favor of arguing or fighting anymore. Ignorance is
the best solution. She treated me worsen than before but I handled it well
by ignored and walked away when she was about to start a fight. We
hardly communicated and never look into each other's eye.
One day, she reached my limit when she threw away my personal
belongings from my room to the yard without reason. Thinking over this
issue for two days, I made a hard decision. I wanted to move out from
this house to end the war with my grandmother. I told my parents about
my decision and reassure them I am old enough to take care of myself.
Understanding how suffered I was, my parents were in silent even though
they felt really sad for my decision.
I moved out the next day. It's a heart aching and difficult decision
because I have to live separately from my parents. At that time, it seemed
that I was given no choice but to move out from this grandmother's house
to have a peaceful life. Ironically, I moved to a place which was just 15
minutes drive from home.
Sometimes, I blamed my father for not able to have his own house. I was
thinking by having own place, I could have a better childhood and
teenage.
When I grew older, I decided to work in overseas so I left home far away.
I wonder if it's due to the unhappy memories that push me away from
home.
My grandmother passed away the first year I worked in overseas. I was
under probation with new job and I decided not to take leave to attend the
funeral. I knew I have hatred and I hold on to this hatred.
I am deeply regret for this but whatever happened, happened. I can't turn
the clock back anymore.
I think my grandmother and I had no faith in this life. What I can do now
is to pray for her and may her rest in peace. As for myself, I pray to let go
of all these negative emotion in one fine day.