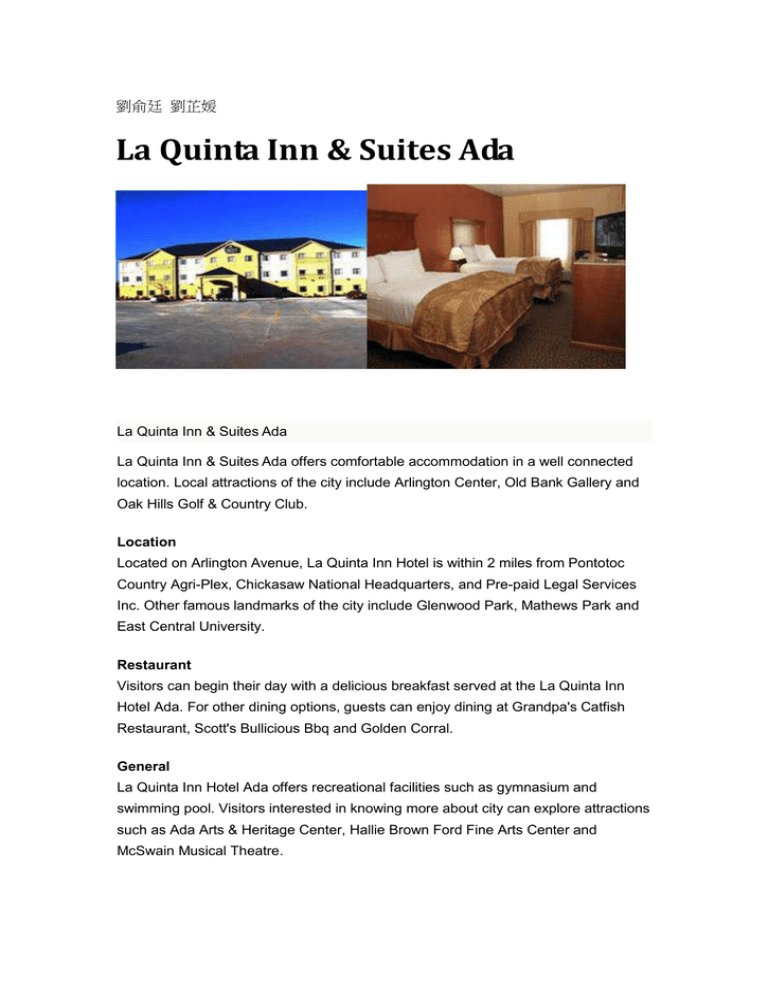 劉俞廷 劉芷媛
La Quinta Inn & Suites Ada
La Quinta Inn & Suites Ada
La Quinta Inn & Suites Ada offers comfortable accommodation in a well connected
location. Local attractions of the city include Arlington Center, Old Bank Gallery and
Oak Hills Golf & Country Club.
Location
Located on Arlington Avenue, La Quinta Inn Hotel is within 2 miles from Pontotoc
Country Agri-Plex, Chickasaw National Headquarters, and Pre-paid Legal Services
Inc. Other famous landmarks of the city include Glenwood Park, Mathews Park and
East Central University.
Restaurant
Visitors can begin their day with a delicious breakfast served at the La Quinta Inn
Hotel Ada. For other dining options, guests can enjoy dining at Grandpa's Catfish
Restaurant, Scott's Bullicious Bbq and Golden Corral.
General
La Quinta Inn Hotel Ada offers recreational facilities such as gymnasium and
swimming pool. Visitors interested in knowing more about city can explore attractions
such as Ada Arts & Heritage Center, Hallie Brown Ford Fine Arts Center and
McSwain Musical Theatre.