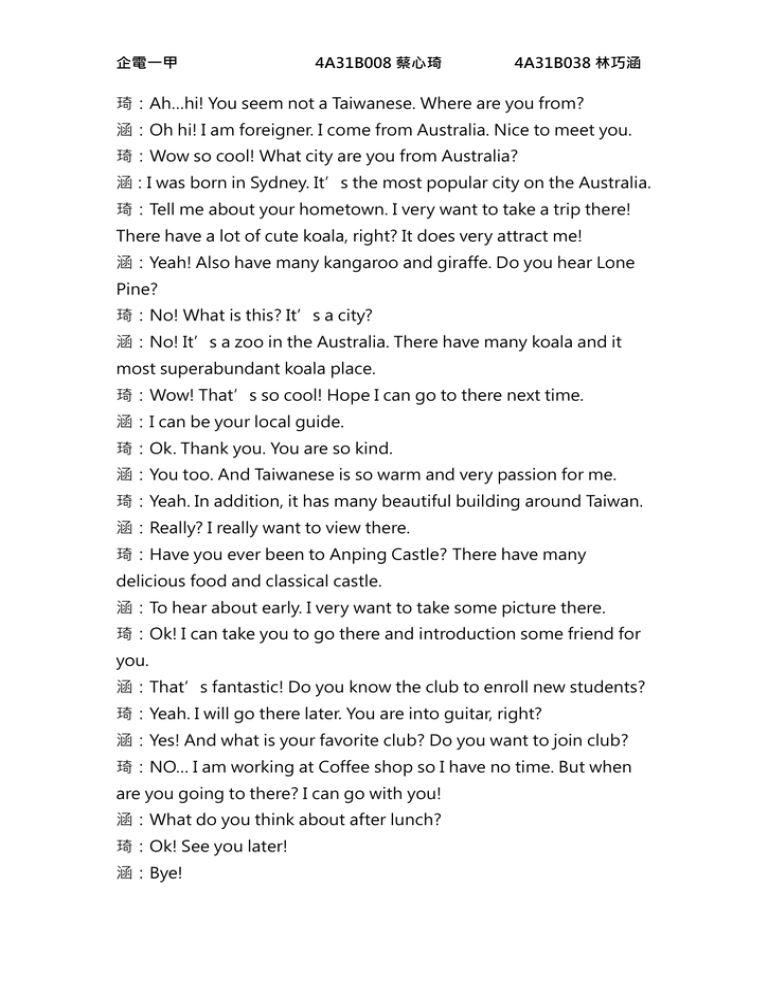 企電一甲
4A31B008 蔡心琦
4A31B038 林巧涵
琦:Ah…hi! You seem not a Taiwanese. Where are you from?
涵:Oh hi! I am foreigner. I come from Australia. Nice to meet you.
琦:Wow so cool! What city are you from Australia?
涵:I was born in Sydney. It's the most popular city on the Australia.
琦:Tell me about your hometown. I very want to take a trip there!
There have a lot of cute koala, right? It does very attract me!
涵:Yeah! Also have many kangaroo and giraffe. Do you hear Lone
Pine?
琦:No! What is this? It's a city?
涵:No! It's a zoo in the Australia. There have many koala and it
most superabundant koala place.
琦:Wow! That's so cool! Hope I can go to there next time.
涵:I can be your local guide.
琦:Ok. Thank you. You are so kind.
涵:You too. And Taiwanese is so warm and very passion for me.
琦:Yeah. In addition, it has many beautiful building around Taiwan.
涵:Really? I really want to view there.
琦:Have you ever been to Anping Castle? There have many
delicious food and classical castle.
涵:To hear about early. I very want to take some picture there.
琦:Ok! I can take you to go there and introduction some friend for
you.
涵:That's fantastic! Do you know the club to enroll new students?
琦:Yeah. I will go there later. You are into guitar, right?
涵:Yes! And what is your favorite club? Do you want to join club?
琦:NO… I am working at Coffee shop so I have no time. But when
are you going to there? I can go with you!
涵:What do you think about after lunch?
琦:Ok! See you later!
涵:Bye!