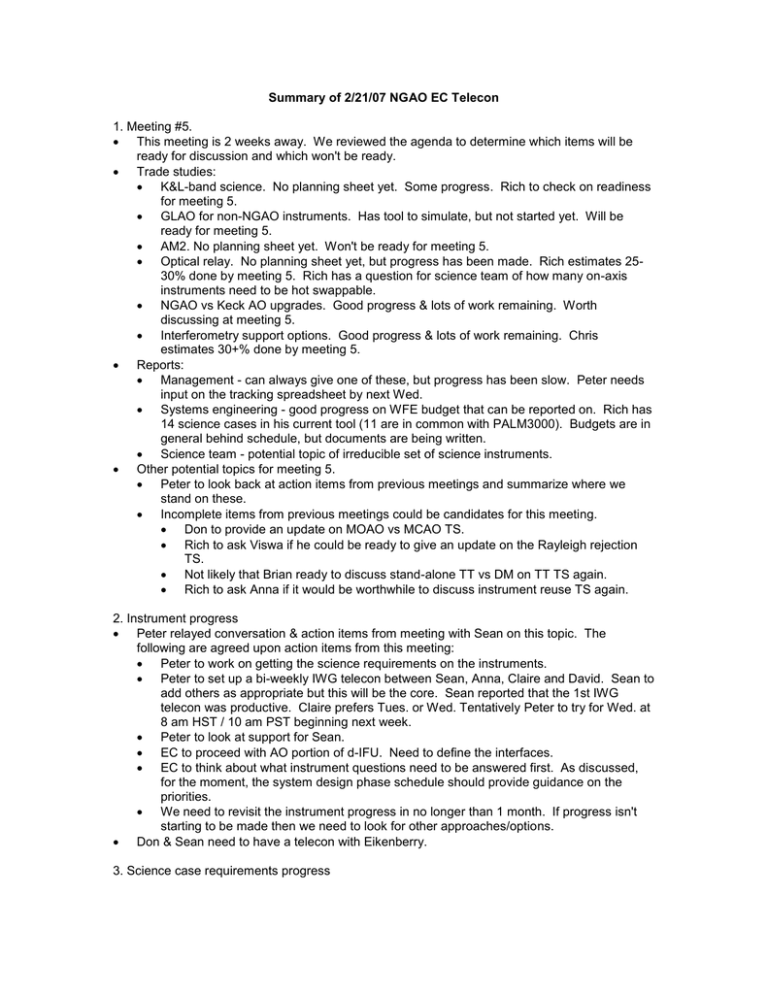 Summary of 2/21/07 NGAO EC Telecon
1. Meeting #5.
 This meeting is 2 weeks away. We reviewed the agenda to determine which items will be
ready for discussion and which won't be ready.
 Trade studies:
 K&L-band science. No planning sheet yet. Some progress. Rich to check on readiness
for meeting 5.
 GLAO for non-NGAO instruments. Has tool to simulate, but not started yet. Will be
ready for meeting 5.
 AM2. No planning sheet yet. Won't be ready for meeting 5.
 Optical relay. No planning sheet yet, but progress has been made. Rich estimates 2530% done by meeting 5. Rich has a question for science team of how many on-axis
instruments need to be hot swappable.
 NGAO vs Keck AO upgrades. Good progress & lots of work remaining. Worth
discussing at meeting 5.
 Interferometry support options. Good progress & lots of work remaining. Chris
estimates 30+% done by meeting 5.
 Reports:
 Management - can always give one of these, but progress has been slow. Peter needs
input on the tracking spreadsheet by next Wed.
 Systems engineering - good progress on WFE budget that can be reported on. Rich has
14 science cases in his current tool (11 are in common with PALM3000). Budgets are in
general behind schedule, but documents are being written.
 Science team - potential topic of irreducible set of science instruments.
 Other potential topics for meeting 5.
 Peter to look back at action items from previous meetings and summarize where we
stand on these.
 Incomplete items from previous meetings could be candidates for this meeting.
 Don to provide an update on MOAO vs MCAO TS.
 Rich to ask Viswa if he could be ready to give an update on the Rayleigh rejection
TS.
 Not likely that Brian ready to discuss stand-alone TT vs DM on TT TS again.
 Rich to ask Anna if it would be worthwhile to discuss instrument reuse TS again.
2. Instrument progress
 Peter relayed conversation & action items from meeting with Sean on this topic. The
following are agreed upon action items from this meeting:
 Peter to work on getting the science requirements on the instruments.
 Peter to set up a bi-weekly IWG telecon between Sean, Anna, Claire and David. Sean to
add others as appropriate but this will be the core. Sean reported that the 1st IWG
telecon was productive. Claire prefers Tues. or Wed. Tentatively Peter to try for Wed. at
8 am HST / 10 am PST beginning next week.
 Peter to look at support for Sean.
 EC to proceed with AO portion of d-IFU. Need to define the interfaces.
 EC to think about what instrument questions need to be answered first. As discussed,
for the moment, the system design phase schedule should provide guidance on the
priorities.
 We need to revisit the instrument progress in no longer than 1 month. If progress isn't
starting to be made then we need to look for other approaches/options.
 Don & Sean need to have a telecon with Eikenberry.
3. Science case requirements progress



We discussed a number of potential ideas for making faster progress on the science case
requirements:
 David already helping on observing scenarios. We will need to support him in doing so.
 Get postdoc. Looks like the candidate will accept.
 Distribute the grad student funds.
 Regular science team meetings with an agenda and action items. Claire, Mike, Franck &
David (+ Peter initially). Claire to set up bi-weekly telecon.
 Help writing the SCRD. From who?
 Find an extragalactic astronomer to play a lead role. Rich already spoke to Ellis who is
waiting for a concrete request. Claire to contact Ellis.
 Claire's CfAO NGAO science meeting. How do we make this happen? Need to get
moving very soon if people are going to attend. CfAO retreat starts 3/26. Peter to put
together a draft agenda as a starting point. Could include reviewing draft SCRD,
discussing key areas and discussing next steps
 More science engagement on performance budgets? Rich to send Claire some
questions on the WFE budget assumptions.
 More science engagement on instruments?
Claire reported good recent progress on black holes in nearby galaxies.
Claire to post her current SCRD draft.
4. Work scope planning sheets
 See list emailed on 2/17.
 Still need Rich's approval on several planning sheets.
 Still have a number of missing sheets.
5. Other
 Agreed that Viswa should make a trip to Keck. Viswa to coordinate with Chin to make sure
this fits with other activities. Early April sounds reasonable.
 All EC members need to be proactive with their own groups to keep them on schedule and to
understand what they need (answers usually) to get their job done.
 Peter & Rich to determine when/how (& agenda) to get together with Brian and Don to review
discuss optical relay TS.