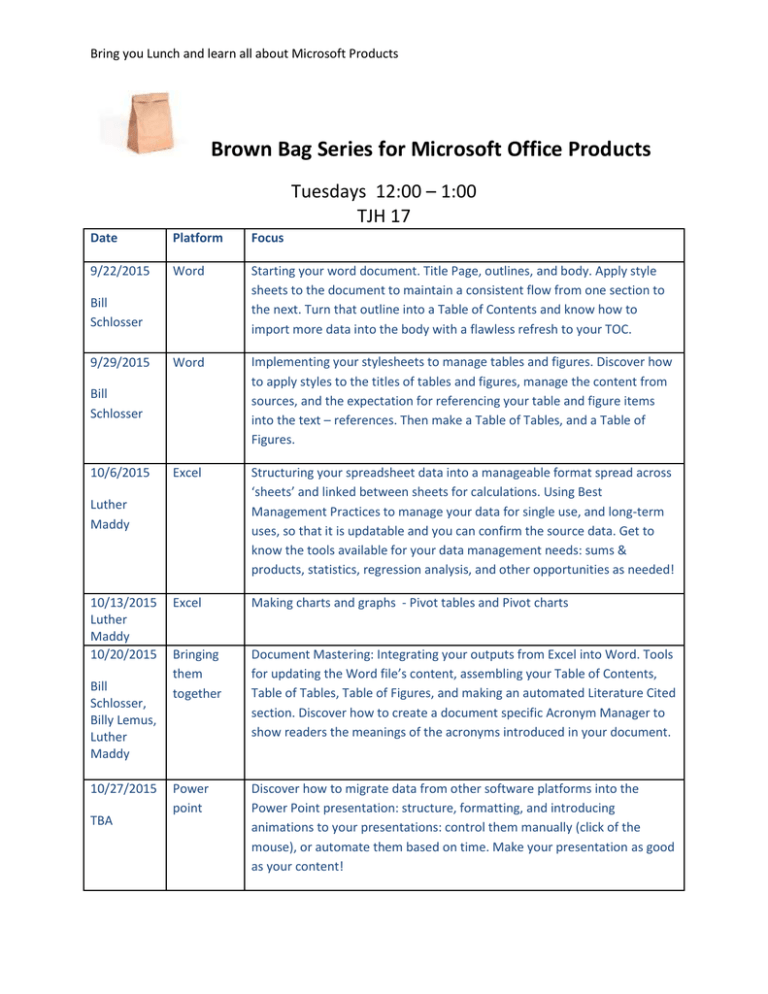 Bring you Lunch and learn all about Microsoft Products
Brown Bag Series for Microsoft Office Products
Tuesdays 12:00 – 1:00
TJH 17
Date
Platform
Focus
9/22/2015
Word
Starting your word document. Title Page, outlines, and body. Apply style
sheets to the document to maintain a consistent flow from one section to
the next. Turn that outline into a Table of Contents and know how to
import more data into the body with a flawless refresh to your TOC.
Word
Implementing your stylesheets to manage tables and figures. Discover how
to apply styles to the titles of tables and figures, manage the content from
sources, and the expectation for referencing your table and figure items
into the text – references. Then make a Table of Tables, and a Table of
Figures.
Excel
Structuring your spreadsheet data into a manageable format spread across
'sheets' and linked between sheets for calculations. Using Best
Management Practices to manage your data for single use, and long-term
uses, so that it is updatable and you can confirm the source data. Get to
know the tools available for your data management needs: sums &
products, statistics, regression analysis, and other opportunities as needed!
Excel
Making charts and graphs - Pivot tables and Pivot charts
Bringing
them
together
Document Mastering: Integrating your outputs from Excel into Word. Tools
for updating the Word file's content, assembling your Table of Contents,
Table of Tables, Table of Figures, and making an automated Literature Cited
section. Discover how to create a document specific Acronym Manager to
show readers the meanings of the acronyms introduced in your document.
Power
point
Discover how to migrate data from other software platforms into the
Power Point presentation: structure, formatting, and introducing
animations to your presentations: control them manually (click of the
mouse), or automate them based on time. Make your presentation as good
as your content!
Bill
Schlosser
9/29/2015
Bill
Schlosser
10/6/2015
Luther
Maddy
10/13/2015
Luther
Maddy
10/20/2015
Bill
Schlosser,
Billy Lemus,
Luther
Maddy
10/27/2015
TBA
Bring you Lunch and learn all about Microsoft Products
Students are encouraged to bring their personal laptop computer, loaded with MS Office Product
Questions contact Bill Schlosser, Business Division, 792-2511 or weschlosser@lcsc.edu
Students are encouraged to being their personal laptop computer, loaded with MS Office products.
Bring a lunch!