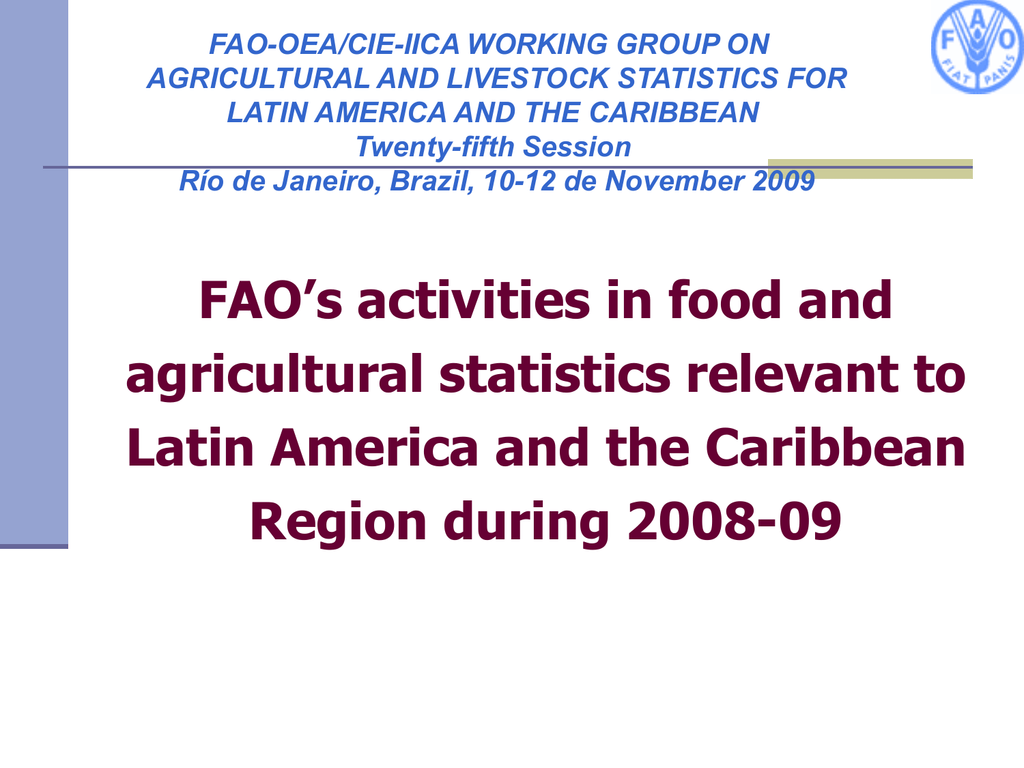 FAO-OEA/CIE-IICA WORKING GROUP ON
AGRICULTURAL AND LIVESTOCK STATISTICS FOR
LATIN AMERICA AND THE CARIBBEAN
Twenty-fifth Session
Río de Janeiro, Brazil, 10-12 de November 2009
FAO's activities in food and
agricultural statistics relevant to
Latin America and the Caribbean
Region during 2008-09
Overview of the presentation
 FAO Statistics Division changes
 Methodological developments and publications
 Field work
 Global strategy for improving agricultural statistics
Methodological developments and
publications
 Restoring and improving FAOSTAT
 Improving country data (to be discussed) in questionnaires
 Publications:
 TRACKING RESULTS IN AGRICULTURE AND RURAL DEVELOPMENT
IN LESS-THAN-IDEAL CONDITIONS-A sourcebook of indicators for
monitoring and evaluation.(FAO/WB)
 DERIVING FOOD SECURITY INFORMATION FROM NATIONAL
HOUSEHOLD BUDGET SURVEYS- Experiences, Achievements,
Challenges.(FAO)
 FAO STATISTICAL YEARBOOK 2007-2008
Methodological developments and
publications
 Publications under preparation:
 HANDBOOK ON THE USE OF GPS/PDA FOR CROP AREA
MEASUREMENT. (FAO/EU-JRC)
 A HANDBOOK ON THE USE OF INTERNATIONAL CLASSIFICATION IN
AGRICULTURAL STATISTICS .(FAO)
 Methodological Review: WORLD CENSUS OF AGRICULTURE 1990
and 2000 (FAO)
 GUIDELINES FOR INTEGRATION OF AGRICULTURAL STATISTICS IN
NATIONAL STRATEGY FOR DEVELOPMENT OF STATISTICS.
(FAO/PARIS21)
Field work
 Formulation of agricultural statistics and census
projects: Haiti, Panama.
 Preparation or implementation of agricultural
censuses: Grenada, Haiti, Peru, Saint Lucia, Suriname.
 Agricultural statistics for food security and early
warning information systems: Bolivia, Peru.
 Support to preparation of Supply Utilization Accounts
and Food Balance Sheets: Bolivia, Ecuador, Panama,
Peru.
 Formulation of a CountrySTAT project in Chile
Field work
 Food Security Statistics Module (Módulo Estadístico sobre
Seguridad Alimentaria-MESA) for processing Household Income
and Expenditure Survey (HIES) data on food consumption:Peru
and Bolivia.
 Capacity building:
 National Demonstration Centre (NDC) on Food Security and
Consumption Statistics from Household Income and
Expenditure Surveys (HIES) for countries in Latin America
and the Caribbean / 7–11 April 2008, San José, Costa Rica.
 Roundtable Meeting on Programme for the 2010 Round of
Censuses of Agriculture in Santiago, Chile, 22-26 September,
2008.
Field work
 Capacity building (cont...):



Seminar on Agricultural Census at the FAO Regional
Office for Latin America and the Caribbean, in Santiago,
Chile, 14 April 2009.
The second Wye City Group Meeting in June 2009 in
Rome
The Satellite Meeting on Agricultural Statistics August
2009, Maputo, Mozambique to the 57th Session
International Statistical Institute (ISI) in Durban, from 16
to 22 August 2009.
Field work - Water Statistics in LAC:
 The AQUASTAT main country database, as well as databases on LAC







dams, on institutions, on river sediment yields, and on investment
costs in irrigation;
Countries and regions: Standardized text by country and by region on
the state of water resources and agricultural water use;
Climate information tool: Provides climate estimates for the land
surface of the globe;
Water resources: Review of the statistics of renewable water
resources by country;
Agricultural water use: Review of agricultural water use by country;
Global irrigation map: Global map of irrigated areas, which is a spatial
dataset on areas equipped for irrigation;
Maps and tables: A selection of downloadable maps and datasets on
water and agriculture. Geo-referenced AQUASTAT information is also
available on GeoNetwork;
Publications: AQUASTAT publications related to water and agriculture.
Global strategy for improving
agricultural statistics (GOALS)
 Countries will agree upon a minimum set of core agricultural
data and will pledge to provide such a minimum core data set
annually to meet the current and emerging needs of policy and
decision making, markets and trade, and investment.
 Agriculture will be integrated into the national statistical
systems in order to meet policy maker and other data user
expectations that the data will be comparable across countries
and over time.
 The integration will be achieved by an agreed upon conceptual
framework as a foundation and an establishment of innovative
methodological systems and solutions to build the national
statistical infrastructure
Partnership for Implementation of Global
Strategy for Improving Agricultural
Statistics in LAC
 Countries in LAC are in need to strengthen their agriculture
statistics system
 A lot of background work has already been done during the
last 10 years and main issues have been identified and what
needs to be done through biennial meetings and several
international and regional meetings
 Interest of several Partners and countries to initiate action
confirmed at the informal Stakeholders meeting in Maputo in
August 2009. Main components/sub-programmes discussed
and confirmed.
FAO Capacity building strategy and
programme
 Deterioration over the last decades of the capacity of many
countries in agricultural statistics.
 Findings and recommendations of the external evaluation of
FAO work in statistics
 Recent assessments of countries capacity in food and
agricultural statistics by FAO and other Institutions,
particularly PARIS21.
 Technical assistance (TA) to Countries on methodologies and
tools developed, consolidated and proven with comparative
advantage. The assistance will be driven by national demands
and built around the Strengthening of the Institutional
coordination and capacity through the integration of
Agricultural Statistics into the National Strategies for
Development of Statistics (NSDS).
Thank you for your attention!