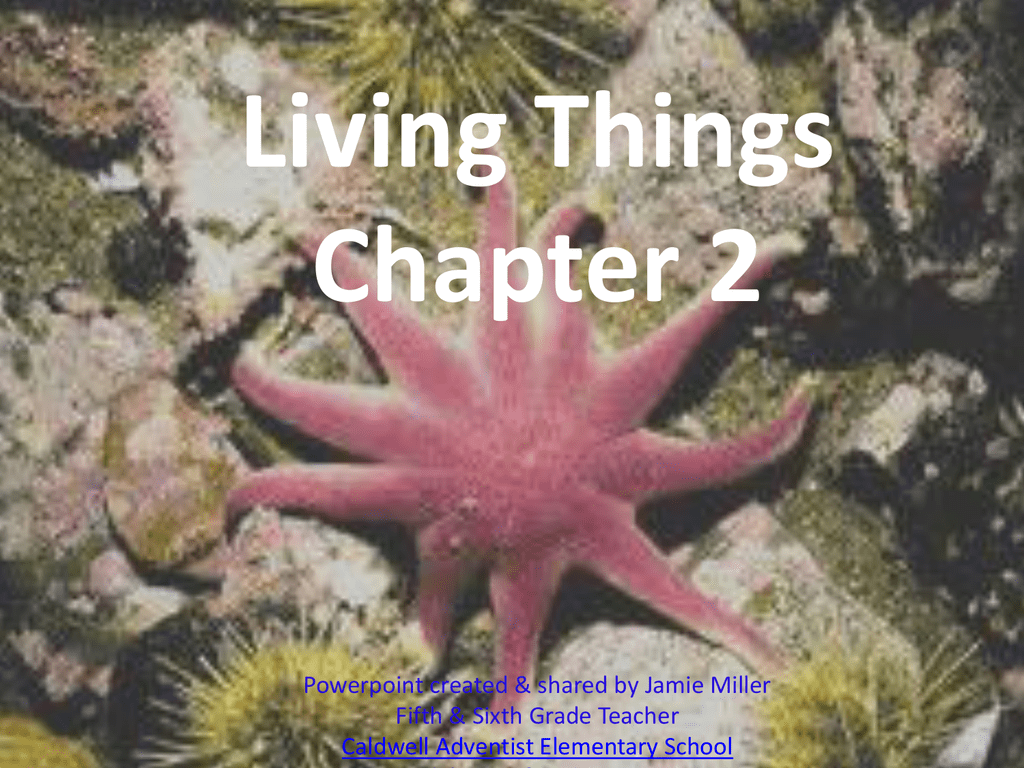 Living Things
Chapter 2
Powerpoint created & shared by Jamie Miller
Fifth & Sixth Grade Teacher
Caldwell Adventist Elementary School
1.Matter is anything that
a. Has mass
b. Takes up space
c. Both a and b
d. Neither a nor b
2.What are living things called?
a. Atoms
b. Organisms
c. Trees
d. Cells
3. Which is not true of
organisms?
a.
b.
c.
d.
All are made of cells
All use energy
All reproduce
All use carbon dioxide
4. During which stage of mitosis do the
chromosomes line up?
a.
b.
c.
d.
Stage 1
Stage 2
Stage 3
Stage 4
5.
a.
b.
c.
d.
What is the purpose of the cell membrane?
Control the temperature
Control water content
Control what goes in and out
Control size
6. What part
of an animal
cell stores food
and collects
waste material?
a. The nucleus
b. Chromosomes
c. Mitochondria
d. Vacuole
7.
What part of the cell holds
the instructions of the cell?
a.
b.
c.
d.
DNA
Cell wall
Cell membrane
Mitochondria
8. What is not an activity necessary
for life?
a. Removing waste products
b. Using oxygen to produce
energy
c. Taking in needed materials
d. Moving from place to place
9. What is the green substance
found inside of chloroplasts?
a. Glucose
b. Chloroform
c. Chlorophyll
d. Atoms
a. Cell walls
b. Vacuoles
c. Chloroplasts
d. Chlorophyll
10.Which
structures are
found in both
plant and
animal cells?
11. What process results in two
identical cells being made?
a.
b.
c.
d.
Meiosis
Mitosis
Photosynthesis
Reduction
12.The process of two cells coming together to form
one cell is called
a.
b.
c.
d.
Sexual reproduction
Asexual reproduction
Both a and b
Neither a nor b
13. What is the male cell used
in reproduction called?
a.
b.
c.
d.
Egg
Unit
Sperm
Atom
14. What is the
purpose of
the nucleus
of a cell?
a.
b.
c.
d.
It helps organize data
It holds the water
It produces the food
It controls cellular activity
15. Which statement is true about
photosynthesis?
a.
b.
c.
d.
It produces oxygen
and glucose
It takes place in
plant roots
It does not need
sunlight
It requires food
energy
16. What is the result called when a
sperm unites with an egg?
a.
b.
c.
d.
Double cell
Combined cell
Fertilized cell
None of these
Match the cell structure on the diagram
with the correct name or description.
Write the letter of the structure on the
line provided.
17. ____
18. ____
19. ____
20. ____
21. ____
22. ____
The control center of the cell
Cytoplasm
Cell membrane
The powerhouse of the cell
Vacuole
Chloroplasts
23. What is the
difference
between mitosis
and meiosis?
Mitosis is simple cell division. It results in two identical cells
that have the same number of chromosomes as the parent
cell. Since no sex is involved, mitosis is often called asexual
reproduction. Meiosis is reduction division. It results in two
cells that are not identical and that contain only half the
chromosome material of the parent cell. Meiosis produces
the sex cells in living organisms.
24. How are plant and animal cells different?
Animal cells lack the cell wall. Plant cells
have a cell wall. Animal cells lack
chloroplasts; plant cells usually have
chloroplasts. Vacuoles in animal cells are
usually small and store food or collect
waste. In plant cells, vacuoles are quite
large and store water.
25. Explain how the
cell demonstrates
God's design.
The intricacy, design, and organization of the cell
structures and processes provide strong evidence of
a Creator. The design of the cell could not have just
happened.